CALL US TO HELP YOU CREATE YOUR DREAM HOLIDAY
0207751 0660
Or enter your phone number and let us call you back.
Mexico is renowned for its ancient civilisations and rich cultural history, and the Yucatán region boasts some of the country's most enthralling and picturesque sights. The UNESCO World Heritage Sites of Uxmal and Chichén Itzá are, undoubtedly, the most well known; however, on this private tour, you'll discover that there's so much more to this fascinating area. Of course, you'll visit the famed Mayan sites, but you'll also stay at an historic hacienda and meet some enchanting people, and your guide will be on hand to offer you some unique insights into Mexican culture. To get the most out of your Yucatán experience, we recommend that you stay at one of our wonderful beach resorts on the Riviera Maya for a few days before taking this delightful two day tour.


Day 1 Your guide will collect you from your chosen Riviera Maya hotel in the morning and you'll depart for the jewel in the Mayan crown, Chichén Itzá, once one of the most powerful Mayan cities and an important ceremonial centre for this intriguing civilisation. View the mesmerising Kukulcán Pyramid, one of the new Seven Wonders of the World and enjoy a guided tour of this world famous archeological site, where you will also discover cenotes (natural sink holes) and gain your first insight into Mayan culture. Following a buffet lunch at the Mayaland Hotel, in the afternoon you'll continue deeper in to the unspoilt terrain and enter the tranquil and characterful environment of the Hacienda Uxmal, which will be your base on this tour. In the afternoon, a short walk will take you to your second archaeological site, Uxmal; experience the magical atmosphere during a 45-minute Light & Sound Show and find out all there is to know about this Mayan city, which was founded around 700 A.D. and is one of the best preserved archaeological sites in Mexico. There's then a chance to relax and enjoy dinner back at the Hacienda Uxmal.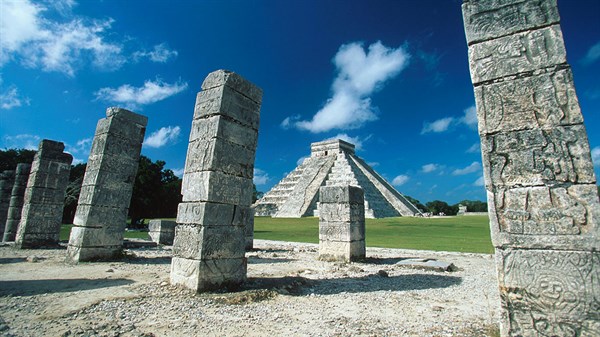 Day 2 In the morning, following a hearty breakfast, explore Uxmal thoroughly with your guide and enjoy the opportunity to get close to the fascinating structures such as the Pyramid of the Magician. Later, continue on to the region's impressive capital Mérida, a city steeped in history and once the centre of the Mayan culture. A tour of the city will take you through Mérida's highlights, including the Cathedral (built using stones from an original Mayan temple), the main square known as 'Zocalo', Casa de Montejo (built by a conquistador in 1549) and the Regional Museum of Anthropology & History. You'll also have some free time here for a bit of shopping and lunch (not included). Later, transfer to Cancún Airport for your return flight home or extend your stay at your chosen hotel on the Riviera Maya.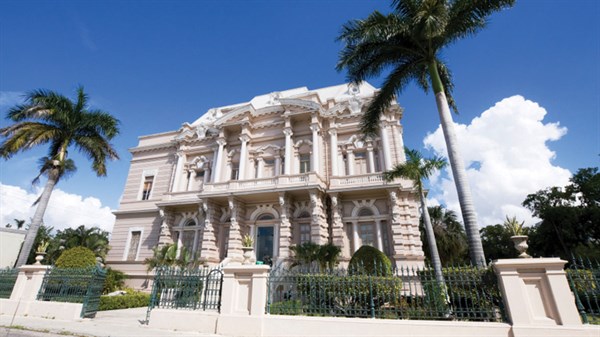 Hacienda Uxmal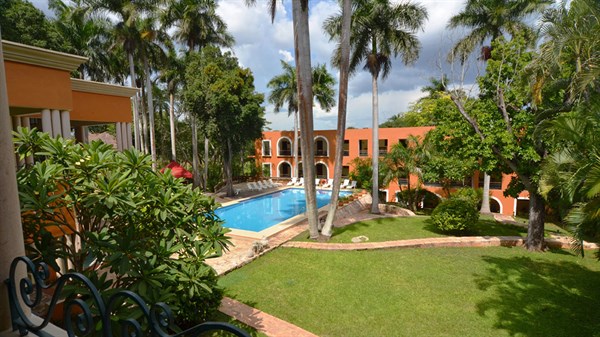 An historic oasis awaits you in the splendid form of an authentic 300 year old hacienda in the heart of the Yucatecan jungle, just five minutes' walk from the archaeological park. Hacienda Uxmal has hosted numerous world leaders and royalty, including the Queen, and proudly offers the best of local design, hospitality and cuisine. The resort's 80 rooms and 2 suites are located within two-storey buildings and each has air-conditioning, a ceiling fan, satellite TV and a private bathroom. A charming restaurant offers a wonderful choice of popular regional food, plus a selection of international options, and there's also a casual grill beside the swimming pool. The terrace bar provides a perfect place to unwind and soak up the idyllic surroundings, or explore the native flora along a path which meanders through a botanical garden.