I arrived in Grand Cayman direct from Cuba following three hectic days of sightseeing in Havana. Cuba was fascinating and unlike any other Caribbean island I have visited, but after three days of the hustle and bustle of Havana I was definitely ready to unwind on Grand Cayman's famous Seven Mile Beach. The plan for my week in Cayman was pretty simple - plenty of beach time and lots of much needed rest and relaxation. As it turned out, I discovered that this tiny island has plenty more to offer than an endless sandy beach. Above land and under water, there's something here to lure even the most determined sun-worshipper away from their beach lounger.
Although many of Cayman's most famous sights are beneath the water, my first adventure took me into the skies above the island. My pilot for the 20 minute helicopter tour was Jerome, a French ex-pat now living in Cayman. I'd been in helicopters a few times before and was expecting a leisurely flight around the island, but it quickly became apparent that 'leisurely' wasn't Jerome's style. Shortly after take off we were flying high above North Sound (a large lagoon in the centre of the island) when Jerome spotted a turtle and swooped down so we could get a closer look. Skimming low over the clear water we could see stingrays, turtles and even tiny star fish on the bottom of the shallow lagoon. Next came a sharp climb upwards - with the helicopter almost vertical Jerome waved his arm at the vast blue sky and welcomed us to his 'office'. Clearly a very skilful pilot (if a little crazy!) Jerome made this the most entertaining and exhilarating flight I've ever been on and definitely one of the highlights of my trip.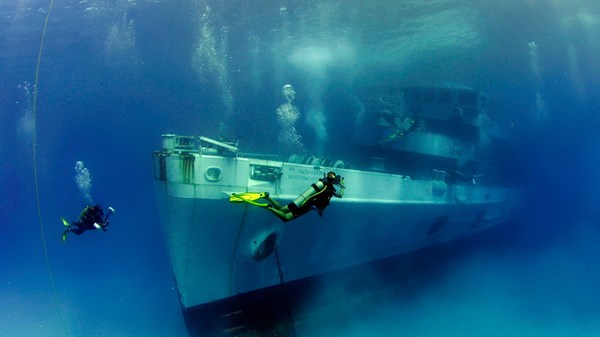 Every scuba diver knows that the Cayman Islands offer some of the best diving in the world, so I was keen to find out for myself if the island's underwater scenery would live up to its reputation. My expectations were so high I was quite sure I would be disappointed. But this was not the case. The wall dives here were some of the most spectacular I have ever experienced, with drop-offs disappearing thousands of feet into the gloom beneath you. Closer to shore there are pristine coral reefs full of brightly coloured marine life. Turtles, stingrays, moray eels, lobsters and small nurse sharks all featured regularly in my dive logs. There are also many different wrecks to explore - the latest attraction for divers is the wreck of the USS Kittiwake, a 251-foot decommissioned American naval vessel that was sunk just off Seven Mile Beach earlier this year. Unfortunately the Kittwake arrived after my visit so I didn't get to dive it this time - but it gives me a great excuse to go back soon! 

For visitors who want to enjoy the underwater attractions without getting wet, there is the Atlantis Submarine. Atlantis is not the Disney World type ride that I was expecting - it's a proper submarine that takes visitors down to depths of over 100 feet. The large portholes give you a great view out onto the reef and an informative guide will help to point out and identify the passing sea life. 

Back on dry land, I would really recommend at least a couple of days' car hire to make the most of your time in Grand Cayman. The island is almost completely flat, cars drive on the left and there is just one main road that circles the island - so driving and finding your way around here is very easy. A great day trip is a visit to Rum Point, a leisurely couple of hours' drive away from Seven Mile Beach. I stopped off on the way to take a look at the blow holes on the east coast's rocky 'Iron Shore'. The blow holes are natural rock formations created by the pounding surf and resulting in some spectacular water spouts. The trick here is to stand close enough to the biggest blow hole to get a great photo when the water shots up into the air - then run before it comes crashing down on top of you. Get your timing wrong and you'll get soaked! Once at Rum Point, there's a beach to relax on as well as a great restaurant that serves island favourites such as clam chowder and conch fritters. Rum Point is a popular spot with locals, especially at the weekend; it gets busy on Saturdays and Sundays but if you want a taste of local Caymanian life, this is where to come. 

The area around Seven Mile Beach is brimming with excellent restaurants, art galleries, museums and duty-free shops so I found plenty to keep me occupied when I wasn't under water or on the beach. Again, having a car really gives you the freedom to explore.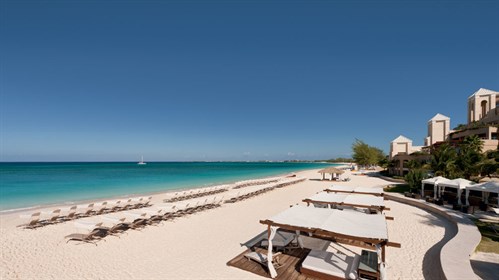 As an all round holiday destination, I can't recommend Grand Cayman highly enough. I think some UK visitors are put off by the island's 'very American' reputation but I don't think this reputation is entirely deserved. It's true that most visitors are from the US - Florida is, after all, only about 450 miles or an hour and a half flight away - but the Cayman Islands is still an official British Overseas Territory governed from the UK. There is a large British ex-pat community here and I felt that the island had a distinctly European flavour. If you walk into a dive shop or a bar in Grand Cayman you're just a likely to be served by a Yorkshireman or a Londoner as you are a native Caymanian.