As the nights draw in and plummeting temperatures finally bring down the curtain on a surprisingly sunny British summer, memories of last winter suddenly begin to bubble up from the darker recesses of our national psyche. Remember how we shivered all the way through to April, snow still crunching under foot well beyond Easter? Remember how we promised ourselves that next year, we'd make sure we booked ourselves a little bit of winter sun as respite from that hoary hibernal gloom that descends after Christmas?
If this sounds like you, then allow us to paint you a picture. Instead of shuffling along a slippery pavement, you're wandering barefoot along a soft sandy beach. Instead of grimacing as a biting, icy wind blasts your face, you're smiling as a warm sea breeze ruffles your hair. And instead of being met at the end of your journey by your boss demanding to know why gridlocked traffic and public transport chaos have made you late for work, you're met by a smiling cocktail waiter ready to take your order as you relax back into your sun lounger. It might sound like a million miles away, but this is Dubai, and it's closer than you think.
Just a six-and-a-half hour flight away, and with balmy winter temperatures of around 26C, Dubai is the perfect place to brighten up the colder months with a splash of sunshine, whether it's a short break or a blissful couple of weeks. The hotels of this gleaming city are renowned for an uncompromising approach to lavish luxury, and the fast-moving nature of the hotel scene here means there are always new openings to keep things fresh. The brand new Anantara Dubai The Palm Resort & Spa is a case in point, bringing a touch of the Maldives to the Persian Gulf with Dubai's first ever over-water villas. It's just the latest in a long list of 'firsts' and 'biggests' in this innovative city, with everything from an indoor ski slope to the world's tallest building jostling for your attention.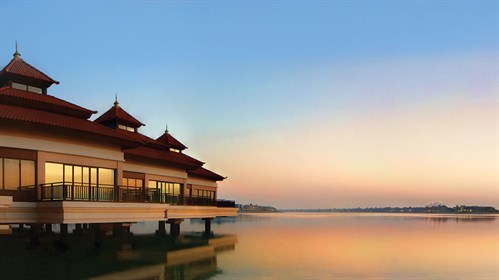 If skiing in the desert doesn't appeal, perhaps shopping is more your bag. The Dubai Mall is, naturally, the world's largest, perfect for a spot of last minute Christmas shopping . As well as the many stores and boutiques, Dubai's downtown area is also home to the stunning Dubai Fountain Show, plus the aforementioned world record holder, the towering Burj Khalifa, which truly has to be seen to be believed. And, contrary to some popular misconceptions, it's still perfectly possible to find flavours of old Arabia in Dubai, with beguiling backstreet souks where you can pick up a bargain in atmospheric surroundings - think colourful spices, glittering gold and sumptuous fabrics.
Dubai is also a fantastic family destination at this time of year. There's no need to drag the kids around the shops against their will, since the Dubai Mall contains an Olympic sized ice rink and the SEGA Republic indoor theme park, with five zones of cutting edge electronic entertainment to keep them occupied. And there's no need for them to be bored on the beach either, with two exhilarating waterparks to explore. At Wild Wadi, located next to the Jumeirah Beach Hotel, and Aquaventure, part of Atlantis, The Palm, kids of all ages can ride the slides, rapids and flumes to their heart's content. Although don't be surprised if the roles are reversed and you find yourself pleading with your little ones to allow you just one more go on that slide…
Gourmands are incredibly well catered for in Dubai too, with a culinary spectrum encompassing everything from soulful street food to cutting edge cuisine from the world's top chefs. Dining at Dubai's restaurants delivers unforgettable experiences ranging from the sublime - such as Nobu's carefully crafted Japanese fusion dishes - to the spectacular, as personified by the Burj Al Arab's Al Mahara restaurant, where you find yourself surrounded by a glass-walled, floor-to-ceiling aquarium, with colourful fish swimming by while you dine.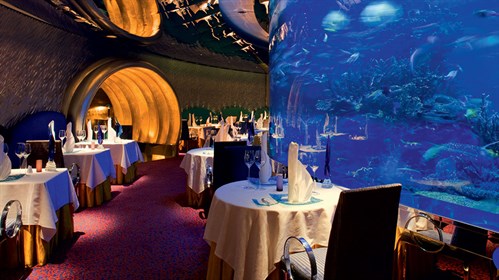 For a more visceral evening's entertainment, the Dubai World Cup, taking place on 29 March, is hard to beat. A highlight of the international horse racing calendar, this is the world's richest race, with a purse of some $10million for the winner, and, as you would expect, the atmosphere is electric. Eight other races precede the main event, and, this being Dubai, you can enjoy all the action from the comfort of your own private suite if you so choose. Another winter event not to be missed is the Dubai Shopping Festival from 2 January - 2 February, where big reductions are offered on jewellery, fashion, electronics and carpets, alongside a series of fashion shows, street performances and nightly fireworks. The Taste of Dubai food festival in March is a great opportunity to sample epicurean delights from the city's many high-end restaurants, while Olly Murs and Jamie Cullum drop by in February for the Emirates Airline Dubai Jazz Festival.
So, if we've whetted your appetite, then why not give our friendly team of experts a call on 020 7751 0660 and book your dream Dubai escape today. From authentic Arabia to extravagant excess, from desert dunes to sparkling skyscrapers, this truly is a winter sun destination that has it all. Whether you're blissed out on the beach, maxed out at the mall or worn out after a busy day of sightseeing, there's so much going on in Dubai that you'll wonder why you ever wintered anywhere else.