Luxury, like beauty, is definitely in the eye of the beholder. When we're talking about luxury travel it can mean different things to different people. It may be the indulgence of cutting yourself adrift from modern life, off-grid and barefoot on a deserted tropical beach; the full Robinson Crusoe experience. For others it's the old-world charm and personalised service of a traditional plantation-style hotel; all starched white linen and afternoon tea.

Yet for some, the pursuit of luxury is all about unleashing the 12-year old boy within us. It's about gadgets and glamour, urban glitz in a tropical setting. It's the thrill of simultaneously What's App-ing your mates, checking in on your stock portfolio and ordering a drink from the hotel bar via your tablet whilst you bury your toes in a tropical sea... Surfing in the surf if you will. It's about making the most of technology, to bring the convenience we all take for granted in our everyday lives, to our two weeks in the sun and then turning it up to 11.

Now, whilst this approach may not be for everyone, there is a compelling logic to it. If technology can make our working and family life more organised, convenient and entertaining, why actively exclude it from your holiday? Now that so many of us spend an increasing amount of our leisure time online more and more hotels are catering to the connected generation. And as we shall see it goes way beyond just WiFi on the beach.

Let's start with the iPad. What was once a status symbol has now become almost ubiquitous. But how about complimentary loaner iPads such as the ones offered by NIYAMA in the Maldives? On an island with complete superfast WiFi coverage. This, remember, on a tiny pinprick in the middle of the Indian Ocean, exactly 15 minutes from the middle of nowhere. At The Chedi Muscat in Oman the WiFi even stretches to the hotel's luxury limousines.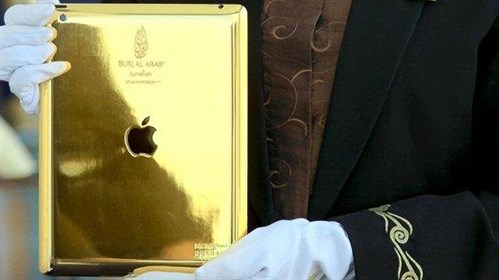 If complimentary iPads are a bit pedestrian for you, how about a gold one? The Burj Al Arab in Dubai (where else?) offers guests the use of a 24-carat gold iPad, functioning as a "virtual concierge", which at the touch of the button gives access to both information and the extensive selection of hotel services, such as the Guest Services Directory, detailed descriptions of Burj Al Arab's restaurant options and spa menu, as well as private dining, butler and housekeeping services, among many other options. What's more, if you fancy a souvenir and don't like dates, they are also for sale along with a gold iPad mini, gold iPhone 5 and gold BlackBerry Q10. Well that's Christmas sorted.

If this is all a bit infra dig, but you'd still like to enlist the labour-saving services of technology in a less ostentatious manner, then may we suggest Sandy Lane in Barbados where the curtains will open at the clap of your hands and the golf buggies have sat-navs. Or perhaps you'll be tempted by One&Only The Palm in Dubai whose rooms feature televisions seamlessly secreted behind the bathroom mirror to keep you entertained whilst in the bath.
On the topic of entertainment, many of our resorts offer peerless facilities for the audiophiles amongst you. Take the CUBE at Huvafen Fushi in the Maldives where the master suite and two guest rooms feature Bose surround sound systems, plasma screens and DVD players along with a wine fridge, two fully-stocked mini-bars, a games room with the latest video game consoles and a lounge stocked with bestsellers and iPod playlists. A personal butler (sadly not a robot one) is also on call 24 hours a day.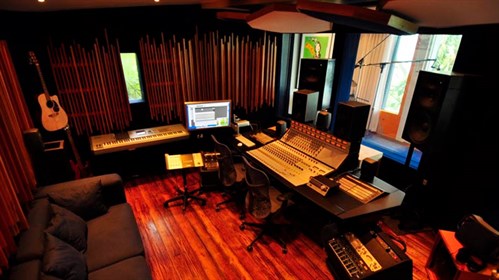 Geejam in Jamaica goes one better. Not only does it feature a compact digital surround sound system in each room, going by the pseudonym of George, which allows you to view Apple TV and play and charge an iPod, it offers guests the use of a fully featured and staffed recording studio. Perfect for getting that school boy skiffle band back together.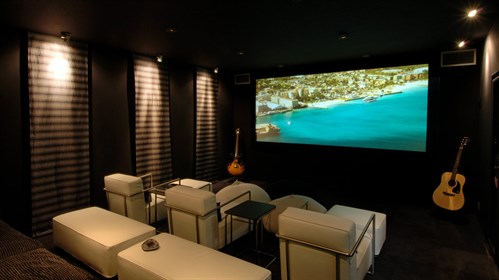 Amazingly, Geejam isn't the only Caribbean hotel offering this as a service. Villa Rockstar at Eden Rock in St Barths comes complete with a state-of-the-art music recording studio and screening room as well as a choice of cars in the rock star garage.

So if your version of luxury involves tweeting from a golden iPad, recording a rock opera or just going for a spin in your complimentary Mini Cooper, we've got you covered.