Our product manager Katherine Hobbs is closer than most to the Caribbean. Whilst all of us love visiting the region and do so as often as possible, she actually grew up there and her father is still a resident of Saint Lucia. Barrie Hobbs, who first came to the island in 1973, has a CV that covers everything from running his own airline to his current role as co-founder of an organic bakery, and has lived in both Saint Lucia and Grand Cayman. We caught up with him to find out how the region has changed, hear tales of Katherine breaking into prison and to discuss the price of bread…
How has the Caribbean changed since 1973?
The Caribbean in general and Saint Lucia in particular has changed almost beyond recognition during the past 40 years. Back in 1973 tourism in Saint Lucia was in its infancy, we had no charter flights, very few package tours and limited air lift.  We had no non-stop flights to the UK… BOAC's VC10 service was via Bermuda. Flying was an expensive business in 1973; round trip to England was £400 and that at a time when I considered £2,000 p.a. to be a great salary! We had only one US flight – Eastern Airlines to Miami. The airport terminal at Hewanorra was the baseball pavilion built by the US Air Force when Hewanorra was Bean Field and an active US Air Force base. It's now the fire station at Hewanorra Airport.
Perhaps the most dramatic change has been in communications… back then we had to book a phone call to the UK and if you wanted a call on Christmas day you had better book by October or you wouldn't get a slot – we shared our cable with other islands!
Foodstuff shopping left much to be desired and there were frequent "outages" of many products. The island had just two supermarkets. Security at the airport was (by today's standards) non-existent. Pedestrians were free to walk across the runway (as long as a green light was displayed in the Vigie airport control tower) and passengers could be met as they walked down the steps of flights arriving from other islands.
What are the best aspects of living in the Caribbean?
The weather of course is number one, closely followed by a more relaxed pace of life. For those who enjoy sea, sun, sand and anything to do with the water it has to be paradise on earth.
Where is your favourite place to go / thing to do in Saint Lucia?
Pigeon Island in general and Jambe de Bois restaurant (on Pigeon Island) in particular. Pigeon Island is just that little quieter than Rodney Bay beach, the view from Fort Rodney is well worth the walk, and Jambe de Bois restaurant offers good food at reasonable prices in a wonderful setting with views over Rodney Bay and the north west coastline. And all within sight and just a couple of minutes from my home in Rodney Bay.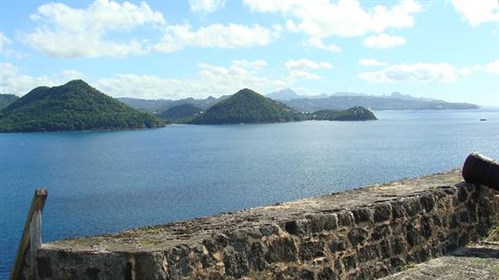 Looking south from Fort Rodney on Pigeon Island
Another favourite spot is Moule a Chique in Vieux Fort… one of the finest views in Saint Lucia from a former US Cold War satellite tracking station now home to Cable TV receiving equipment.  From Moule a Chique Hewanorra airport and its Jumbo Jets are like toys hundreds of feet below, and one can see many miles of the island's south east coast line as well as both Pitons to the west.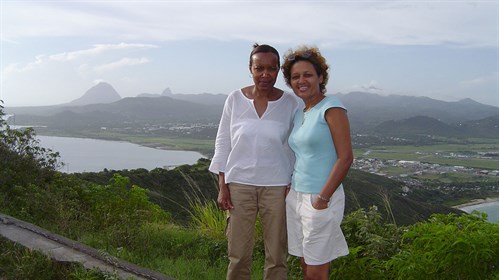 View from Moule a Chique
Any funny stories from Katherine's childhood?
When we went to Saint Lucia in January of 1973 Katherine was just six months old.  La Toc hotel was as yet unopened although the village area was completed and housed those of us employed to get the place open.  The "village pool" was the place for the children and I'm sure that Katherine has no memory of learning to swim as she swam at about the same time as she started to walk.  I have vivid memories of Katherine crawling to the edge of the pool and flopping into the water.  Later, following the opening of the hotel Katherine was rescued more than once by hotel guests who doubtless thought that her parents were lax in the care and attention paid to their offspring at the pool!
Both Katherine and her sister (Caroline) attended Tapion School.  The school was very small (less than 60 pupils) and occupied a house right next door to the women's prison, which was also formerly a house.  Ball games were frequently interrupted by having to retrieve the ball from the prison grounds – easily undertaken by Katherine slipping through one of the many holes in the fence!
What inspired you to become a baker?
I'm not a baker!  And for that matter nor is my wife, although she does own and operate a bakery.  When we closed the airline (Sun Air) all of the staff obviously became unemployed!  This included me, my soon-to-be-wife and Katherine.  Foila and I were scheduled to be married on 16th July 2005 and the airline ceased trading on 30th June.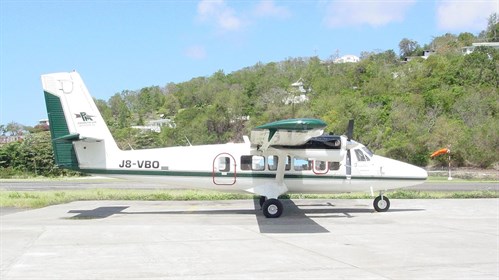 One of the two Twin Otters that Sun Air operated
I offered Foila the opportunity to postpone or cancel the wedding, which she thankfully declined.  Katherine returned to the UK, and Foila declared an interest in building a creole style wood fired stone oven and opening a bakery in Gros Islet.  The house that Foila owns and lived in before our wedding was ideally situated for such a venture. Foila is from Canaries on the south west coast of Saint Lucia, she brought a gentleman from Canaries to build her oven.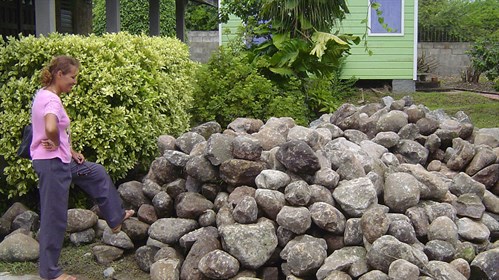 The first batch of stones from Canaries with which the oven was built
The bakery opened in October and was the only Creole bakery in the north of the island.  It soon became popular amongst the older generation …. Tastes remembered from their childhood?  The bread is totally free of any chemicals, preservatives etc. (which means that by my standards it's stale within a few hours) and many of Foila's regular customers buy bread twice a day.  Others drive some distance and buy a week's supply of bread that goes straight into the freezer for consumption during the week. When I came home for Christmas in '05 the bakery was well established and it has remained so since then.  You won't make a fortune running a small bakery but it's a steady business that's largely unaffected by economic woes …. Win the lottery or lose everything – your bread purchasing remains constant. 
What's your most popular product?
Without question the basic 4½oz Creole loaf is the most popular product, and it's sold for just 25 cents per loaf. The most popular savoury pastries are beef and chicken patties, closely followed by sausage rolls (unfortunately using American frankfurters – I love sausage rolls but I don't eat ours!).  A hot custard pastry (known locally as a "custard" is very popular and amongst the cakes the most popular are the rock cakes, coconut turnovers and doughnuts. 
After 40 years in the Caribbean do you still consider yourself British?
Yes! Very much so.  Throughout my years in the Caribbean I have maintained close links with England both professionally and personally.  I support both the West Indies and the England cricket teams, but only once have I had to choose ….. that was when the West Indies played England in St.Lucia during the 2007 Cricket World Cup.  My wife and I had  seats in the stand reserved for the English supporters.  We sported West Indies colours and thoroughly enjoyed the friendly rivalry and repartee – I said from the outset that I was supporting the winner… and I did!
One of the nicest aspects of living in the Caribbean is the slower pace of life and the forced acceptance of laissez-faire attitudes (if you can't learn to live with it you will probably leave!).  Life is not only slower; much that is "important" at home (Yes! I still refer to "home") in some way seems somewhat less important in the Caribbean.