Here at Caribtours we are continually scouring our destinations to find hidden gems and bring you the best resorts that each region has to offer. It's one of the things we pride ourselves on, and our knowledge can give you the reassurance that we know each of our hand-picked resorts intimately. 
Nicola Sweeney, Product Manager for the Indian Ocean and Arabia, recently returned from the Maldives and has picked out two of her favourites from her trip...


NIYAMA
NIYAMA is a great all-rounder 5* resort, with two islands, CHILL and PLAY, each attuned to the needs of the couple or family. The contemporary feel and first class service make it the perfect place for the ultimate holiday in the Maldives.
One thing that really stood out for me was the food, and in particular the in-resort restaurant Tribal. It has an intimate atmosphere and picturesque setting, and I really enjoyed the Latin American and African fusion flavours. The experience starts with daw, an African drink of lime, honey and vodka, followed by edamame beans with garlic and pumpkin bread. I then had the black cod with stir fried vegetables, which was simply divine.
To make the experience even more luxurious, we had our own Thakuru (butler) to attend to our every need at any time of the day, as well as helping to familiarise us with the resort, booking dinner reservations in any of the five different dining venues and anything else we required.
Prices from £2,389 per person
Olhuveli Beach & Spa Resort
Olhuveli is a perfect option for couples or honeymooners. Part of our C by Caribtours programme, it offers Half Board as standard, making it a great value option for the Maldives.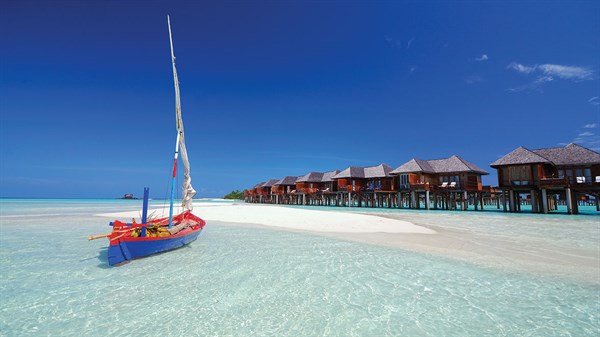 Staying in one of the Sunset Jacuzzi Water Villas, I had the benefit of stepping straight down into the water from our villa, and at low tide a sand bank rose out of the lagoon which stretched as far as the eye could see and made the perfect spot for a romantic morning stroll.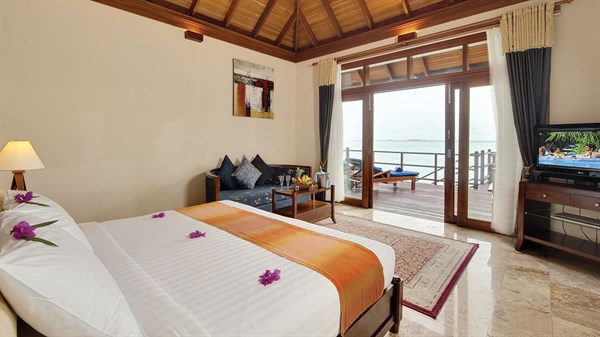 At the end of the resort's illuminated jetty, there is a lagoon where you can get up close and personal with a huge variety of the marine life endemic to the Maldives, but Oluhuveli also has two very special guests. Most evenings two majestic manta rays would appear and we spent many evenings watching these gentle and graceful creatures as they glided by.   
Prices from £1,355 per person