1. Get a drink at Elvis' Beach Bar & Burger at the Pumphouse
Take a walk along the Sandy Ground area of Anguilla and end up at Elvis' beach bar for a rum punch. Elvis' is a truly unique bar, the bar itself is inside a boat with the bar stools hugging the perimeter. The owner, Elvis has recently expanded with a small restaurant next door to the bar, it is infamous for its delicious fish tacos. Opposite Elvis' is the Pump House, a local, laid back hangout and home to the most delicious burgers on island. Every Thursday and Tuesday evening it is the perfect spot to enjoy live reggae music and have a dance. Not only is it a spot to indulge and have fun, but also it is a historical building, it was used for many years as a mill for refining salt from the Road Bay Salt Pond.
      2. Cruise to St. Barths
Feeling like a day trip? With regular boats from Anguilla to neighbouring islands it couldn't be easier to experience another island for the day. St. Barths is a beautiful island located only 43.4km from Anguilla. It is a luxurious island, and a favourite among celebrities. The main shopping can be found in Gustavia with outlets of all the high end European brands you would expect to find in Paris and Milan. If you feel like a spot of lunch on the island why not head to the infamous Eden Rock Hotel to enjoy some lunch at the Sand Bar, a restaurant by Jean-Georges. Our particular favourite is the black truffle pizza with Fontina cheese.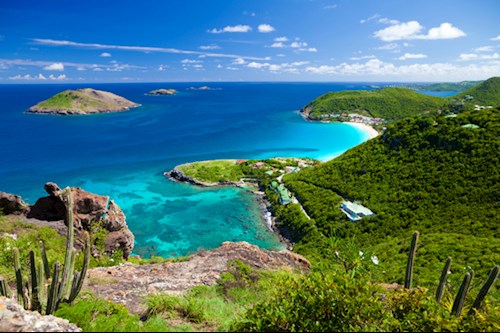 3. Swim at Shoal Bay & Elodia's Beach Bar
For an idyllic beach with powder white sand head to Shoal Bay. While you are there make sure to stop off at Elodia's beach bar. It is a great spot to hang out whilst enjoying the bay and the view. They have Sunday jam sessions where you can relax and unwind on the beach whilst enjoying the music. We would also recommend renting some snorkels as it is a wonderful spot to see turtles.
      4. Little Bay
Little Bay is a small bay which can only be accessed by boat, or by a thin rope hanging down the cliff. The rope sounds scary but in reality is very manageable; there are some foot holes which have been made by previous people climbing up and down.  It is well worth the boat trip or climb, the bay is a tranquil sanctuary of calm. Completely secluded, an absolutely romantic escape! There is an abundance of turtles in the water, so be sure to bring your snorkelling gear. Or if you are more of an adrenaline junkie there is a giant rock on the right side which you can climb up (again assisted with a rope) and dive off into the deep sea.
      5. Scilly Cay
Scilly Cay is a tiny coral based island very close to the Island Harbour of Anguilla. Guests are taken across in a tint boat to the island, which houses the restaurant, owned by Eudoxie & Sandra. It is the perfect spot for lunch with a simple but delicious menu. There are only four choices on the menu, or you can choose to have a combo of any, chicken, lobster crayfish and fish. We would recommend the lobster, it's truly delicious! 
      6. Horseback riding on the Beach
Seaside Stables Anguilla offers a unique experience, whether it's riding on a secluded beach or swimming on horseback in the warm Caribbean Sea. There is something for first time riders as they have a small but select group of kind natured horses, and for the more advanced they even have an ex- racehorse! 
      7. Anguilla Boat Race
The Anguillan boat race is a wonderful annual tradition. The boats themselves and the rules are unique to the island. If you are on island during the period of the boat race, (held over various times in the spring and summer), be sure to pay a visit to Sandy Ground to get a good view! The boat race is a wonderful event where you can experience island life and the jovial competitive spirit which comes with it.
      8.Take a look at the Irie Life Shop
Irie Life is an exceptional shop like no other!  It is a boutique housed in a century old West Indian cottage that has been lovingly preserved and maintained throughout the decades. It is filled with Anguilla's finest selection of t-shirts, swimwear, magnets, and other trinkets which are the perfect souvenir or present. They have recently opened a second shop in Sandy Ground, making it even easier to do your holiday shopping.
      9. Bankie Banx's Dune Preserve Beach Bar
Bankie Banx's Dune Preserve Beach bar is located on Rendezvous Bay. It is not to be missed! A large beach complex comprised of treasures of the sea such as drift wood and shells. With many nooks and crannies to sit and enjoy a rum punch in. The Dune is also host to Bankie Banx's Moonsplash festival, a superb weekend music event which has taken place since the 90s!
If you would like to hear more or visit this amazing destination, please contact us on 020 7751 0660