Inject some colour, history and natural beauty into your Instagram feed and delight your followers with some of Grenada's most stunning and fascinating locations. If you think there's somewhere we've missed, let us know!

1. Seven Sister Falls

At the heart of Grenada is a lush rainforest, bursting with tropical flowers, trees, ready and waiting for a filter-free photo. Take a rewarding hike to the Seven Sisters Falls, set high in Grenada's Central Mountain Range, and enjoy a refreshing swim in the natural pools at the base of the falls.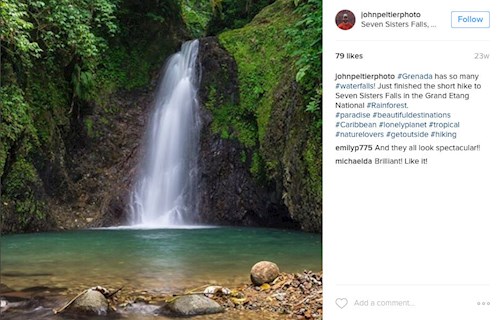 Seven Sister Falls, Grenada (Instagram johnpeltierphoto)


2. Belmont Estate

Grenada is the island of spice. A huge array of spices and cocoa including nutmeg, turmeric, mace, ginger, cloves and cinnamon are grown here so grabbing some shots of where they come from and how they're traditionally processed is a must. Belmont Estate is a co-operative of organic farmers that offer guides explaining and demonstrating the traditional and modern methods of fermenting, drying and processing the cocoa and spices - a treat for all the senses!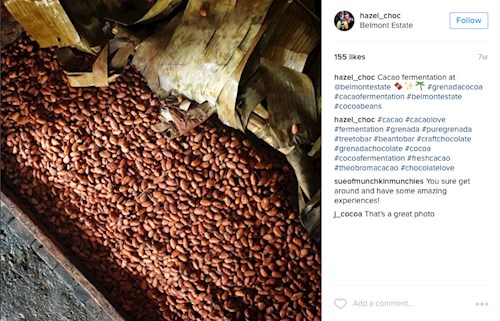 Cacao fermentation at Belmont Estate, Grenada (Instagram hazel_choc)


3. Grand Anse Beach

Grand Anse Beach, is one of the most beautiful in the world. Lying on the western side and perfectly sheltered from high waves and strong winds, Grand Anse Beach will be the perfect backdrop for those desert island beach snaps. While away your days on this beautiful sun-soaked beach and be the envy of all your Instagram followers.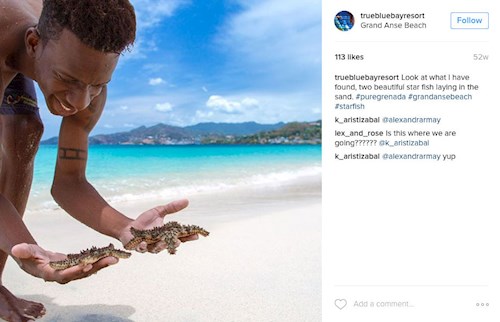 Grand Anse Beach, Granada (Instagram truebluebayresort)


4. St George's

From Fort George and Fort Frederick take in the panoramic view of St George's, the capital of Grenada. Possibly the most beautiful harbour in the Caribbean, the horse-shoe shaped St George's is speckled with Georgian buildings that over look the water spotted with colourful fishing boats. A picturesque setting to compliment your beach photographs.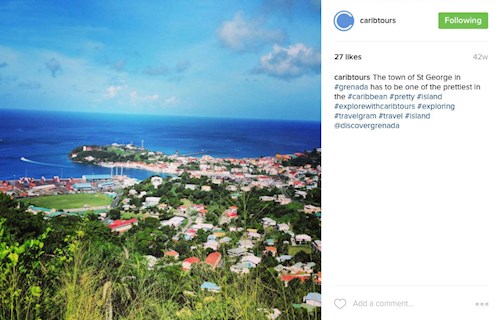 St George's, Grenada (Instagram Caribtours)


5. Moiliner Underwater Sculpture Park

You'll need your underwater camera for this one…located in Moiliner Bay, just north of St George's, is a sculpture park listed as one of the Top 25 Wonders of the World by National Geographic. The worlds first underwater sculpture park was created in 2006 by British Artist and Sculptor Jason deCaires Taylor. Now, 10 years later Taylor's work has brought new marine life to the waters that had suffered considerable damage from storms.

"Taylor's art is like no other, a paradox of creation, constructed to be assimilated by the ocean and transformed from inert objects into living breathing coral reefs, portraying human intervention as both positive and life-encouraging."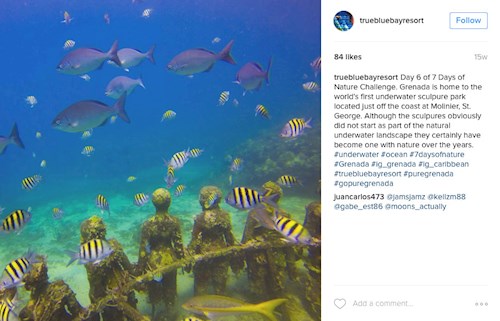 Underwater Sculpture Park, Grenada (Instagram truebluebayresort)

Want to hear more insider tips about Grenada from our expert team? Then call us today on 020 7751 0660 or fill in the form below and one of our team will get back to you.