We have put together an A-Z of the Caribbean for you, sharing our favourite insider tips and insightful information, to inspire and excite you when planning a trip to your own personal paradise.
is for… Antigua. This island has the perfect fusion of West Indian Spice and British colonial charm. With an abundance of luxury hotels and boutique hideaways, there is something special for everyone.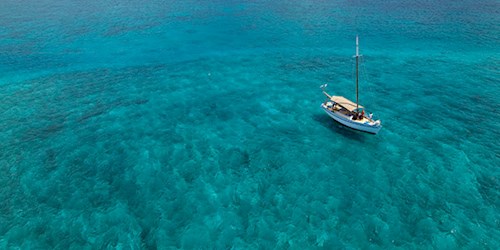 is for…  Barbados. This versatile and lively island is jam packed with activities; hosted on stunning white sandy beaches. From a UNESCO world heritage site, to golfing at the stunning Sandy Lane resort, the list is endless!
is for… Cuba. A one of a kind, vibrant, and colourful destination bursting with character. Explore the bustling backstreets of Old Havana, or relax with a mojito in hand on the stunning beaches which hug the coastline.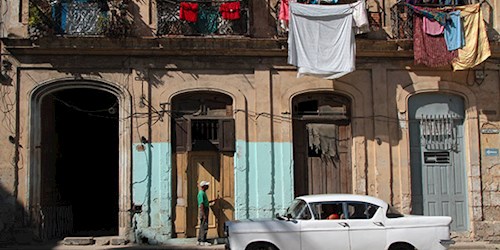 is for… Dominica. Experience one of the Caribbean's most spectacular natural environments on this island blanketed in rainforests and volcanos. This virtually untouched gem is perfect for eco-lovers, walkers, twitchers, and people who want to get off the beaten track.
 is for… Eating. The Caribbean is host to a wonderful selection of exotic cuisine, food, festivals, street food and fantastic restaurants.
We thought we would share a couple of our favourite restaurants from the islands; the first being 'On the Rocks' at Eden Rock Hotel St. Barths, a luxurious haven on the lively and exclusive island. Scilly Cay Island in Anguilla, the perfect lunch spot for freshly grilled lobster, and The Cliff in Barbados, the most romantic spot on the island.
 is for…  Families. The Caribbean is a wonderful destination for families as it is full of activities and culture for kids and teens to enjoy. There is an extensive array of water sports on offer at the hotels, as well as a variety of kids clubs to choose from. At the Calabash Hotel, Grenada they have recently appointed a Kid's Concierge to advise children of all the fun activities taking place in the hotel and on island.
 is for… Grenada. This stunning island is for all the foodies out there! With an abundance of delicious spices this fragrant island is the perfect place to relax and unwind, while sampling all of the culinary delights this island has to offer.
 is for… Honeymoons. The white sand beaches, cerulean sea, vibrant culture, delicious cuisine, what more could you want from a Honeymoon destination? For a peaceful and private getaway look no further than this blissful destination.
 is for… Island Hopping. Perfect for the explorers out there! If you want to experience a variety of islands in a short space of time, then the Caribbean is the perfect destination for you. There are around 7,000 islands in the Caribbean, so plenty for you to choose from, and no guidebook for what order or way, we can help you create an itinerary which encompasses all your wants and needs; to get the most out of your wonderful holiday.
 is for… Jamaica. This vibrant and fun island is full of vitality. From the lush Blue Mountains to the buzzing streets of Kingston; this island has so much to explore.
We particularly love the iconic GoldenEye Hotel, where Ian Fleming wrote all 14 of the James Bond Novels!
 is for…  St Kitts. Volcanic peaks surrounded by bright blue sea make the paradise which is St. Kitts. We would recommend a trip to Pump Bay, the perfect spot for snorkeling or diving with an abundance of stunning marine life.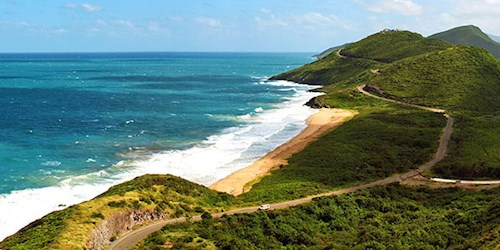 is for… Luxury experiences. While on your holiday, why not indulge in a luxurious experience, such as a helicopter ride or hiring a butler service. Our experts are here to help you organise your trip with additions such as these, to make it that extra bit special.
 is for… Mexico. A destination to tantalise all the senses! The smells and vibrant colour is ever-present in the bustling streets and local villages. The country has an abundance of lush rainforest which runs all the way up to the gorgeous beaches which hug the coastline. We particularly love Belmond Maroma Resort & Spa which was formerly a coconut plantation, and private hacienda.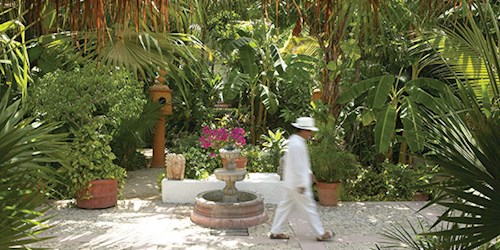 is for… Nevis. A paradise of bleached beaches, but beyond the lush sands and clear water there is so much to explore on this mountainous island. Weathered sugar mills are dotted around the island, waiting to be explored; as well as the colonial town of Charlestown, where afternoons can be lost wandering around the backstreets, exploring the local life on island.
 is for…Ocean Experience. What better place to learn to Scuba Dive than the beautiful clear waters of the Caribbean. With some of the best diving spots in the world, and perfect visibility it's a wonderful environment to learn in. We would recommend the Open Water Diver certification, as it gives you a comprehensive understanding of diving, while allowing you to explore the coral reefs at your own pace.
 is for… Private Islands. If you're looking for a more exclusive experience look no further. We have a range of private islands all completely unique. From Richard Branson's decadent Necker Island, to the more intimate Private Island Paradise of Jumby Bay. Completely secluded these private islands are a haven from the hustle and bustle of everyday life.
 is for… Queue Avoiding. With our VIP airport experience you will be offered a personal meet & greet on arrival, escort through the terminal, and fast track check-in and passport control. We also offer lounge passes with every booking, meaning you can wait for your flight in the comfort of a luxurious lounge.
 is for… Retreats. Relax, unwind and rejuvenate at The BodyHoliday, Saint Lucia. An all-inclusive retreat, with a huge range of activities such as yoga, archery and Zumba for you to choose from. You can indulge in daily included spa treatments and culinary delights, with health in mind. Come back from your trip a different person, fully rested and relaxed.
 is for… Saint Lucia. An impossibly picturesque island; home to the stunning pitons. It is no wonder this island is a favourite amongst honeymooners.  From boutique rainforest retreats, to luxurious beach resorts, Saint Lucia has it all. We would recommend Whale watching as the island acts as a marvellous backdrop to these majestic creatures.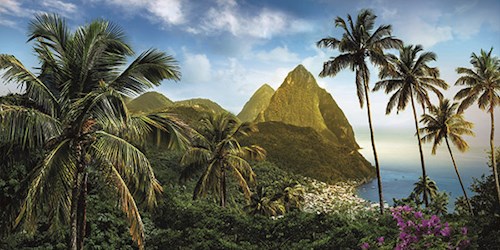 is for… Tobago. This multifaceted island has not only pristine white beaches but also dark volcanic sand beaches too! A sleepy and wistful island located in the southernmost point of the Caribbean Islands is also home to a serious carnival; where thousands of people take to the streets and dance to steel pans!
 is for… Underwater Adventures. The Caribbean's oceans are full of gorgeous marine life, from colourful parrot fish to iridescent coral. It is also home to some more unusual things, such as the world's first underwater sculpture park, just off the island of Grenada.  British artist Jason deCaires Taylor, created a haunting cement ring of children holding hands which sits just off Molinere Bay; it is an experience not to be missed!
 is for… Virgin Islands. The British Virgin Islands are made up of a cluster of around 60 islands, and boasts a glorious selection of stunning luxury hotels. The ocean surrounding these islands is home to the best sailing in the world, which makes it a popular area to charter a yacht, and explore all the beautiful and unique islands.
 is for…  Weddings. Imagine getting married on a pristine white beach…many hotels in the Caribbean offer a wedding service, our favourite is at Rendezvous, Saint Lucia. There is a team of wedding planners on site to help personalise your perfect day. What is even better is that the' Rendezvous Romance wedding' is complimentary with your stay.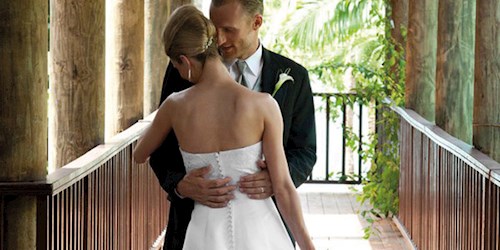 is for… 'X Marks the Spot'. Find your inner explorer! There is an abundance of unique and interesting points across the Caribbean which can explored by foot, car or boat. Why not rent a boat for the day and explore an uninhabited island. Our favourite is 'Prickly Pear' in the British Virgin Islands, an island completely uninhabited apart from a bar. It is the perfect way to spend an afternoon, exploring the island and finishing with a cold rum punch on the beach.
 is for… Yacht. The perfect excuse for a luxurious day out. Explore the islands for the day in the height of luxury; it's the perfect activity for all the family! We would recommend this especially if you are travelling in the Grenadines, as the great sailing conditions, make for an exciting day trip.
 is for… Zipline (with a twist). At Cap Maison in Saint Lucia; there is a 'proposal concierge' who will help you create an unforgettable proposal moment, with the ring arriving by zipline at the end of your romantic private dinner!
If you want to hear more about any of these experiences or to book a trip to one of these gorgeous destinations; call us on 020 7751 0660