Pink Sands Club Opens its Doors
We are thrilled that Pink Sands Club, one of the most eagerly anticipated luxury hotel openings in years, has finally opened its doors. It brings a new level of class and sophistication to the little-known Caribbean hideaway of Canouan Island, located in the beautiful Grenadines and offering an incredibly exclusive atmosphere.
Pink Sands Club is set on a stretch of white sand beach alongside a sparkling turquoise lagoon and is the perfect destination for an ultra-luxury holiday in blissful comfort. With breath-taking views and seamless service, you will feel completely pampered here and will never want to leave.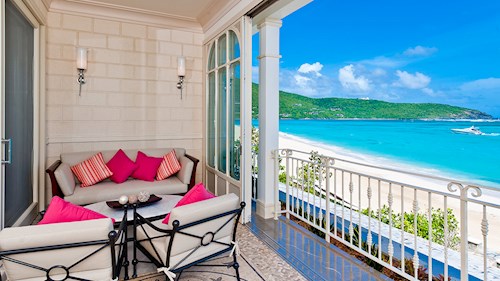 Old Colonial Style Meets Modern Design
The paradisiacal setting of the Pink Sands Club, against the backdrop of Canouan Island's lush hills and looking out to clear-blue waters and unspoilt beaches, is the real allure of this stunning new luxury hotel.
The hotel's design is a cleverly mastered blend of old school class and elegance, with a modern style and sophistication, wonderfully complimented by its gorgeous Caribbean surroundings. A boutique hotel with only 26 Suites & 6 Villas all offering sublime ocean views, Pink Sands Club oozes exclusivity and glamour; lavishly decorated with dark wood furniture, cream fabrics and marble bathrooms, complimented by state of the art features and cutting edge technology.
There is also a wealth of things to do here with an incredible spa, infinity pool, golf course, tennis court and non-motorised watersports to keep you busy in between relaxing on the soft white sand beach. Pink Sands really has something for everyone and as a wonderful new luxury option in the Caribbean, we can't wait to send you there.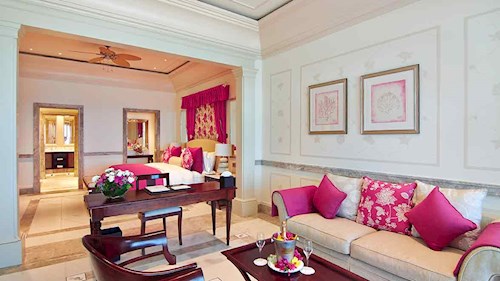 Pink Sands Club - 11 Highlights
1. Every bed boasts a breath-taking view of the beautiful blue ocean.
2. The incredible spa has unique over-water, glass-floored palapas, which are only accessible by boat. Indulge in a relaxing treatment whilst watching the fish explore the lagoon below.
3. Enjoy escorted jeep tours or guided hikes up Mount Royal for stunning views across the Grenadines.
4. Sample fresh lobster at beach house-style Lagoon Café.
5. There is a veritable flotilla of luxury yachts and powerboats that can be commandeered to explore further afield to the beautiful Tobago Cays or the exclusive island of Mustique.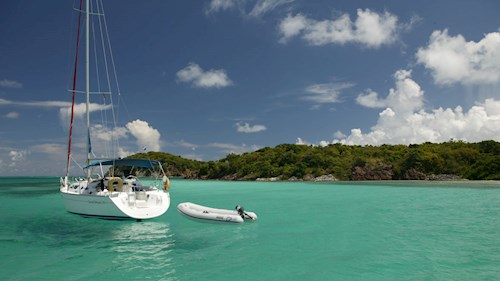 6. 18 hole Jim Fazio-designed championship golf course has spectacular views to the Caribbean Sea beyond.
7. Infinity-edge swimming pool with 3-tier tanning deck.
8. Wonderful gourmet cuisine at refined dining restaurant Juliet – sit out on the terrace for fabulous sunset views.
9. Go diving or snorkelling at the spectacular coral reef off the coast - a wonderful spot to see colourful fish in crystal clear waters. Non-motorised water sports are included at the hotel.
10. Take complete control of your own space for a personalised in-room atmosphere - use your in room touch-screen tablet to set your room temperature, request room, spa and golf services and control your television (hidden inside a mirror), or your sliding door to reveal the breath-taking lagoon in the distance.
11. The Pirates Kids' Club and Teenagers' Club for 3 to 18 year-olds has an amazing array of facilities to keep younger guests entertained, making this an excellent destination for a family holiday.
To find out more about Pink Sands Club, please contact us on 020 7751 0660 to start planning your holiday.