By Isabelle - Marketing Assistant 
I recently returned from a trip from the beautiful island of St Barths, an overseas collectivity of France; where I stayed at Le Sereno, Eden Rock and Cheval Blanc St-Barth Isle de France. All of these hotels have a unique personality, each suiting a different type of client. From glamorous and playful Eden Rock to the boutique hideaway of Le Sereno and the chic and relaxing Cheval Blanc St-Barth Isle de France.
Seen and be seen on this exclusive island, brimming with the same luxurious shops you would expect to see on the Champs-Élysées in Paris; from Louis Vuitton and Hermes, to island boutiques stocking upcoming international designer brands.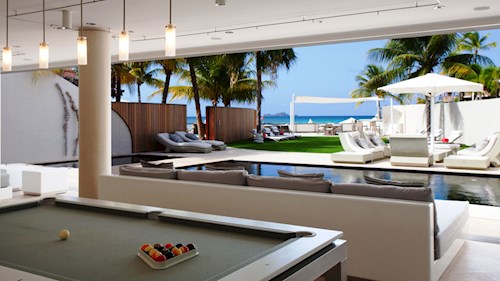 I started my island experience at the centrally located Eden Rock. From the minute you arrive here you notice the attention to detail, impeccable service and the strong identity of the property. The main part of the hotel is located on a rocky promontory surrounded by wonderful coral and white sand. I would recommend staying in Villa Nina, it is perfectly located with stunning views out to the Caribbean ocean, as well as open living spaces decorated with an eclectic collection of art.
That was something that really struck me about Eden Rock, the art collection that this property boasts is truly wonderful, from the owners children's framed drawings, to Stephanie Kossmann's black and white celebrity portraits; creativity is not constrained by boundaries at this beautifully playful hotel.
Dining at Eden Rock really is something not to be missed. With two dining options: 'The Sandbar' on the beach and Jean George's 'On The Rocks' which is located up on the main rock, boasting an unforgettable view over St Jean Bay.
At the Sandbar I would recommend trying the black truffle & fontina cheese pizza, it was truly delicious. On The Rocks offers a fine dining experience with an exotic flavour, which I would suggest trying for at least one night during your stay.
The next stop on my trip was Cheval Blanc St-Barth Isle de France, an oasis of calm; this hotel offers a stylish hideaway experience, set upon a secluded white sand beach.
I really loved the stunning interiors at this hotel; everywhere you look there are pops of the signature Cheval Blanc pink, from exclusively created art pieces to wine glasses.
The hotel has a team of 'Alchemists' on hand to arrange unforgettable experiences such as a deserted beach picnic or a shopping trip to Gustavia. 
I stayed in a tropical suite with a private pool; tucked away from it all, and surrounded by lush vegetation. This really is perfect for couples and honeymooners as it is secluded and offers a private and stylish retreat.
The final stop on my St Barths trip was Le Sereno, an intimate, boutique, beachfront hotel, with only 36 rooms. This hotel is the epitome of simplistic luxury, which encapsulates the spirit of the island. The attention to detail here is outstanding and struck me straight away, every aspect of the design and service was taken into consideration. The restaurant serves delicious Mediterranean cuisine with a taste of the Caribbean; a favourite was the green gnocchi with crab and zucchini, simply divine!
We would love to talk to you in more detail about a holiday or honeymoon to St Barths, please give one of our Travel Advisors a call on 020 7751 0660 to discuss.