Castara Retreats: An eco-hideaway that is all about getting back to nature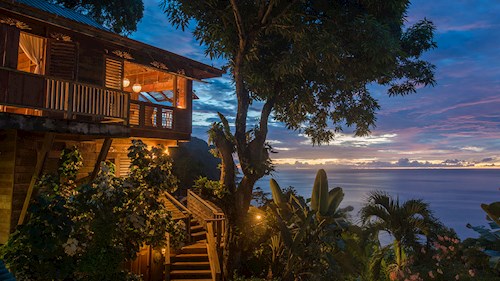 I'd heard many great things about Castara Retreats in Tobago prior to my arrival. From what I'd heard, it sounded like the perfect oasis in which to embrace the natural beauty of the Caribbean, and this was most certainly the case.
The 45-minute drive from Tobago airport gets better and better as you venture into the village of Castara, a scenic, quiet village complemented by an untouched beach and dramatic lush mountains behind. It's easy to see why British owners, Steve and Sue Felgate, chose this spot to create their hideaway.
Tucked away in the lush terrain, there are 15 tree-house-style, self-catering lodges that are carefully placed so as not to intrude on the landscape.
Local legend, Porridge, spoke about how he built their first three apartments back in 2000 and now they have 15 beautiful creations. There are no plans to expand so they want to keep the momentum of the property boutique and special. Each accommodation has been beautifully crafted with an extraordinary amount of care, boasting sea views and private terraces to soak in the views.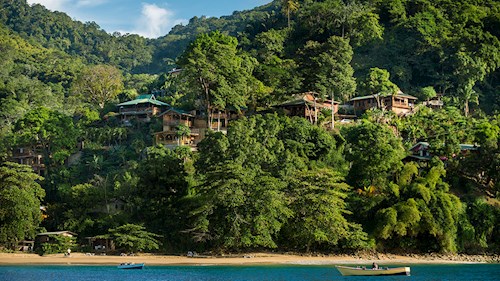 Branding themselves an eco-resort is taken very seriously here. Each construction worker involved on this property builds with their own materials in their own way which really contributed to the employment rates in the village. In addition, fish is bought fresh from the local fisherman on Castara Bay, just 5 minutes' walk from the hotel.
The gardens are alive with birds (74 species have been spotted) so often the only sound you'll hear around the property is the relaxing sound of the sea gulls, creating the most peaceful and relaxing environment. It's no surprise that yoga has become in-demand here and the owners have listened, creating an expansive yoga deck at the far end of the property, overlooking the bay below.
The on-site open-air restaurant, Caribbean Kitchen, comes alive in the evenings as guests come together to share stories of the day and enjoy a Carib beer out in the open. This family-run retreat really embraces the reason we love the Caribbean so much; nature, beautiful beaches and passionate people that created it. Castara Retreats is a special place that has to be seen to be believed.

If you'd like to find out more about Castara Retreats, or to book your holiday there, give our team of expert travel advisers a call on 0207751 0660 or fill in the form below.