Tired of the same holiday? Want to inject some excitement into your next trip? Take a look at our exciting Caribbean experiences. From a zip-line laden with champagne straight to your table to a Bioluminescence paddle boarding experience, we have something to excite and inspire all ages.


1. Train with Olympic Swimmers at Bodyholiday
If you are ready to make a change to your health and wellbeing and the way you get fit and stay fit then WellFit could be for you. The BodyHoliday has tailored an intensive two weeks boot camp. These intensive training programmes aim to transform your body, attitude and approach to health and wellbeing. The aim is to support and encourage you to help create a lasting change, to nail those goals and hit your objectives. WellFit will be delivered by Olympians David Carey and Keri Anne Payne who will help you develop a programme that will suit you and your body and help you get the most out of your vacation. In addition to the WellFit Programme in November 2017, Keri-anne and David will be offering SwimFit, a special 4-day programme for guests of any swimming ability who want to improve their technique, efficiency, and speed. This is a fantastic opportunity to be personally coached by the best in the world, and will enable you to take part in the 1 mile open water swimming challenge. It's not as easy as it sounds!
7 nights at Bodyholiday from £2,199 per person on All-Inclusive


2. Bioluminescence Paddle Boarding Experience
Glowing Plankton in the ocean is one of the most unique things you will ever see. Prepare for your mind to be blown! Set out on your paddleboard in the early evening and watch the ocean glow underneath you as you paddle through the tranquil waters. For a totally unique experience we would recommend staying at Castara Retreats, the eco-friendly boutique hotel which has plenty to offer guests to really get under the skin of Tobago. From the tiny hummingbirds hovering amongst the trees to the fireflies that light up the night sky, this wonderful family-run eco retreat is all about getting back to nature and a truly authentic Caribbean experience. Designed and built by British owners, Steve and Sue Felgate, an extraordinary amount of care and attention has been taken to create a truly unique hideaway. The accommodation is beautifully crafted, the sea views are stunning and the warm hospitality has guests coming back year after year.
7 nights at Castara Retreats from £1,019 per person on Room Only


3. Make your own organic chocolate at Jade Mountain
Do you like chocolate? Then you should visit the Jade Mountain Chocolate Laboratory! There are over 2000 cocoa trees on the resort estates, including the organic farm Emerald's in the Soufriere Hills. Since 2010, Jade Mountain have hand-crafted Emerald Estate Chocolate for the enjoyment of all their guests. And with the opening of the chocolate laboratory, guests are now able to not only taste but participate in the making of the chocolate. Jade Mountain guests can now choose from a variety of chocolate infused activities like chocolate sensory tastings, educational estate trips and truffle making classes on a year round basis. Chocolate lovers will be further enticed by chocolate inspired dishes, cocktails and body treatments in the resort restaurants, bars and spa. Jade Mountain is the ultimate romantic retreat - unbeatable panoramic views, exquisite accommodation and exceptional service are just a few reasons why our clients love this hotel. Perched high on Morne Chastanet with magnificent panoramic views of the Pitons and the Caribbean Sea, this fabulous resort is one of Saint Lucia's most exclusive retreats.
7 nights at Jade Mountain from £3,485 per person including breakfast


4. Private Dining and Champagne Zip-Line On Rock Maison at Cap Maison
Cap Maison is an elegant luxury hotel set in a stunningly beautiful location with its own secluded sandy beach. Being both private yet near to the chic Rodney Bay area and adjacent to the St. Lucia Golf & Country Club, it is in one of the most sought after spots on the island appealing to both the active as well as those seeking a relaxed retreat. For a tiny boutique hotel, you will be spoilt for choice with unique dining experiences. There are so many unusual options to choose from but dining on Rock Maison. a private wooden deck built on a shoal below the Cliff at Cap Restaurant on the water's edge, provides an unforgettable dinner. The deck area is almost surrounded by the surging sea rolling over the coral reefs and is accessed by a wooden staircase down from the Clifftop. It's the perfect venue to have a beautiful private romantic dinner and enjoy the sunset colours dancing across the sky. For a truly unique experience we recommend that we zip-line a bottle of champagne down to you, from the Cliff above. And yes… we said zip line. The "Rock" is linked to the Cliff Bar by a zip line enabling the staff to send down bottles of ice cold champagne in a basket along with mouthwatering canapés. With candle lit lanterns and tiki torches lighting the night sky and the sounds of the waves as your backdrop, there are few places in the world which rival this unique romantic setting.
7 nights at Cap Maison from £1,769 per person including breakfast


5. Traditional Cookery Classes at Secret Bay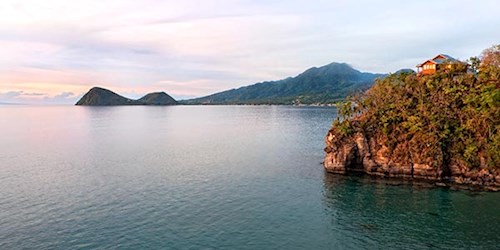 Tucked away on the unspoilt nature island of Dominica, Secret Bay is an award-winning small hotel with just eight sustainable luxury villas and bungalows immersed in nature and designed to capture the luxury of time and space. With its unique and personalized service that caters to guest preferences and privacy, Secret Bay is the perfect getaway for a secluded Caribbean holiday of a lifetime. The team at Secret Bay are renowned for creating interesting activities to break up your relaxing holiday and one that always gets our clients exciting is learning to cook local dishes. Their team of cooks offer personalised culinary classes in your villa or bungalow. Cooking is at the heart of Dominican culture: discover the many wonderful local tropical fruits and vegetables and learn how to prepare some of Secret Bay's signature dishes such as yam pie, breadfruit chips, creole shrimp or a mouth-watering passion fruit mousse in a fun and relaxed environment.
7 nights at Secret Bay from £2,325 per person on Room Only


6. Swim with Stingrays
For those who want to experience something unique, we would recommend a visit to Stingray City in Antigua, Here you will get the chance to get up close and personal with the stingrays, who come to this sheltered cove to swim and feed in the shallows. Play with, pet and perhaps even feed one of the tame stingrays and be surprise their gentleness. Once a feared "beast", but now loved, with your guide you can enjoy some time with them and learn about their environment, creating an unforgettable memory . This amazing experience is enhanced by the unbeatable scenery and the pristine coral reef surrounding the area, particularly from Blue Waters, one of our favourite hotels in Antigua Epitomising luxury and elegance, Blue Waters is the idyllic tropical paradise which every person dreams about. Over the years, Blue Waters Resort has earned an enviable reputation as being one of the Caribbean's finest resorts and prides itself on delivering a first class service to its guests. With several freshwater pools, secluded beach coves and 17 acres of stunning tropical gardens, Blue Waters is at the forefront of luxury living.
7 nights at Blue Waters from £1,499 per person including breakfast


7. River Tubing in Grenada
A 45 minute drive out of the town of St. George's through either the scenic hilly interior of the Grand Etang Rainforest Reserve brings you to the Balthazar Estate – Grenada's Greatest River. Here you will start you wet and wild adventure through the rainforest. This isn't fast paced, more of a leisurely adventure downstream, meander through swirling river and enjoy your views of exotic wildlife and tropical scenery. At the end, jump out of your personal raft and take a refreshing swim in the river. And then head back to Mount Cinnamon to enjoy a cold glass of rum punch and a toes in the sand BBQ at Savvys whilst the sun slowly sinks into the ocean. Occupying a prime location on a tranquil hillside overlooking two miles of glorious powder white sand, Mount Cinnamon is set right above Grand Anse Beach and offers a wonderful blend of modern luxury, vibrant West Indian colours and a casual, chic atmosphere.
7 nights at Mount Cinnamon from £1,599 per person including breakfast

If you would like to hear any more about any of these unique experiences or to book a holiday, please call us on 020 7751 0660, or fill out the form below.