On return from her family holiday to Sri Lanka in the Indian Ocean, we interviewed Caribtours expert Natasha Mustra-Wood to find out the best cultural experiences and adventure highlights to be enjoyed on this beautiful unspoilt island. Natasha tells us why it's the perfect destination for families and which experiences you simply cannot miss...

- What was your most memorable experience in Sri Lanka?
Taking my kids to Minneriya National Park was an incredibly memorable experience. The park is teeming with herds of elephant - we couldn't believe how many we saw. Watching the baby eles playing and the herds moving and grazing together, holding each others tails, was magical. We had our own jeep and felt like we were on safari - it's a must in Sri Lanka.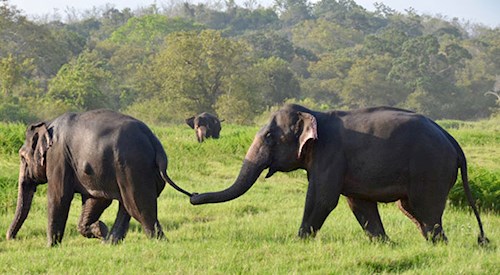 - Why did you choose Sri Lanka for your family holiday?
Sri Lanka is perfect for family holidays, almost all hotels guarantee interconnecting rooms and it's very affordable to stay in 4-5 star accommodation. The kids particularly loved that each hotel had a pool, as it can get quite hot in the middle of the day. We chose it as we had been advised that it's a very safe and welcoming country with plenty to do, you don't need to worry about taking malaria tablets, and there are lots of western food options for kids, so it's the perfect country for introducing them to a new and foreign culture and way of life. We also enjoyed the luxury of a private driver, making exploring different regions really easy and stress-free with the kids in tow.

- Sigiriya is known as a cultural highlight in Sri Lanka – what did you do when you were there?
We climbed Sigiriya rock fortress, known as Lion Rock, early in the morning to avoid the crowds and heat, and it was so worth it for the incredible views above the forest. As you approach the imperious rock that stands alone on flat land, you can't help but be filled with wonder. Our enthusiastic private guide Sujith really brought the place to life for my kids as he told us stories of its fascinating war-torn history. We also loved learning about Buddhism as we saw many student monks there – it's a place of meditation and the atmosphere is very spiritual. It's definitely a cultural highlight of Sri Lanka.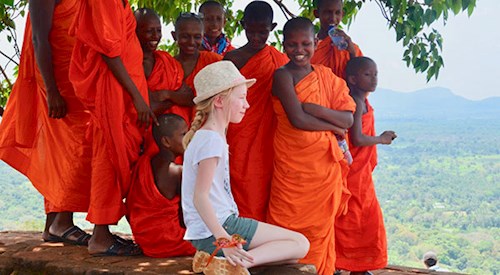 - Is there a particular temple that you can't miss?
You can't go to Sri Lanka and not visit Dambulla Cave Temple (The Golden Temple); the World Heritage Site completely surpassed my expectations. As you explore the cave temples built into the rocks, you can examine the spectacular Buddha statues intricately carved and decorated, all with different signs of the period and ruler they're from. It's one of the most enchanting places I've ever been and a very special day trip for the whole family to enjoy. There are also loads of cheeky monkeys around there, so watch out for your fruit!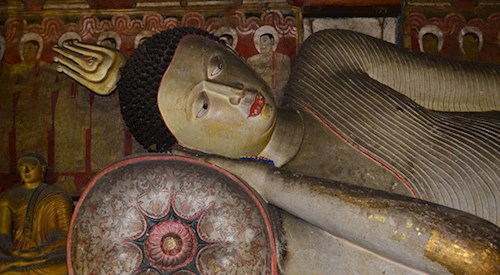 - What was the most fascinating cultural exchange that you experienced?
We travelled over Easter, which was New Year in Sri Lanka and we witnessed all of the colourful celebrations in the small village where our hotel was situated. There was dancing, music, ceremonies such as lighting the fire and making the Kiribath (milk rice), and lots of games for the children. It was amazing seeing families all celebrating together and upholding their beautiful and colourful traditions.

- Where did you find the best beach in Sri Lanka?
Whilst Bentota beach can be a bit commercialised as there are a number of hotels there, they're very well hidden and set back in the foliage. The beach itself is absolutely gorgeous and wide with white sand – perfect for long walks and splashing around in the shallows.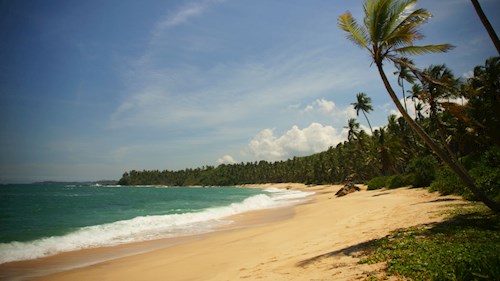 - Where is the most luxurious place to stay?
Our favourite hotel was the Fort Bazaar in Galle - everything there was exceptional from the food to the service and décor. Shangri La's Hambantota Resort & Spa and Anantara Peace Haven Tangalle Resort are both incredible resorts offering real luxury in gorgeous locations. Cape Weligama, a stunning Relais & Chateaux hotel on the southern coast of Weligma, is perfectly positioned for enjoying day trips to Uda Walawe national park and Galle, as well as swimming and snorkelling in the aquamarine bay beneath Cape Welligma.

- If you want to be active on holiday, what would you recommend?
There are amazing hiking opportunities inland; Adam's Peak is challenging but worth it for the scenery, and Sigiriya was one of our favourites that the kids could manage as well. White Water Rafting in the picturesque Kelani River in Kitulgala is another fun activity that you can do, taking in lovely views, being surrounded by nature and enjoying the thrill of the rapids!





- Do you have any pre-holiday tips for travellers?
You have to take your shoes off in temples, but you can wear socks, so don't forget to pop these in your bag each day. The stones can get really hot, so wearing socks makes exploring much more comfortable.

- How long is the perfect trip to Sri Lanka?
10 days to 2 weeks is the perfect length of time in Sri Lanka to explore all the highlights without rushing, and to get a nice balance of culture and beach.

- Where would you recommend staying for the best views?
Cinnamon Citadel Kandy– dining on the hotel veranda we had the most breathtaking views overlooking the pool with a wide river and forest in the background.

- When is the best time of year to travel to Sri Lanka?
Sri Lanka is a year-round destination with consistently warm temperatures and lots of sunshine. There isn't one perfect month and showers can occur at any time. The southwest coast and central hills are best between October and April, avoiding monsoon season from May, so these months through to September are best spent further north and on the east coast.

- Would you go back to Sri Lanka?
Definitely. Next time we want to visit Yala National Park, and we'd love to spend more time in Galle, which is a beautiful town with great restaurants and a lovely feel, as well as some amazing beaches - great for relaxing at the end of the holiday.

We arrange amazing private tours of Sri Lanka and can tailor a trip to entirely suit your key interests. If you're dreaming of jetting off to Sri Lanka, contact our friendly team of expert Travel Advisers on 020 7751 0660 to book your next holiday.