Isabelle, our Marketing Executive recently visited Elounda SA Resorts in Crete and she was absolutely bowled over by the fantastic array of facilities and activities on offer to guests to indulge in whilst staying there. The resort is comprised of three properties: Elounda Peninsula, Porto Elounda and Elounda Mare Relais & Châteaux Hotel. Here are her top 8 highlights that she urges you to experience whilst on holiday at any of these fabulous hotels. 
1. Six Senses Spa
Undoubtedly one of the most breath taking spas in the whole of the Mediterranean, the Six Senses Spa is located within the Elounda SA complex and is an absolute must when staying there. Offering massages, body treatments, facials among many other spa experiences you could spend days here indulging in all the different offerings; my favourite being the Aegean Breeze with Salt and Olive Oil body treatment, it is absolutely sensational!
2. Friday "The Fish Night" at the seaside Yacht Club restaurant of the Elounda Mare Relais & Châteaux Hotel
This is a truly unique experience that I definitely recommend – a rich and colourful seafood buffet displaying the freshest of fish caught that very day locally, along with Greek oysters and lobsters, prawns, octopus and calamari. As you indulge in exquisite sea food, a Jazz band will be entertaining throughout the evening while the waves gently lap on the shore beneath the amazing location of the Yacht Club restaurant.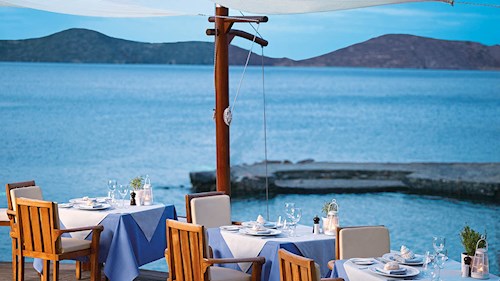 3. Kids Arc & Arsenal Soccer School Camp
Located near to Elounda Peninsula and Porto Elounda the Kids Arc consists of both an indoor and outdoor playground with a variety of activities to keep the littles ones amused. I particularly loved the vegetable garden where children can enjoy themselves while learning how to grow a variety of vegetables depending on the season. The Arsenal Soccer School Camp is the perfect way to give your child a memorable holiday and to have fun whilst learning to play football the Arsenal way.
4. Relais & Châteaux Boat
Discover the beautiful bay of Mirabello on the only Relais & Châteaux Boat in the world, moored just outside the bay at Elounda Peninsula. Relax and unwind on the deck, sundowner in hand while you sail through the azure Aegean Sea – this is the perfect way to spend a day or evening.
5. "The Cretan Night" at the Playada square of Porto Elounda & Elounda Peninsula
Set in front of the church within the charming square, 'The Cretan Night' is not to be missed! Discover typically Cretan cuisine in this beautiful setting, from local meat and poultry recipes to fabulous desserts, made from local yogurt, honey and fruits. Throughout the evening live music and traditional dances are performed around the tables, by local young dancers.
6. The stunning beaches of Mirabello Bay
I was totally blown away at how clear the water of Mirabello Bay is. I especially loved the private beach area at Elounda Peninsula, with impeccable beach service where you can order sushi straight to your sun-lounger.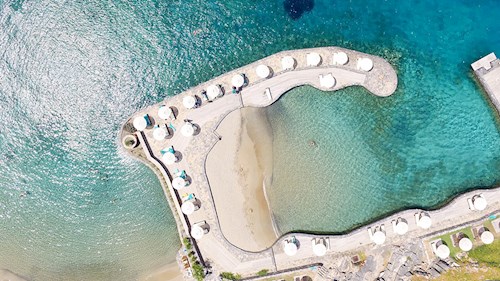 7. Art Exhibition at Elounda Mare Relais & Châteaux Hotel
I was completely charmed by the art exhibition on show at Elounda Mare, with an eclectic mix of art created by artists from all over Greece. Located in the Elounda Mare square surrounded by lush wildflowers and olive trees it's the perfect setting to familiarise yourself with the aesthetic of Greece.
8. Private 9-hole par-3 Golf Course Calling all golfers!
At Elounda SA Resorts you can indulge in a round (or two) of golf, on the 9-hole par-3 course, which has 2 playing options for each hole. There is also a PGA pro on site if you need any tips.
If you would like to hear any more about Elounda SA Resorts, or to book a holiday call us on 020 7751 0660.