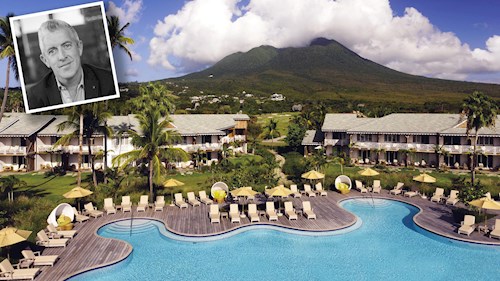 Caribtours' Managing Director Paul Cleary has just returned from a family holiday in Nevis and we caught up with him to find out more about this relatively-unknown Caribbean Island…

Why did you choose Nevis for your family holiday?

We travel so much throughout the year and this summer I was very keen for a complete getaway where we could just hang out as a family. Some of the Caribtours team had visited the island recently and it was Karen, I think, who suggested that Nevis would be perfect for us. British Airways flies twice a week to sister island St Kitts and the transfer to Nevis by luxury motor launch takes just 20 minutes.

Where did you stay?

We chose to stay in a private home on the Four Seasons Nevis Estate. We are a family of five so chose to stay in a gorgeous three-bedroom coral stone villa with a private pool and views over the golf course, as well as Nevis Peak in the background. Every villa comes equipped with its own golf cart - it was absolutely perfect for us and offered a level of luxury that we very quickly became accustomed to. Ahead of our arrival we submitted a grocery list and this meant that as soon as we arrived the fridge was fully stocked, so we could get on with exploring Nevis.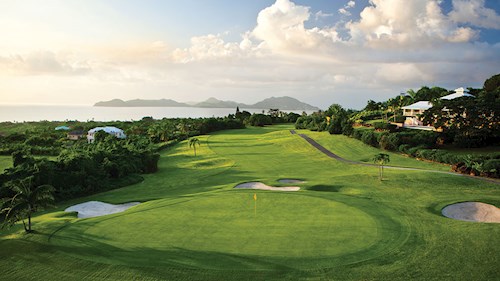 Where did you explore?

I'm a keen runner so would start every day with a five-mile run down as far as Paradise Beach which was an absolutely wonderful way to see the sun rise. One of the unexpected joys of Nevis is just how much there is to do and how easy it is to get around. This was my first visit in 20 years and there has been a renaissance in the dining and restaurant scene. We were spoilt for choice – we fast became regulars at Sunshine's Beach Bar & Grill, a worldfamous beach shack serving excellent local food and drinks. It is the home of their infamous Killer Bee cocktail.

There are other excellent restaurants too, including the super-stylish Gin Trap (as the name suggests, they serve every blend of gin you could ever imagine…). We also visited our friend Tim Thuell who runs the superb Nisbet Plantation and ate in their first-class beach restaurant. There is a pretty good equestrian school and we took the children horse riding on the beach to watch the sunset, which was one of the highlights of the week.

One of the unexpected joys of Nevis was the wildlife – green monkeys are EVERYWHERE and every morning we would take the children out on the golf buggy and tour the Four Seasons estate looking for monkeys to feed.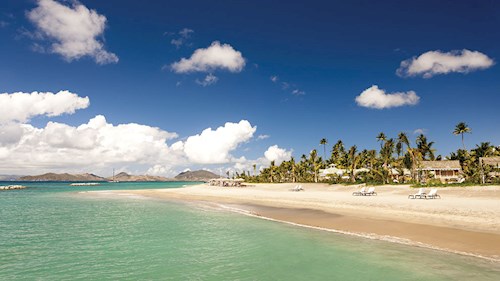 Will you return to Nevis?

Undoubtedly! We loved every minute of it and especially the people we met. Everyone was so kind and friendly and made us feel welcome. Unexpectedly, I have even joined a long-distance book club with Sharon, our hardworking housekeeper at Four Seasons – we discovered that we both share a passion for historical fiction! I now send her Philippa Gregory books in the post and, in return, Ken Follett novels are arriving in West Sussex all the way from Nevis. So I will have to go back soon if for nothing other than to return the books to Sharon!!

Must do's on Nevis 
Drink a Killer Bee at Sunshine's Bar and Grill – never have more than two and please, leave the golf buggy at home…
Go horseback riding at sunset on the beautiful Paradise Beach
Take the Funky Monkey Island Tour, a high adrenaline ride in ATV's that take you off road and to see the Real Nevis
Have a Sundowner at the Gin Trap while watching the sunset
Play golf on Four Seasons' championship course

If you'd like to find out more about Nevis, or to book your holiday there, give our team of expert travel advisers a call on 0207751 0660 or fill in the form below.