From bootcamp-style retreats to tranquil sunrise yoga sessions, mindful eating to indulgent all-inclusives, and luxury spa resorts to rustic rainforest cabins, wellness holidays mean different things to different people.

FEEL THE SPIRIT OF BARBADOS

To revive and restore your mind, body and soul, head to Barbados, where the horizons are blessed with coral-coloured sunrises and sunsets. The island encompasses the depth and breadth of transformative experiences, both physically and spiritually. 2019 is the year of Wellness and Soft Adventure with festivals and events running throughout the year.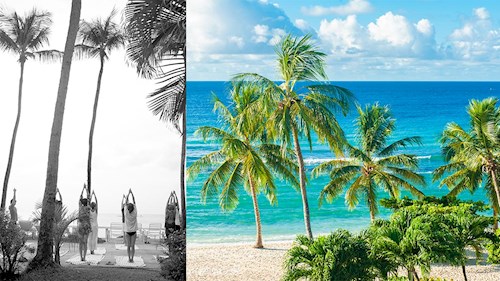 Reap the rewards of overcoming a new challenge, try caving in the awe-inspiring Harrison's Cave or experience the Run Barbados marathon, routed through the beautiful capital of Bridgetown. For an exhilarating activity, take to the seas and go surfing in the waters off the sleepy village of Bathsheba or, for something more relaxing, the calm Caribbean Sea is a sailor's dream. Drop anchor in a quiet bay for a swim in the crystal-clear waters or try deep-sea fishing, a soothing and calming pastime.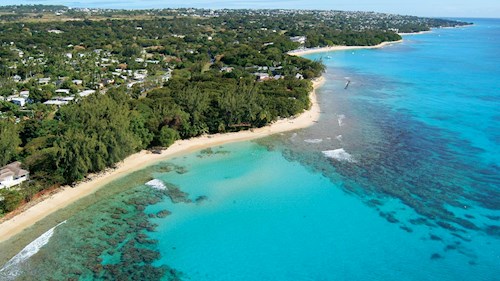 Escape to a secluded location only accessible by foot and feel at peace surrounded by the tranquillity of nature. Trek through vast sugar cane plantations, past tropical thickets teaming with island fauna, and take in the majesty of the wide-open vistas of the island's more rugged heartland. The sweeping Atlantic side of the island is a hidden treasure with refreshing sea breezes and postcard views.

This beautiful island has the second highest number of centenarians per capita in the world, proof perhaps that the sunny isle has a spirit that's good for your wellbeing.

REFOCUS AND REBALANCE WITH ELEGANT HOTELS

It's the start of a new year, and there's no better time to refocus on your health and wellness. Many of us want to begin new fitness regimes, manage stress and eat well, but sometimes we need an extra push to really kick start our new year programmes. What could be better than refocusing at one of the Elegant Hotels with a little help from the attentive staff and comprehensive amenities?

HODGES BAY, ANTIGUA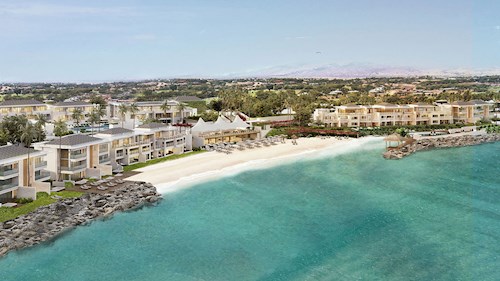 The boutique spa, tennis courts and state-of- the-art fitness centre make Hodges Bay, a new contemporary resort in Antigua, the ideal location to keep active and feel pampered. The adult-only areas have been carefully designed to encourage guests to relax and unwind, and the innovative dining options mean there's always a variety of healthy meal choices.

7 nights from £1,539 per person sharing a Pool/Garden View Junior Suite including breakfast.
OFFER: Save 50%
STAY: 05 Jan 2019 - 04 Jan 2020

TAKE ME THERE >

THE HOUSE, BARBADOS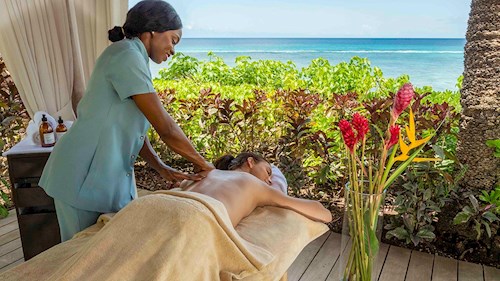 Start your holiday with a complimentary Jet Lag Revival massage at adult-only resort, The House. Aromatherapy on towels and pillows is standard, and the extensive range of amenities, including a brand new boutique spa and weekly yoga in the garden, are all designed to improve and maintain your best body and soul. Indulgence is also available in the form of daily Champagne breakfasts.

7 nights from £2,519 per person sharing a Garden View Junior Suite including breakfast.
OFFER: Save up to 40%
STAY: 05 Jan 2019 - 04 Jan 2020

TAKE ME THERE >

COLONY CLUB, BARBADOS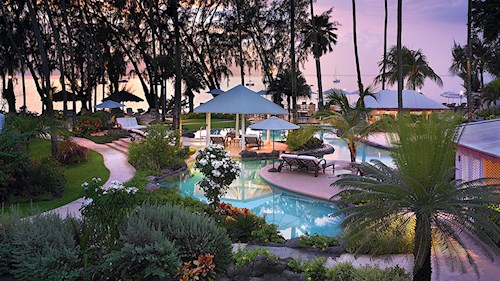 Peace and tranquillity perfectly describe the relaxed ambience of Colony Club. The meandering lagoon pools and seven acres of beautifully manicured gardens make this resort the perfect spot to press the 'pause' button. There are even weekly tours of the hotel's organic vegetable garden followed by a 'garden-to-plate' cooking demonstration.

7 nights from £1,499 per person sharing a Pool/ Garden View Room including breakfast.
OFFER: Save up to 40%
STAY: 05 Jan 2019 - 04 Jan 2020

TAKE ME THERE >

TREASURE BEACH, BARBADOS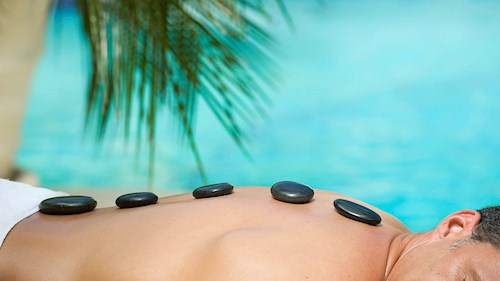 Get away from the hustle and bustle of everyday life at this secluded resort. The adult-only Treasure Beach reopened last year with a focus on culinary and the arts. Rediscover your creative side, meet talented local artisans, join the weekly Treasure Art Crawl or sample the cuisine of the award-winning chef at the Tapestry Restaurant with a complimentary Chef's Dinner for two.

7 nights from £1,379 per person sharing a Garden View One Bedroom Suite including breakfast.
OFFER: Save up to 45%
STAY: 05 Jan 2019 - 04 Jan 2020

TAKE ME THERE >

BODYHOLIDAY, SAINT LUCIA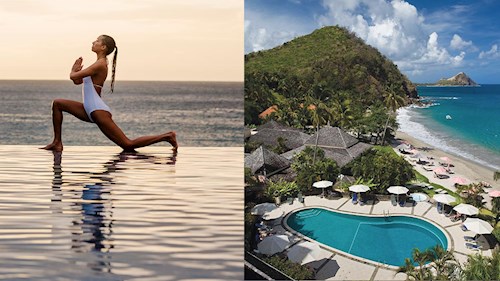 BodyHoliday has the most comprehensive wellness centre in the Caribbean; spa treatments, fitness classes and sports on land and water are all included as part of your stay. This recently-refurbished all-inclusive health and wellbeing resort is ideal for solo breaks to refresh and recharge, fun all-girls holidays or even romantic couples' escapes. The daily programme of activities ranges from yoga to beach boot camp, alongside a thrilling adventure programme that includes mountain biking, river trekking and even gorge jumping!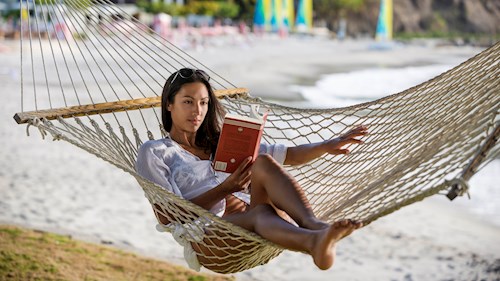 Although you don't have to partake in high-octane adventure here if you don't want to. Many guests simply come for the opportunity to rest and recharge with spa treatments, enjoy delicious cuisine at five excellent restaurants, and relax on the beautiful sandy beach or with nature walks through the spectacular surrounding scenery. The wellness centre was voted one of the world's best spas by Condé Nast Traveler, and your daily complimentary treatment could include an Elemis facial, Saint Lucian lime and ginger scrub or even an infrared sauna - a top-of-the-line treatment option which increases blood circulation and improves joint mobility. Whether you want to work on your fitness or pamper yourself, BodyHoliday is the ideal tried-and-tested option for a sun-drenched Caribbean wellness holiday.

7 nights from £2,399 per person sharing a Luxury Room on All-Inclusive.
OFFER: Save up to 40%
STAY: 03 Jan 2019 - 05 Jan 2020

TAKE ME THERE >

RENDEZVOUS, SAINT LUCIA

Wellness doesn't have to be a solo mission. Rendezvous is a couples-only resort that focuses on spending precious time with your significant other in order to reconnect and rejuvenate. At this tranquil couples' haven, set on a two-mile stretch of beach, you can slow down and relax under secluded beach-side cabanas, tuck yourselves away in a secret spot shaded in the water garden, and treat yourselves to a couple's massage at the spa.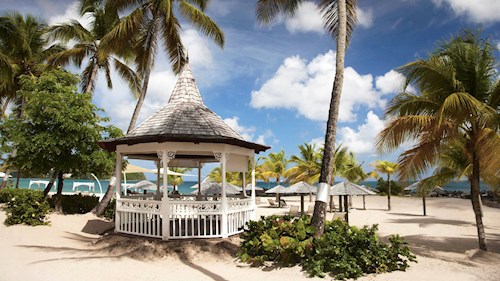 Dining opportunities present themselves as intimate dinners for two at the candlelit Trysting Place, oceanfront á la carte meals with your toes in the sand at Malabar Beach Club, or even private dining experiences at a location of your choice. And the all-inclusive offering is nothing less than exceptional – premium-branded drinks, wine by the bottle at dinner, all land and watersports, and nightly entertainment are all included. Being exclusively for couples, Rendezvous have a team of Stolen Time Specialists whose job it is to ensure your time together is as special as possible.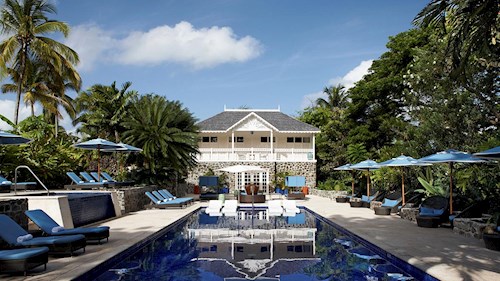 Wake up to a leisurely breakfast in bed, feel the wind in your hair on a Champagne cruise, take a couples yoga or Tai Chi class, enjoy a wine tasting session, and learn to massage each other. There are plenty of opportunities to acquire new skills to take home, form precious memories and simply relax into each other's presence at Rendezvous.

7 nights from £1,769 per person sharing a Premium Garden View Room on All-Inclusive.
OFFER: Save up to 45%
STAY: 14 Apr - 21 Dec 2019

TAKE ME THERE >

COTTON HOUSE MUSTIQUE, ST VINCENT & THE GRENADINES




Still the mind and indulge the senses at Mustique's only hotel, Cotton House. There are deserted white-sand beaches caressed by crystal-clear seas here and, as if the location weren't enough alone to ease you into blissful relaxation, the impressive spa at Cotton House certainly will.




Bespoke treatments incorporate elements of the island's natural wonders including ylgang ylgang, jasmine and frangipani, each with regenerative and revitalising properties. The spa has also recently launched a new partnership with award-winning organic skincare range, ila. Classes in yoga and meditation, as well as personal training, really round off the wellness experience at this haven of style and exclusivity.

7 nights from £2,519 per person sharing a Garden Cottage including breakfast.
EXCLUSIVE OFFER: Stay 7 Pay 5 + save 50% on inter-island flights + island picnic
STAY: 01 Mar - 31 Aug 2019

TAKE ME THERE >

FAIRMONT MAYAKOBA, MEXICO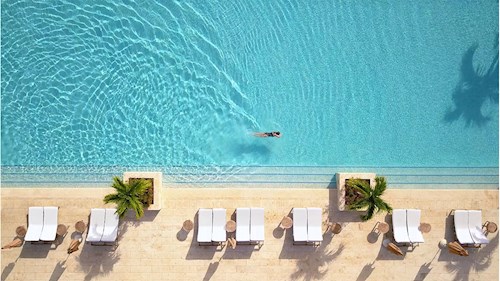 The natural world is on your doorstep at the luxurious Fairmont Mayakoba on Mexico's scintillating Riviera Maya. A stunning 47 acres of mangroves and crystal-clear canals sit alongside a beautiful stretch of beach here. To maintain the ecological balance, the only modes of transport allowed are bicycles and golf carts on land, and traditional Mexican boats to float you through the scenic network of natural waterways that weave their way throughout the resort. Luxuriate in the stillness of the Willow Stream Spa and relax into treatments influenced by ancient Mayan culture with soothing and revitalising local herbs, extracts and oils.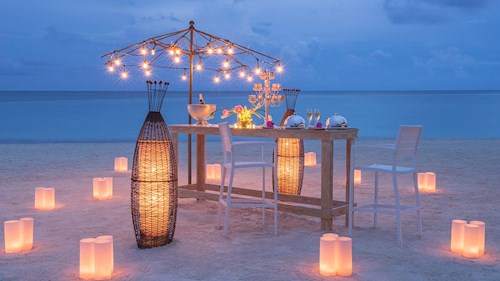 7 nights from £1,999 per person sharing a Fairmont View Room including breakfast.
EXCLUSIVE OFFER: Save up to 20% + complimentary room upgrade + 25% off spa treatments
STAY: 04 Jan - 22 Dec 2019

TAKE ME THERE >

THE CHEDI MUSCAT, OMAN

Flanked by the dramatic Al Hajar Mountains and facing out to the beach-fringed Gulf of Oman, The Chedi Muscat is just 20 minutes from the atmospheric old Muscat but feels blissfully closed off from the rest of the world. Arabian grandeur meets Asian tranquillity at this oasis of splendour and comfort. As soon as you step into the tented reception area, you'll be soothed into tranquillity by the impeccable service and minimalist, Asian-inspired interiors.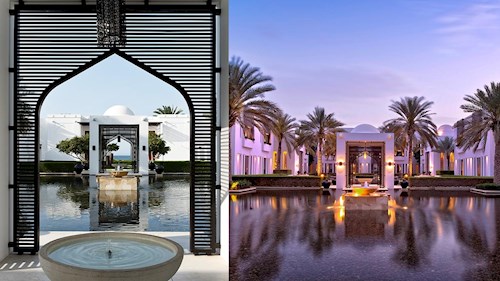 The grounds themselves evoke a sense of calm with their gently-swaying date palms, glistening ponds and manicured lawns. It's the calm-inducing setting, facing out onto the endless blue horizon of the Arabian Gulf, and the Oriental rituals, Balinese therapies and Indian Ayurvedic treatments that make an experience at the 1,500-square-metre spa and health club such a memorable one. Spa suites feature whirlpool baths with body jets, and private steam showers which can also be utilised for romantic bathing rituals for couples to enjoy together before or after treatments.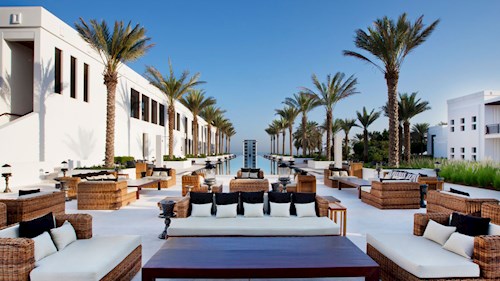 5 nights from £1,235 per person sharing a Serai Room including breakfast.
OFFER: Save up to 35%
STAY: 10 Jan 2019 - 05 Jan 2020

TAKE ME THERE >

JA MANAFARU, MALDIVES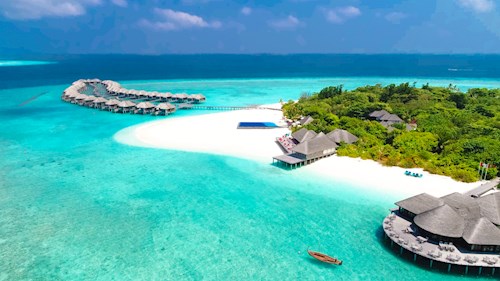 Peace and tranquillity are easy to come by at JA Manafaru, an oasis of white sand, azure ocean and lush green forest. And with the resort set to begin running wellness retreats this year, guests can further enhance their state of zen on this utopic island. The week-long retreats will include one group yoga and one beach bootcamp session per day, as well as activities, classes and workshops including meditation and watersports. Delicious organic vegetarian and vegan cuisine will be available alongside health-boosting juices and smoothies to rejuvenate the body from the inside out.

7 nights from £2,425 per person sharing a Water Villa including breakfast.
OFFER: Save 50% + complimentary seaplane transfers + villa upgrade
STAY: 11 Jan - 23 Dec 2019

TAKE ME THERE >

CORAL REEF CLUB, BARBADOS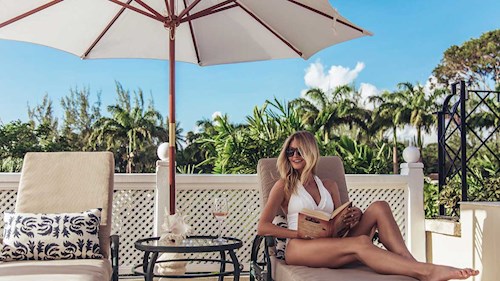 An elegant gem on Barbados' Platinum Coast, Coral Reef Club is renowned for its fine dining, high standards of personalised service, and outstanding spa. The colonial-style buildings exude elegance and the picturesque grounds are resplendent with mahogany and frangipani trees, fragrant bougainvillea and flowering shrubs bursting with colour.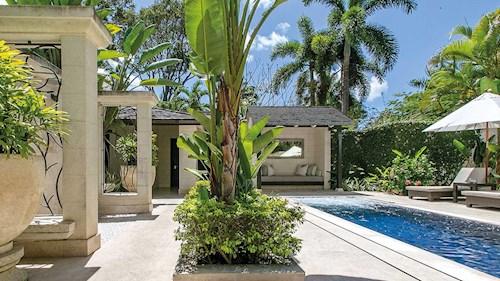 Spend some time in the Thermal Spa Garden, a soothing enclave amongst tropical foliage, where shaded cabanas and a glistening hydropool provide a serene and soothing ambiance to relax in before or after your spa treatments. Wind down at the day's end by absorbing the melodies of live steel bands with a refreshing cocktail before dining at the wonderful oceanside restaurant.

7 nights from £1,839 per person sharing a Garden Room/ Cottage including breakfast.
OFFER: Stay 7 Pay 6 + complimentary 30-minute foot ritual
STAY: 08 May - 01 Nov 2019

TAKE ME THERE >

All prices include return scheduled flights, private transfers and the use of a UK airport lounge (where available).
Book by 08 February 2019. If you'd like to find out more about these offers or to book your next luxury tailor-made holiday, give our expert travel advisers a call on 0207751 0660 or fill out the enquiry form below.