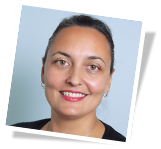 Fiona Ali-Williams, Travel Adviser for Caribtours, shares her incredible experience of visiting Costa Rica.

Costa Rica has always appealed to me. The unusual wildlife, vivid rainforest and gorgeous beaches make it look like one of the most beautiful and unique places on the planet. It's important for me to have a good level of knowledge and experience of the destinations we cover – that way, when my clients call to book a holiday, I can recommend the options that are best suited to them.

I've worked for Caribtours for over 20 years so like to think I'm pretty well clued up when it comes to travelling. Even so, Costa Rica was a brand new destination for us in 2017 and, lucky us, that meant lots of exploring the country to seek out the best hotels and destinations for you. Along with my colleague, Helen, we took a flight out to San José to begin our adventure, suitcases stuffed with hiking boots, binoculars and sunscreen!
Rivers & Rainforest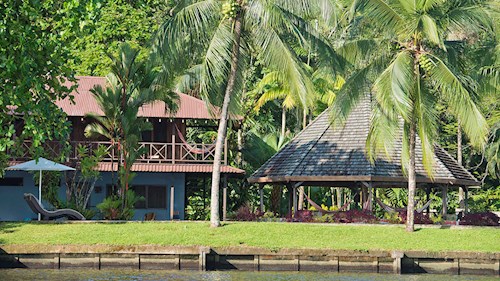 Our first destination was Tortuguero where we stayed at the intimate Tortuga Lodge & Gardens. The main draw of this area is the wildlife; I was absolutely staggered by the biodiversity of the national park. From our rooms, we could hear the sounds of local wildlife (especially howler monkeys!) and it felt so natural with the leafy fronds of the rainforest enfolding us.

We went out on a three-hour boat trip along the myriad of canals, which felt like a safari with the sheer amount of wildlife we saw, including a group of caimans hiding in the reeds of the riverbank. We passed by colourful houses on the edge of the canal and Tried to spot the elusive jaguar in the shadows of the forest.

Tortuguero isn't the kind of place you go for unbridled luxury as the experience here is so centred on wildlife and outdoor adventures. Even so, I was amazed by the quality of the food; it was fresh, wholesome, imaginative and presented beautifully on the plate. It was something to really look forward to after a day of hiking, kayaking or exploring the local village. My absolute highlight of Tortuguero was seeing turtles lay their eggs on the beach – that's one more item ticked off my bucket list!

Clouds & Conservation




From the embracing warmth of the rainforest to the coolness of the clouds – next, we were off to El Silencio Lodge & Spa, an eco-retreat set in the mists of a 500-acre cloud forest reserve. The first thing you notice a out El Silencio, testament to its name, is the silence. It was just heavenly. The team here are incredibly passionate about conservation and encourage you to reuse your water bottles and create as little waste as possible. Over a quarter of Costa Rica is protected land and you'll find that 'green' tourism is a big thing there in general. I think people need to be reminded of the impact, both positive and negative, tourism can have on the earth and many Costa Rican resorts are doing a wonderful job of this.

The suites and villas at El Silencio all offer magnificent views of the mountainous cloud forest – it was so blissful enjoying the scenery from our private heated whirlpool, pointing out hummingbirds and other colourful varieties of bird that were new to us. We had so much fun at his resort and enjoyed al fresco yoga on the deck before setting off on a hike through the cloud forest trails where we came across the most jaw-dropping waterfalls. Again, dinner here was just sensational. The hotel is a member of Relais & Châteaux and most of the produce comes from their own on-site organic farm.

Hot Springs & Hammocks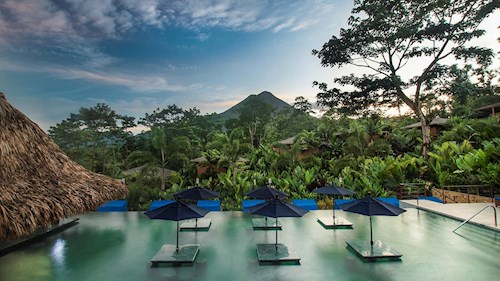 I was so excited about visiting the next hotel on our itinerary. Nayara Springs has been voted the 2017 Number One Luxury Hotel in the World by TripAdvisor, along with a string of other accolades from companies including Travel and Leisure, and Condé Nast. The staff here were super friendly and the eclectic décor, stunning. Each villa was fringed with gorgeously-green trees and plants, and had its own private garden which included an outdoor rain shower, hammock and plunge pool fed with water from the hot springs.

The hotel is set near Arenal National Park, one of Costa Rica's most popular sightseeing destinations. We learnt about the history of the looming Arenal Volcano – it last erupted in 1968 and completely destroyed three local villages which was devastating for the local area. Fortunately, it's now entered a resting phase and visitors can enjoy soaking in the natural hot springs, white water rafting, canopy tours and visits to the beautiful Lake Arenal with the volcano providing a magnificent, if ominous, backdrop.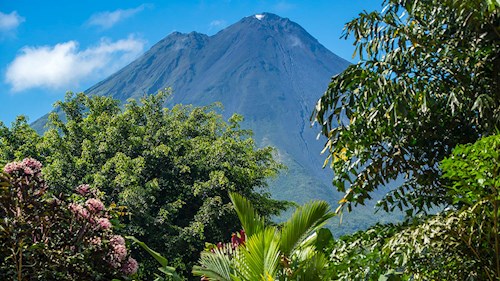 We decided to go zip lining through the rainforest canopy while we were here, which was an experience to say the least; I absolutely loved it but I can't say Helen felt the same! To balance it out with something a little more relaxing, we went to bathe in the hot springs. Many people travel here to visit them for the health benefits they're said to bring, being so rich in minerals.

Costa Rica was one of the most unforgettable travel experiences of my life. Everywhere we went we saw quirky art, met friendly people and encountered fascinating wildlife. I left with a newfound appreciation of our natural world – along with a taste for Costa Rican coffee!

If you'd like to find out more about Costa Rica, or to book your holiday there, give our team of expert travel advisers a call on 0207751 0660 or fill in the form below.