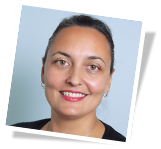 Travel Adviser, Fiona, recently returned from an extensive trip around South Africa, where she got to explore the vibrant Cape Town, tour Robben Island, see elephants up close on safari and go whale watching.

Cape Town is saturated in history and surrounded by natural beauty, with great shopping and dining adding to the appeal. On day one of our South Africa trip, first thing in the morning, we were up for a tour of the city's most iconic sight: Table Mountain. We got to skip the queues that had already formed because we were with a tour guide, although I'd definitely recommend going as early as possible to avoid the crowds. The views of the city from the mountain's 3,563-foot peak were phenomenal and, from there, we got the cable car back down for a tour of the city by bicycle.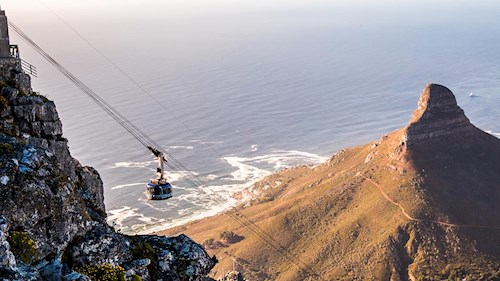 We cycled through Bo-Kaap which was one of the most colourful neighbourhoods I've ever seen; we saw the statues of Desmond Tutu and Nelson Mandela in Nobel Square; and we cycled along the boardwalk of the Victoria & Alfred Waterfront, along the coast and right up to the Cape Town Stadium where the World Cup was held in 2010. It was a wonderful way to take in the city.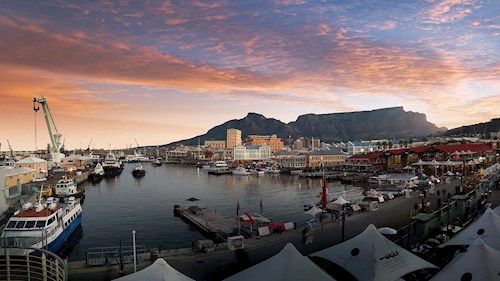 One of the highlights of my stay in Cape Town was the trip to Robben Island, where we were given a poignant tour by a former inmate who'd been incarcerated there for 20 years and now lives on the island in the old staff quarters. It was haunting to see where Nelson Mandela had spent 18 years of his life in a single cell.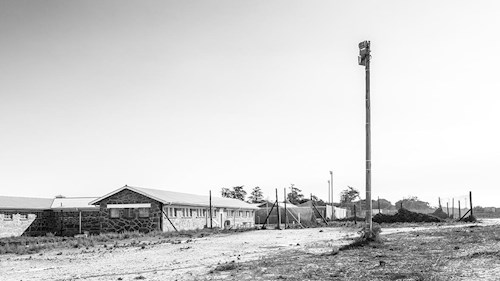 As well as taking in all the most popular tourist spots of Cape Town, we also did a tour of one of the city's oldest townships, Khayelitsha, where we were able to get involved with street art by helping to paint a rhino on the wall, and had lunch at the most amazing restaurant, 4Roomed eKasi Culture, which is run by South African MasterChef finalist, Abigail Mbalo.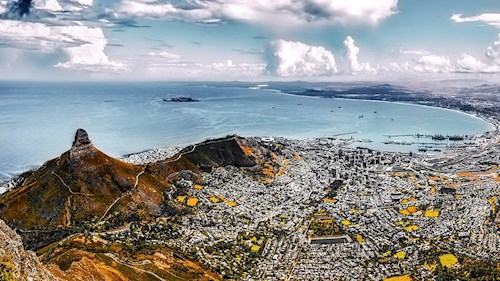 From Cape Town, we moved on to the winelands, where we visited Paarl, one of South Africa's oldest settlements, which has beautiful Georgian and Edwardian architecture and stunning views of the surrounding mountains. Of course, we sampled the world-class wines the region is known for, and then continued our journey along the Garden Route, stopping at Knysna which sits on the edge of a beautiful lagoon leading out to sea. We took a boat trip on the lagoon while feasting on the delicious oysters that the town is known for and sipping wine as we watched the setting sun turn the sky a thousand shades of pink and amber.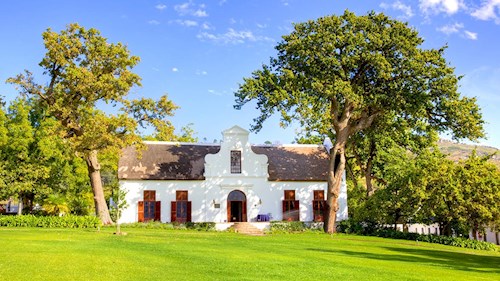 Our journey then took us into Addo Elephant National Park, home to the densest population of African elephants on earth. It was fascinating to see herds of these magnificent creatures up close, but despite the robust populations in the park, the species is actually vulnerable to extinction; they used to roam the entire continent. That evening, we had dinner and sundowners in the bush with the sounds of nature enfolding us which was completely magical.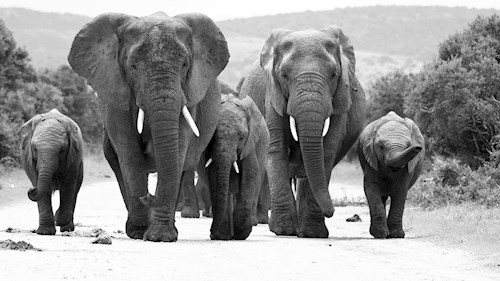 From elephants to whales – the next day, we drove to Port Elizabeth and set off into the Atlantic on a whale-watching cruise. We went with Raggy Charters, who are incredibly passionate about sustainability, and plant a tree for every cruise they do to set off their carbon footprint. We saw penguins diving into the ocean and even spotted a whale breaking through the waves in the distance!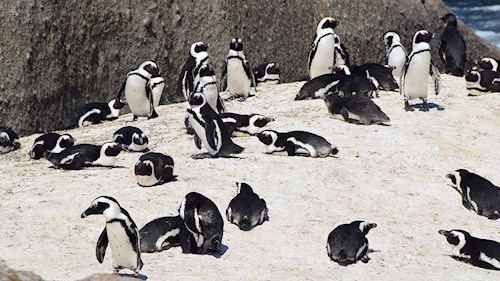 I was staggered by just how much there is to see and do in South Africa. One day I found myself exploring the townships of Cape Town and taking in the amazing art and culinary scene of the city, then the next I'd be gazing in awe at the mountains and vineyards of the Cape Winelands. The wildlife is nothing but spectacular, whether you're observing giraffe and elephants in the bush, or penguins waddling on the beach. I'd return in a heartbeat to this gripping country of contrasts.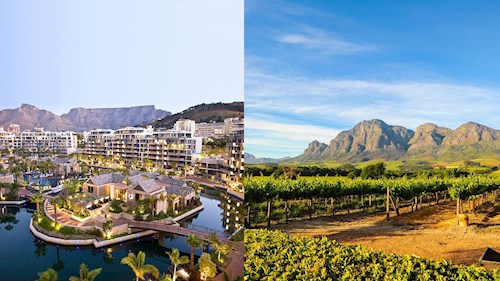 CARIBTOURS RECOMMENDS...



Mont Rochelle, Franschhoek, South Africa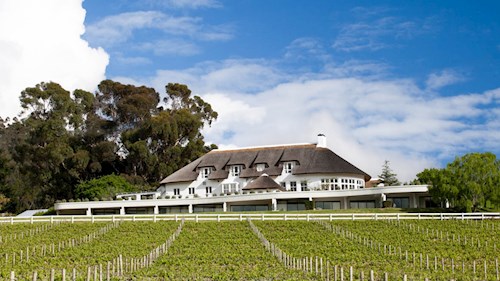 Sprawled over 100 acres of staggering scenery, Richard Branson's hotel and vineyard is less than an hour from Cape Town and just a 20-minute walk from the charming town of Franschhoek, South Africa's oldest settlement and often-called culinary capital. There are just 26 rooms and suites here, plus a four-bedroom villa, and as a working vineyard, the hotel delights in offering its guests free-flowing wine from its own reserves. Wine tasting can be arranged at a variety of locations around the estate, and why not make your way through the mountain scenery, ambling through sun-dappled valleys and vineyards on Franschhoek's hop-on-hop off wine tram.

South Africa City, Winelands and Safari Experience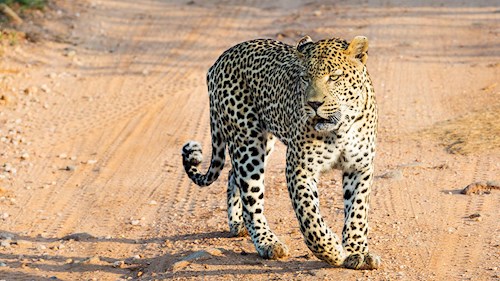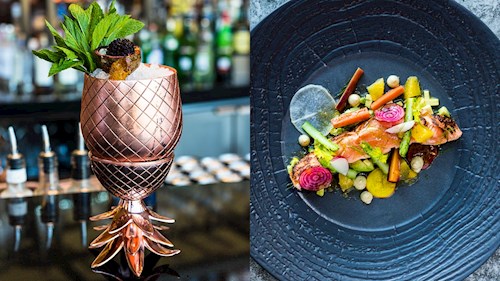 Follow in Fiona's footsteps and embark on your own South African adventure with three nights at One&Only Cape Town, including a full-day city and Table Mountain tour, two nights at Mont Rochelle in the Cape Winelands with a complimentary wine tasting session, two nights at Kanonkop House in Knysna where you'll go on a sunset yacht cruise; two nights at Gorah Elephant Camp in Addo Elephant National Park, which includes game drives; and one night at No5byMantis in Port Elizabeth, with a whale-watching cruise.

10 nights from £3,329 per person, including return scheduled flights, car hire, 10 nights' accommodation, daily breakfast, Full Board and activities at Gorah Elephant Camp, and sightseeing.

EXCLUSIVE OFFER: Complimentary room upgrade at Mont Rochelle.
If you'd like to find out more, give one of our expert travel advisers a call on 0207751 0660 or fill out the form below.