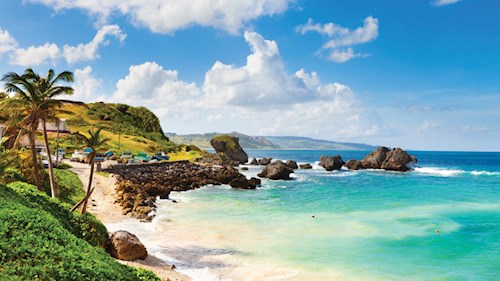 Barbados is the jewel in the crown when it comes to Caribbean Isles; with its 70 miles of ethereal white sand and crystal clear waters, it's the island that really does have it all, offering the perfect balance of mind-body experiences.

Whether your holiday mantra is meditative or you prefer a more active break, the Gem of the Caribbean has you covered. In addition to its exquisite beauty, Barbados offers the opportunity to explore its vibrant wildlife-inhabited surroundings, home to an interesting array of wonderful animals.

Inquisitive 'green monkeys' can be seen all across the island, and lucky travellers may also catch a glimpse of the two native hummingbirds, the Antillean Crested and the Green-Throated Carib, which can often be seen hunting for nectar in the many tropical gardens across the island.

If adventure lights your fire, you may want to take to the seas and paddleboard around the island, taking in the views of the distinctive rock formations and unique caves. Be sure you've got your snorkels at the ready and head to Carlisle Bay to dive into the wonderful world beneath the waves, where curious leatherback turtles and an array of marine life welcome you to their watery domain.

The natural wonders can also be appreciated from the shores for those who prefer to kick back with a rum in the sun. As a spirit that has coursed through the veins of the island for over 300 years, it's a drink that's best enjoyed toe-deep in powdery sand under the shade of a coconut palm.

As the sun sets in paradise, Barbados' bright and lively culture comes to life, as Bajans and tourists alike head for the electric bar scene of St Lawrence Gap, where the rum punch is flowing and the infectious beat of steel drums can be heard long into the night. The Friday night Oistins Fish Fry is a must-visit for seafood fans; it's where locals can be found grilling and frying fresh swordfish, mahi-mahi, snapper and flying fish.

TAKE ME THERE>



If you'd like to find out more about any of our luxury hotels and resorts, or to make an enquiry, give one of our expert travel advisers a call on 020 7751 0660 or fill out the form below.