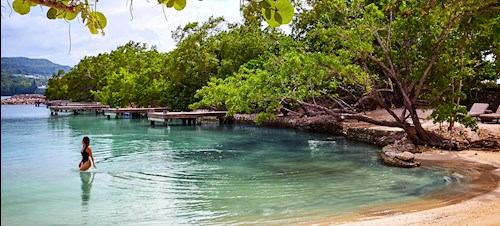 We sold our very first holiday to Jamaica back in 1979, and this wonderful island still embodies everything we love about the Caribbean: the rich culture, the magnificent natural beauty and the warm, welcoming people. There are plenty of reasons to visit Jamaica in 2020, including the release of the new James Bond film, 'No Time to Die'.

The Bond story has its genesis in Jamaica, where Ian Fleming wrote many of the novels at his Goldeneye estate (now an exclusive boutique hotel and Caribtours favourite). Jamaica is about more than just snoozing on your sun lounger; no other Caribbean island has produced so many cultural and sporting icons, from reggae stars, Bob Marley and Jimmy Cliff, to record breakers, Usain Bolt and Shelly-Ann Fraser-Pryce.

Immerse yourself in the legendary nightlife, where the beach bars rock and the rum flows freely, and explore the island's diverse cuisine, from ackee and saltfish to sizzling jerk chicken. Away from the coast you'll find a different Jamaica, a lush and beautiful landscape of soaring mountains, verdant banana plantations and crystalline rivers that tumble over dramatic waterfalls.

Here you can enjoy energetic pursuits like bobsledding, mountain biking and rafting, or scour the rainforest for wildlife including iguanas, crocodiles and a colourful cornucopia of birds.

TAKE ME THERE>


If you'd like to find out more about any of our luxury hotels and resorts, or to make an enquiry, give one of our expert travel advisers a call on 020 7751 0660 or fill out the form below.