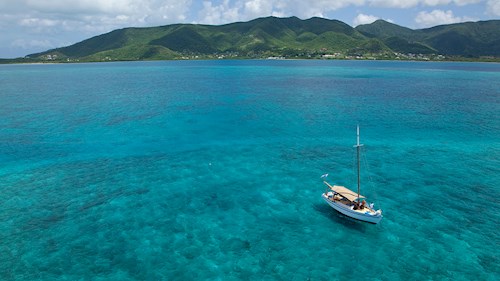 Antigua is famed for having so many beaches, you could visit a different one each day of the year, but in fact, this action-packed Caribbean isle is just as popular with sailors as it is sunbathers.

Steady trade winds, natural bays and harbours, a rich naval heritage, and tempting turquoise waters make the destination ideal for adventures atop the ocean. The island's packed calendar of events includes a host of maritime spectacles and soirees, running from December through to April, the pinnacle of which is Antigua Sailing Week which kicks off at the end of April.

This is one of the world's most significant regattas, with sailors and seafaring enthusiasts attending from far and wide. And the fun doesn't end with sailing, as the party continues beyond the water, with a host of day and night-time events including concerts, parties, games and barbecues. If sailing's not your thing, fear not. Antigua is the ideal island for year-round sunshine coupled with plenty of things to see and do.

July heralds the arrival of the spectacular Antigua Carnival, a summertime spectacle of music, parades, colourful costumes, dancing and revelry. Every Sunday, year-round for the past three decades, the island's restored military lookout Shirley Heights has been host to evening barbecue parties where visitors and locals come together to eat and listen to local bands.

Sporting fans will also be spoilt for choice, with cricket season taking place from January to July, cycling from February to November, and football from August to February to name but a few of Antigua's scintillating sporting seasons. And though there's such a wealth of island events to immerse yourself in, the beach is never far from any visitor's eye.

From July to October, you can witness turtles nesting and hatching on the soft sands, and snorkelling and diving are popular pastimes, with tropical fish and slumbering shipwrecks dwelling in the cerulean waters.

TAKE ME THERE>


If you'd like to find out more about any of our luxury hotels and resorts, or to make an enquiry, give one of our expert travel advisers a call on 020 7751 0660 or fill out the form below.