The world is your oyster, so why not double up on your holiday with a twin centre, allowing you to visit two different destinations on one amazing trip? There are certain places that are a match made in heaven and with only a short flight or boat ride between them, you can have the best of both worlds.

Take a look at our favourite pairs of holiday combinations, or choose your own destinations and let our experienced Travel Advisers tailor a bespoke twin centre holiday to suit your every need.

ABU DHABI & MALDIVES

With both destinations exuding style and sophistication each in their individual way, you can see why pairing them makes perfect sense. With just over a four-hour flight between the two, it's never been easier to tick the amazing Abu Dhabi and the marvellous Maldives off of your travel bucket list.

The St. Regis Saadiyat Island Resort and Kanuhura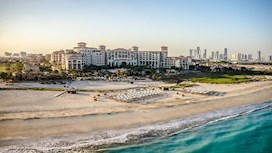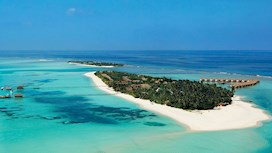 Starting things off in Abu Dhabi, check into The St. Regis Saadiyat Island Resort. Saadiyat Island is renowned for its sparkling sapphire seas and is home to Hawksbill turtles and dolphins. Add to that luxurious accommodation and the finest of restaurants and you have yourself an idyllic adventure.

Flying over to the Maldives, Kanuhura is known for its bohemian castaway-chic ambiance, effortlessly emitting laid-back luxury. It's the ideal place for getting back to nature, with dolphin watching, diving and trips to uninhabited islands.

10 nights from £3,975 per person, including 7 nights at Kanuhura on All-Inclusive and 3 nights at The St Regis Saadiyat Island Resort including breakfast.
Offer: Save up to 55%

MAURITIUS & DUBAI

These two go hand in hand; Dubai brings the glitz and glamour, and is home of the world's highest building Burj Khalifa. Mauritius presents beautiful sun-kissed white beaches, crystal clear waters and is home of some of the world's rarest animals, so why not book a holiday that has it all? With only a six-hour flight between them, they're the perfect destination duo.

One&Only Le Saint Géran and One&Only Royal Mirage - The Palace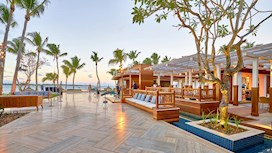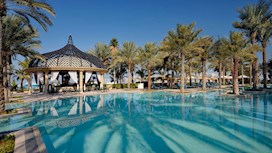 Start your journey at the lavish One&Only Le Saint Géran, which occupies a prime location on a private peninsula fringed by soft white sands. Renowned for its impeccable service, it offers the royal treatment with exquisite spa treatments and world-class dining.

Next, hop on a flight to One&Only Royal Mirage - The Palace; built to encapsulate the majesty and opulence of an Arabian palace, this sumptuous beachfront property evokes much of the romance and magic of the Arabia of legend.

7 nights from £2,465 per person, including 5 nights at One&Only Le Saint Géran and 2 nights at One&Only The Palace, both on Half Board.
Offer: Save up to 40%

SAINT LUCIA & GRENADA

The impossibly picturesque, volcanic-clad landscape of Saint Lucia perfectly complements the lush, rainforest vibes of Grenada, and the best part? They're less than an hours' flight apart. These two destinations are ideal for foodies, as the two resorts below perfectly demonstrate.

Cap Maison and Calabash Luxury Boutique Hotel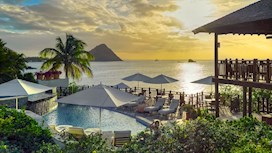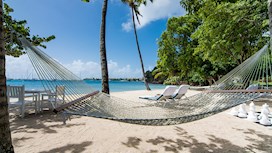 First, touch down at Cap Maison; a stylish boutique resort where you'll enjoy warm hospitality, spacious accommodation and gourmet cuisine coupled with award-winning wine tasting at the wonderful "The Cliff at Cap" restaurant.

Then fly over to the luxurious, all-suite Calabash Luxury Boutique Hotel. Enjoying a longstanding reputation as a foodie's paradise, the palm-fringed resort is a member of the exclusive Relais & Châteaux; Rhodes restaurant is excellent and offers some of the finest dining on the island.

7 nights from £2,675 per person, including 3 nights at Cap Maison and 4 nights at Calabash Luxury Boutique Hotel, both on Half Board.
Offer: Complimentary upgrade to Half Board + one spa treatment per person

BARBADOS & ST VINCENT & THE GRENADINES 

Both destinations boast sugar-white sands and calm azure seas, but each has its own unique sun-soaked offering. Barbados has long enticed explorers and pleasure seekers to its sands, and St Vincent & The Grenadines delivers secluded barefoot getaways like no other; together they make for one unforgettable holiday.

Sea Breeze Beach House and Bequia Beach Hotel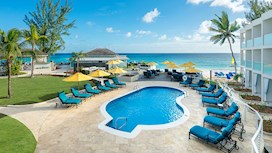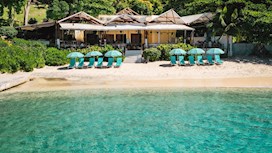 Begin your trip at the stunning Sea Breeze Beach House. Couples will find peace lounging beside the adult-only pool, but there's plenty for families too, including a great kids' club, teen lounge, family pool and complimentary non-motorised watersports. Recently renovated, this luxury, All-Inclusive, family-run luxury resort will be sure to impress.

Next, fly over to St Vincent & The Grenadines and you'll be greeted by aromatic tropical gardens full of mango, papaya and almond trees. Bequia Beach Hotel overlooks Friendship Beach which is the premier location on Bequia; the perfect setting for an unforgettable tropical holiday.

7 nights from £2,295 per person, including 3 nights at Sea Breeze Beach House on All-Inclusive and 4 nights at Bequia Beach Hotel including breakfast.
Offer: Save up to 45% at Sea Breeze Beach House and up to 20% + US$120 resort credit at Bequia Beach Hotel

BARBADOS & SAINT LUCIA

These beautiful locations both offer family-friendly beach holidays with a difference; Barbados is great for those seeking higher-octane pursuits, and Saint Lucia is perfect for people looking to explore its natural, rugged playground. Enjoy the best of both with only a short 40-minute flight between the two.

Tamarind By Elegant Hotels and The Landings Resort & Spa By Elegant Hotels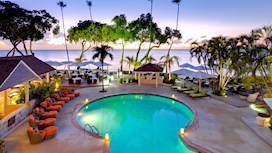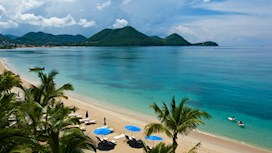 Tamarind puts an emphasis on its dedicated staff and dynamic family activity programme, and that's why its a great place to start your holiday. Featuring Mediterranean and Caribbean-spirited accommodations, a fabulous spa, and three pool areas, Tamarind combines a chic, west coast style with a relaxed and welcoming atmosphere.

Following a quick flight you'll then arrive at The Landings; offering spacious, family-sized accommodation, gourmet dining and all the facilities you would expect from a modern, luxury resort, The Landings is also ideally located for all the superb restaurants and shops in the Rodney Bay area.

8 nights from £2,275 per person, including 4 nights at Tamarind on All-Inclusive and 4 nights at The Landings Resort & Spa including breakfast.
Offer: Save up to 35% at Tamarind and up to 50% at The Landings Resort & Spa

ST KITTS & NEVIS

St Kitts and Nevis together are a winning combination, and with only a 15-minute boat ride between the two, you may as well treat yourself to both. The bustling vibe of St Kitts truly complements the relaxed tranquility of Nevis.

Park Hyatt St. Kitts and Nisbet Plantation Beach Club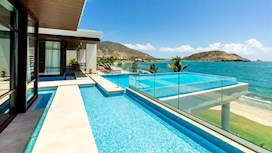 Let the holidaying commence; the location of Park Hyatt St Kitts is designed to impress, with beautiful beachfront suites and decadent restaurants, as well as an amazing 37,000-square-foot spa, earning the title of first Miraval Life in Balance Spa in the Caribbean.

Following your private water taxi transfer you'll arrive at the Nisbet Plantation Beach Club; this charming resort was built as a sugar plantation in 1778 and it remains the Caribbean's only original plantation house to be located on a beach. Much of the grandeur and colonial charm remains and, naturally, there's a croquet lawn to complete the picture of colonial good living.

7 nights from £2,425 per person, including 3 nights at Park Hyatt St Kitts on Room Only and 4 nights at Nisbet Plantation including breakfast.

If you'd like to find out more about any of the destinations or holidays featured, call us on 020 7751 0660 or fill in the form below.