We are delighted to share with you that one of our favourite luxury boutique hotel's - Casas del XVI, has expanded in the heart of Santo Domingo's Colonial Zone. The new Casa Antilliana is the latest boutique home by the Casas del XVI hotel in the storied old city of the Dominican Republic's capital. Head to the historical Spanish colonial capital city of Santo Domingo for a combination of cobbled streets, Baroque architecture and the bewitching Catedral Primada de América, where Christopher Columbus's son Diego put down the first stone in 1514. After all the walking, sightseeing and shopping, it must be time to eat! Try the aromatic flavours of fusion street food, or the Mesón de la Cava for fresh seafood in a unique cave setting.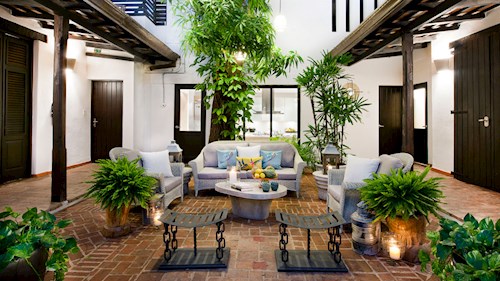 Casa Antilliana has a total of 16 rooms, offering guests a butler and concierge service as well as the brand's signature old world-modern fusion design. Casas del XVI is comprised of a series of charmingly restored homes in the Colonial Zone, each with a different theme, all dating back to the 16th century. "In designing this house, I used a white background with splashes of green sprinkled throughout the décor to convey a tropical, colonial Antillean theme, which is inspired by the Caribbean islands surrounded by the Caribbean Sea and the Gulf of Mexico," says Patricia Reid, interior designer for Casas del XVI. "The original colonial masonry especially the white portico framing the door at the entrance, as well as an antique well nestled in the wall have been preserved to transport guests to a long-lost era."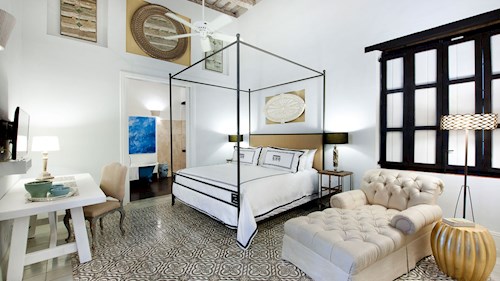 Santo Domingo's Colonial Zone has become one of the Caribbean's up-and-coming destinations, thanks to an alluring blend of fascinating architecture, a burgeoning art scene and excellent nightlife, and we can't wait for you to experience it for yourself.
If you would like to hear more about Casas del XVI, Casa Antilliana or the Dominican Republic please call us on 020 7751 0660 or fill out the form below: