Sri Lanka's most colourful festival, the Esala Perahera, takes place in Kandy. This ten-day religious pageant dates back at least as far as the 4th Century, and the arrival in Sri Lanka of the sacred Tooth Relic, said to be the tooth of Buddha himself. The relic is housed in Kandy's famous temple, and the festival used to be the only opportunity during the year for the public to see it, although nowadays a replica is used.
The festival begins with the planting of a tree in each of the four devales, the temples devoted to the four gods that protect Kandy: Vishnu, Kataragama, Natha and Pattini. Each night a procession then winds its way through the streets, becoming progressively more spectacular as the festival nears its conclusion. The first five nights are known as the Kumbal Perahera, and are more low key, followed by the livelier final five nights, the Randoli Perahera. The streets come alive with fire dancers, acrobats, stilt walkers, flag bearers and ornately decorated elephants, and the air is filled with the sound of thundering drums.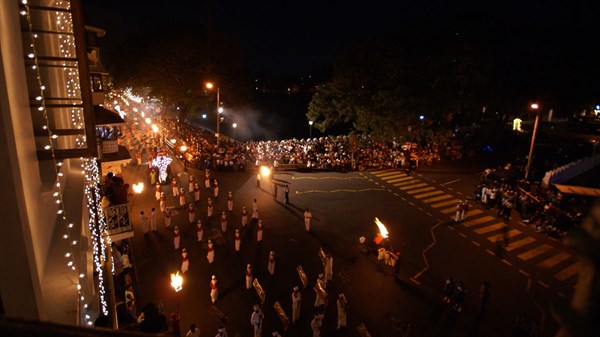 The climax of the festival is the Maha Perahera, or 'Great Parade', on the final night, with a cast of thousands of people and up to a hundred elephants. After the parade, and before dawn the next day, a water-cutting ceremony is held, where a priest wades out into the Mahaweli River and 'cuts' the water with a sword, a symbolic gesture that is said to release the supply of water for the year ahead, channelling the Tooth Relic's supposed ability to prevent drought. Later that day, there is a final daytime perahera, a pared down version of the parade the night before and a great opportunity to photograph the colourful costumes.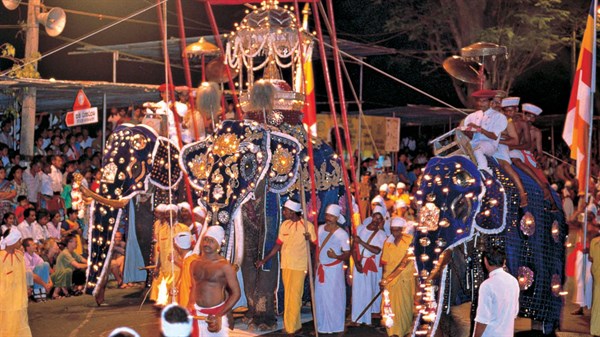 If you are interested in attending the festival then we recommend booking well in advance. The dates of the Esala Perahera are dependent on the lunar calendar.