By Nicola Sweeney, Product Manager
The drive to  La Palmeraie Hotel on the east coast is a great introduction to the beautiful and diverse landscape of Mauritius, with fields of majestic sugar cane giving way to undulating hills and valleys, and turning onto the coast road, 180° views of the turquoise Indian Ocean. Entering the hotel itself, we were greeted by a view of the brilliant blue sky and sparkling water, perfectly framed by a Moorish style archway. Designed with the setup of a typical Moroccan riad in mind, all facilities are found in the stunning central courtyard, which is partially open and filled with tropical plants, palm trees and birdsong. The two restaurants here provide a choice between a daily changing themed buffet and an à la carte menu for dinner, and there is a great value All-Inclusive option with menus clearly marked. As this is a small hotel, it has a very intimate and relaxed feel so is perfect for couples wanting rest and relaxation, and the white sand beach stretches as far as the eye can see in both directions, so it's perfect for long afternoon strolls.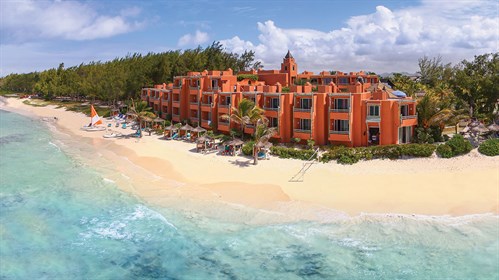 From La Palmeraie there are some great options for activities, including quad biking, horse riding or mountain biking in the Domaine de L'Etoile approximately 40 minutes drive away. We chose quad biking and had the best time zipping through sugar cane fields of brilliant green and ascending two different hills for spectacular views out to the east and north of the island. On the way back to base we also saw a group of deer, and teamed with the outstanding panoramas and stunning natural beauty of the landscape, this was definitely one of our favourite days of the holiday.
Leaving La Palmeraie and taking the interior route through Black River Gorges, we stopped at a lookout high up in the National Park with views of the lush hills and valleys below, then on the approach down to the west coast found a second view point with even more spectacular views, with Le Morne Brabant peak on one side, Tamarina peak on the other and the brilliant blue ocean between, just breathtaking. This set the scene for LUX* Le Morne with its stunning location at the foot of Brabant peak, surrounded by tropical gardens of hibiscus and frangipani. Our Prestige Junior Suite was just as impressive, with an indoor and outdoor shower, huge bed complete with LUX*'s own special mattress and views through the palms out to the ocean. Whichever room type you choose, the beach and water are never far away and the layout of the resort has been well planned to give a real sense of space. We particularly liked The Beach Restaurant, where lunch was a tasty pizza with a side salad of fresh leaves picked from the resort's own garden and dinner a choice of delicious seafood, and we loved the quirky extras such as the secret bar, a wooden cabinet on wheels which just appeared one day with an Alice In Wonderland style note on it saying 'open me'.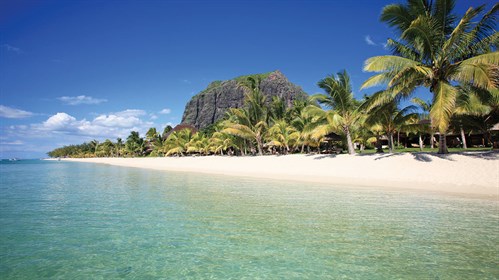 After a couple of luxuriously relaxing days at LUX* we were ready for some more action, so headed to Casela Nature Park for a walk with lions! It sounds crazy I know, but this is a great opportunity to get up close to these magnificent animals. I have to admit, we were wary at first, as we were concerned about the welfare of the lions, however, we were nothing but impressed with the passion of the rangers and their knowledge and handling of the cats. We were a group of around 15 people and we each had a couple of turns walking through the bush next to the two lions. There are lots of photo opportunities and the rangers are very informative so really enhance the experience. This is not for everyone, and is certainly not for children, but for us it was a great experience.
Casela is around 20-30 minutes from LUX* Le Morne and Sugar Beach Resort, my next port of call. A complete contrast to LUX* in terms of style and ethos, Sugar Beach has a colonial plantation design and a total mix of clientele from families to couples and groups of friends to wedding parties. It's a bit of a cliché, but you really can do as much or as little as you like here, with a daily programme of activities, complimentary watersports and evening entertainment for those that want it, or relaxation and down time for those that don't. The main pool and restaurant are at the centre of the property, so they're a real hub of activity and great for people watching, or alternatively you can head to the south pool where it is more of a couple's hangout. The buffet selection at Mon Plaisir Restaurant was absolutely huge and very varied, and the Mauritian evening was a fantastic introduction to the cuisine of the island, which was absolutely delicious. I also have to mention the dessert station, which never failed to impress.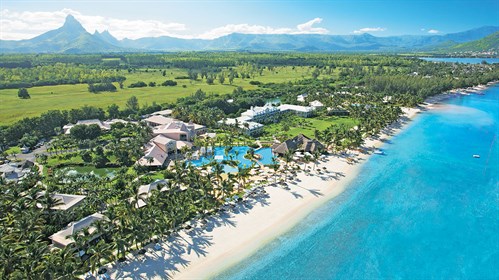 The final stop on our tour of the island was the beautiful Maradiva Villas Resort & Spa, where we thoroughly enjoyed the luxury of a large private outdoor living space and our own plunge pool; from the double daybed on the terrace the rest of the world seemed far away and we were able to completely relax. If you so desire, there's no real need to leave your villa, as the resort is Half Board as standard and this includes in-villa dining, but it is well worth visiting the resort's fine dining restaurant, The Cilantro. Here you can choose from interactive teppanyaki style cuisine produced by the chef right in front of you, or the serene and elegant atmosphere of the fine dining room for a selection of Indian offerings. The spa is also a must and can be sampled by anyone, as the central heated pool, sauna and Jacuzzi are complimentary for all guests, and it's well worth partaking of a treatment or two as the delightful spa team will make you feel instantly at ease. If you want to get out and explore the local area, bicycles are available for a small supplement and the town of Flic en Flac is close by.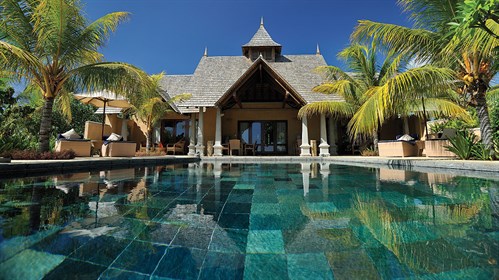 Heading to the airport on our final day, we were once again treated to a last look at the stunning landscape of this beautiful island, and with so many more luxury hotels to see and experience, the only question remaining is when can we return.
Nicola's Top Tips...
• Quad biking is a great way to experience the island's diverse landscape up close and can be done in Domaine de L'Etoile, accessible from the east coast, Domaine de Bel Ombre in the south and Casela Nature Park in the west of the island.
• Take advantage of the complimentary glass bottom boat trips offered by many of the hotels, including La Palmeraie and LUX* Le Morne, or upgrade to a dolphin watching excursion for a chance to see these playful creatures in their natural habit.
• Sugar Beach is the perfect place to try a new watersport as non-motorised options are free. Take advantage of snorkelling equipment to explore close to the shore or wobble your way to standing on a windsurfer or paddle board.
• Maradiva is a stunning and serene haven ideal for disconnecting from the world, so my advice is to take a couple of DVDs out of the library and snuggle up for some couple time in your private luxury villa.
Check out Nicola's photos on Facebook, or call our friendly team of experts today on 020 7751 0660 and book your dream Mauritius holiday with Caribtours.