This romantic cluster of some 60 islands and cays attracts a high number of repeat visitors, and with exclusivity and luxury as standard, it's easy to see why people come back time after time. Luxurious resorts, spellbinding spas, pristine white sands and ultramarine waters only confirm the allure. With a dazzling array of events on offer to enjoy all year round, we thought we would pick some of our highlights for you to enjoy.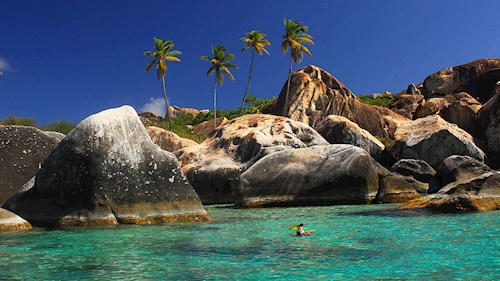 1st April 2017 -HLSCC Puerto Rico Orchestra Concert 
Kickback, relax and unwind whilst you enjoy the beautiful melodies of the Puerto Rico Orchestra in paradise. 
15th - 16th April 2017 - Spanish Town Fisherman's Jamboree 
This popular fishing tournament attracts many competitors as well as spectators. Delicious Food, vibrant music and a variety of beach fun are just part of this fun-filled event.
17th April 2017 - Virgin Gorda Easter Festival Parade 
This weekend is jam packed with activities some of our favourites being the calypso monarch competition parade, queen show and nightly village entertainment.
6-7th May 2017 - Mahi Mayhem Fishing Tournament (Nanny Cay, Tortola)
Mahi Mayhem a fishing tournament to raise awareness of sustainable fishing and aquaculture in the Caribbean and inspiring the next generation of fisherman. The cash prize for the heaviest Mahi is $5,000. 
10th-12th August 2017 - Carrot Bay Cultural Fiesta
This is a three day musical and cultural extravaganza, if you want to immerse yourself in local island life, rum punch in hand - this is the fiesta for you.
2nd September 2017 - Jazz in Paradise 
The British Virgin Islands will come alive with the wonderful sound of Jazz. Dance the night away to some of the top international and local Jazz sensations in this gorgeous destination.
29th October 2017 - Barefoot Gourmet Soiree 
For all the foodies out there - mingle amongst a party of fellow food connoisseurs and indulge in the tranquil ambiance created by gently lapping waves as flavourful cuisine is served to you by local and visiting international chefs.
6th-9th November 2017 - BVI Charter Yacht Show 
The annual BVI Charter Yacht Show hosted by Charter Yacht Society of the BVI, uniting charter brokers from around the globe, a huge variety of charter yachts and their crews, alongside industry professionals, the event offers the ideal blend of daytime viewings, social events, informational seminars and competitions amongst the attending fleet.
11th - 12th November 2017 - Peter Island Caribbean Food Festival 
This fabulous event hosted at Peter Island Resort & Spa brings together chefs from various Caribbean islands to celebrate Caribbean food and cooking techniques. We especially love the Caribbean Cocktail Challenge. 
26th November - 1 December 2017 - Necker Cup 2017 
The Necker Cup is six-day/five-night, all inclusive world class Pro-Am Tennis Event hosted by Sir Richard Branson on Necker Island in The British Virgin Islands. Sixteen ATP / WTA Tour Players/Legends are paired up with sixteen amateur teams of all levels, who compete in this fun and spirited tennis competition.
If you would like to hear more about The British Virgin Islands or to book a holiday, please contact us on 020 7751 0660.