Changing the way you live can be a trying experience, especially if that change involves fasting for two out of every five days. Now, Constance Hotels have teamed up with Mimi Spencer, co-author of The Fast Diet, to help kickstart your new lifestyle in the relaxing and rarefied surroundings of their flagship Le Prince Maurice property.
The idea is that it is much easier to introduce this way of living on a relaxing tropical holiday, with tailor made menus, expert fitness and one of the world's best spas to inspire the start of this new way of life.
If you're not aware, the concept behind the fast diet involves cutting calories to a quarter of the usual intake for just two days a week, with the other five days free to eat as normal and enjoy occasional treats including wine and puddings. The diet's authors claim that studies have shown that the metabolic changes which take place during short term, intermittent fasting can cut the risk of a range of age-related diseases including diabetes, Alzheimer's and some types of cancer.  It also has the added benefit of resulting in significant weight loss.
Guests at Le Prince Maurice who wish to participate will be given a special 'Kickstart the Fast Diet' pack on arrival with nutritious and tasty fast day menus (falling within the 500 calorie allowance for a woman and 600 calorie allowance for a man) as well as options for healthy and low calorie choices on non-fast days. There will also be carefully selected spa treatments on offer and fitness sessions that will compliment the diet and ensure maximum benefit. 
Menus
Mauritius is well known for its exceptional produce and local herbs and spices and these fresh, tasty and nutritious ingredients will be the basis for the Fast Diet menus.  Examples for breakfast include Poached eggs with smoked marlin (175 calories) and Omelette with herbs (140 calories). Most Fast Dieters then skip lunch and go straight to dinner with options such as Albacore tuna carpaccio with celeriac and preserved lemon (112 calories), Tarragon Scallops (113 calories) and Plain grilled lobster (352 calories). There will also be various side dishes to choose from such as Parsley peas with onion pickles (64 calories) and Green beans with garlic and salted lemon (52 calories). 
On non-fast days the hotel's menus will feature a 'Mimi recommends' icon beside certain dishes to show that they are the healthier and lower calorie options.   The Drinks Menus will also show drinks and cocktails that have fewer calories such as a Skinny mojito (mint, lime, soda but without the usual sugar syrup) or an Ice-cold watermelon juice.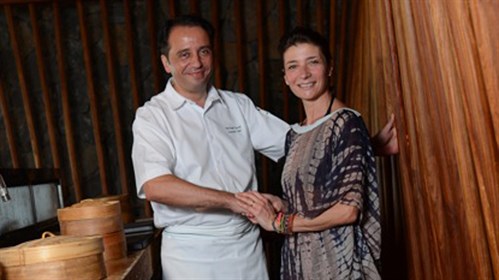 Fitness and Toning
One of the keys to success on the Fast Diet is to stay busy so there is no better time or place to improve strength and fitness at the same time as contributing to weight loss. Le Prince Maurice offers sunrise and sunset yoga sessions on the beach and pilates classes  as well as tennis courts, a fully equipped gymnasium and a lap pool. They also have personal trainers for one to one sessions including fitness guru Isabelle Lamant who can prepare a bespoke programme tailored to each guest's abilities and goal.
Spa Treatments
The renowned Ultimate Spa at the Prince Maurice is the ideal place to unwind and benefit from the Fast Diet.  The objective of intermittent fasting is to access health, well-being and weight loss and a sense of renewed enjoyment of the body. KFD guests will be invited to book treatments that have been chosen to suit the plan such as a digestive massage, a lymphatic drainage or a detoxifying wrap.  Again these will have a special 'Mimi recommends' icon beside them.