Twin centre holidays are a great way to sample the best of both worlds. In this epic adventure, take in soaring skyscrapers, fabulous shopping and adventurous activities in Dubai before jetting off to the secluded and peaceful Maldives for snorkelling, sunbathing and sunsets. These two destinations couldn't be more different and yet they make the perfect combination for an unforgettable escape.
JA PALM TREE COURT DUBAI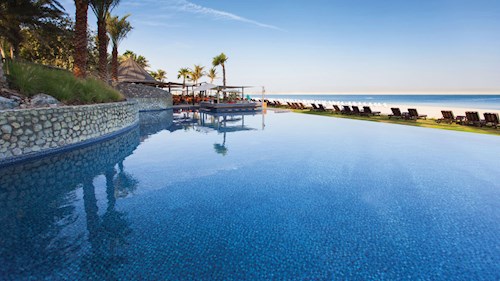 Dubai is a good starting point for this adventure and what better place to base yourself than the spectacular JA Palm Tree Court. This all-suite hotel is located on a palm-lined stretch of golden beach along the glimmering Arabian Gulf.

The grounds are filled with picturesque gardens scattered with streams and waterfalls with delicate peacocks showing the brilliance of their feathers. It's a stunning location to base yourself in and it's made all the better by the excellent standard of accommodation – think high ceilings, relaxing neutral shades and extravagant bathrooms. Take advantage of the resort's extensive all-inclusive dine-around offering here with 15 restaurants and bars to choose from.

You're perfectly placed to explore the city of Dubai, a glass and steel metropolis risen from the desert. From the soaring heights of the futuristic Burj Khalifa to the timeless splendour of the old souks, the endless fun and excitement of the amusement parks to the vast stillness of the desert, this is a city of endless possibilities.


JA MANAFARU MALDIVES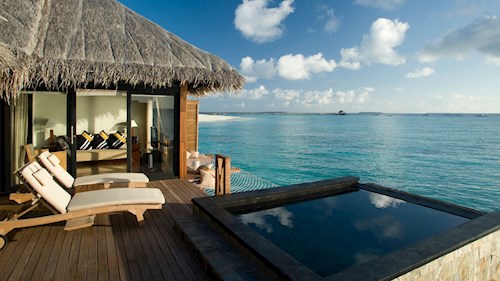 Moving away from the brilliance of Dubai, it will be time to escape to the tranquillity of the Maldives. It won't be difficult to reach your next destination with the flight to Malé taking just over four hours and then a seaplane taking you on a scenic flight to JA Manafaru.

Located on the staggeringlybeautiful Manafaru Island, JA Manafaru is a small oasis of white sand, azure ocean and lush green forest. Accommodation is either in beach bungalows or overwater villas, each with its own private pool. Peace and serenity are the order of the holiday with the Calm Spa offering Maldivian-inspired treatments and wellness classes.

Of course, with the shimmering, crystal-clear Indian Ocean all around you, you can don your snorkels and meet the colourful marine life, take out a kayak and perhaps have a go at waterskiing. The resort even offers unusual water sports such as monoskiing and kneeboarding. Better still, you can escape to an uninhabited castaway island for a daytrip, sunset dinner or overnight stay.
CALL ONE OF OUR SPECIALISTS TO HELP YOU CREATE YOUR DREAM HOLIDAY AT Big City vs Island Escape
020 7751 0660