One of the Caribbean's most exclusive couples' resorts, Rendezvous, is rebranding as StolenTime – and the Saint Lucia adults-only retreat promises to help couples reconnect and encourage a sense of wellness.

Taking inspiration from a university study that found that couples who spend time trying new and exciting activities together are more satisfied with their relationship, StolenTime have woven together a series of experiences designed to 'keep the spark alive' for their guests.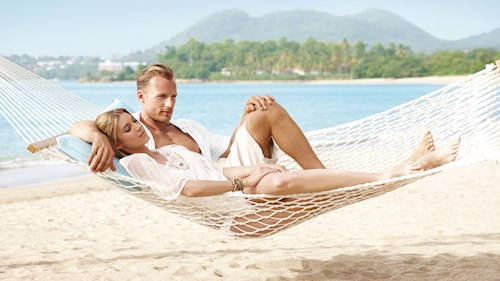 StolenTime is a place to disconnect from the world and reconnect with each other, focusing on a sense of wellbeing centred on mental relaxation and human connection. Set on a two-mile stretch of beach, here you can relax under secluded beachside cabanas, tuck yourselves away in a secret spot shaded in the water garden, treat yourselves to a couples massage at the spa, indulge in intimate dinners for two and sip Champagne at the nightly 'Bubbly Hour' in the piano bar.

Andrew Barnard, Deputy Managing Director of StolenTime, says: "StolenTIme is a vacation specifically designed to create a bond between two people and make them feel human again. Time is precious; smart couples steal it."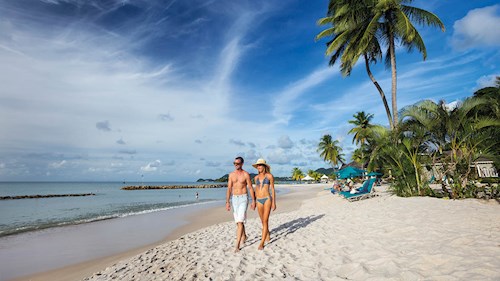 StolenMoments

Local Caribbean Flavours
Enjoy 'Farm to Table' dining, where in‐house chefs will accompany you to a local farm to select your own fresh produce for a delicious meal under the stars. Enlighten yourselves with a cooking class to learn how to create meals laced with Caribbean flavours and spices.

Truly Romantic Experiences
Feel the wind in your hair and salt on your skin with a 'Champagne Cruise' through St. Lucian waters or a traditional night of romance on the terrace with 'Date Night' – topped off with wine and a delicious a la carte menu.

Specialty Beach Offerings
With 'Breakfast in Bed on the Beach', the resort team will set up a 'bedroom' on the beach where couples can enjoy a catered breakfast. Couples can sip Champagne on a picnic rug with 'Bubbles & Sand' or indulge in an exquisite lunch in the sea with 'Lunch, Sand & Sea'.

If you would like to find out more about StolenTime, or to book a holiday there, give our travel experts a call or fill out the form below.