It's the individual touches and attention to detail that always mean the most to us all, and Our Boutique Collection showcases some of the most beautifully unique, small and stylish hotels in the world. These properties are for those who want to avoid the mass market, and value impeccable service, excellent food and stylish interiors.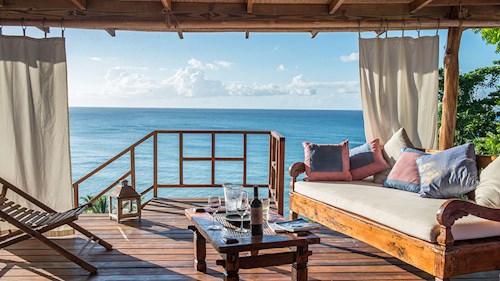 LALUNA GRENADA

Grenada is known for its laid-back vibe and lack of big resorts, but this sleepy little island can do chic and sophisticated too. Laluna draws on influences from across the globe, with Balinese-style accommodation and authentic Italian cuisine, a nod to the Calabrian roots of the hotel's owners.

The beachfront restaurant is complemented by an extensive wine cellar, with vintages plucked from small, artisan vineyards around Italy. Service is warm and informal, and the hotel tends to attract a younger clientele than others on the island.

The cute cottages each have their own plunge pool, which makes it particularly popular with honeymooners, and the secluded location appeals to A-listers looking to escape from the public eye for a week or two. The fantastic Wellness Centre is another big draw, with complimentary daily yoga classes, full moon meditation sessions and Asian-inspired treatments.

As well as the 16 suites and cottages, the owners have recently added a collection of stunning villas, set apart from the main hotel on top of a bluff . Villas range from three to five bedrooms, and each has a private infinity pool, a great option for a larger family or a group of friends.

TAKE ME THERE>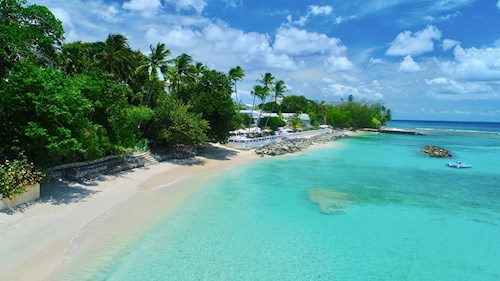 COBBLERS COVE, BARBADOS

English country house elegance meets Bajan beach chic at this ever-popular west coast hotel. Dining is a particularly strong suit at Cobblers Cove thanks to the award-winning Camelot restaurant, with its lovely seafront setting and fresh catch of the day. We also love the veranda bar, the perfect place to enjoy a cocktail, though beware of the signature Cobblers Cooler, which contains six measures of rum!

Recent enhancements, including a reimagining of the Great House by Soane Britain, have brought the interiors up to date while staying true to the hotel's classic style. Regular visitors will also note the new and improved gym and beauty salon, along with an expanded sundeck.

TAKE ME THERE>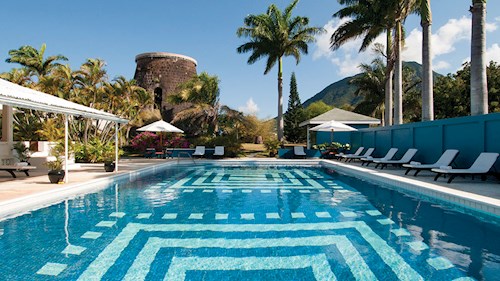 MONTPELIER PLANTATION & BEACH, NEVIS

Admiral Lord Nelson married Fanny Nisbet at Montpelier Plantation back in 1787, and it's still an incredibly romantic spot more than 200 years later. The hotel enjoys an idyllic setting up in the hills overlooking the Caribbean Sea, cooled by gentle tradewinds. It's a short drive to the beach reserved for Montpelier guests, complete with comfy sun loungers and private cabanas.

The 19 rooms and suites are stylish and contemporary, and a prestigious tie-up with Relais & Châteaux means you'll enjoy exquisite dining at the hotel's three restaurants. Particularly special is the atmospheric Mill Privée, where you can enjoy a gourmet five-course tasting menu in a converted 300-year-old sugar mill.

TAKE ME THERE>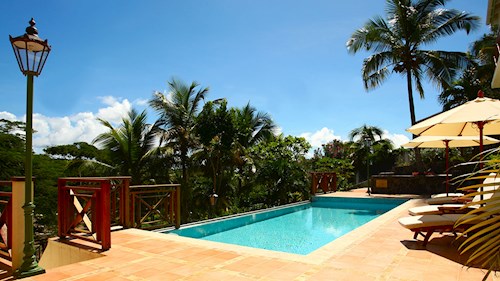 BEQUIA BEACH HOTEL, ST VINCENT & THE GRENADINES

If you're not sure where Bequia is, then you really are in for a treat. This friendly, bucolic little island is the Caribbean like it used to be, a place where life moves at a gentle pace and the beaches are pristine and unspoilt. Bequia Beach is one of our favourite boutique hotels, owned by Swedish expat, Bengt Mortstedt.

The 58 rooms, suites, cottages and villas have been skillfully styled with an elegant, retro chic look, and the hotel is situated amongst mango and papaya trees on the idyllic Friendship Beach. When we first came across Bequia Beach we were almost reluctant to share it with the world, but we've been delighted to see how the hotel has gone from strength to strength.

The addition of the gorgeous villas has made this a more attractive option for families, and the recent introduction of VIP shuttle flights from Barbados on the hotel's own nine-seater luxury plane means it's even easier for UK guests to get here.

We've probably sold you by now on the idea of coming to Bequia, so what can you do once you get here? First and foremost, this is a place to relax and enjoy the gently lilting rhythms of island life, with some of the friendliest locals in the Caribbean. But it may surprise you to learn that Bequia is home to some uncommonly-excellent restaurants, and owner Bengt will be only too happy to recommend some of his favourites.

The hotel's own recently-renovated main restaurant Bagatelle is also very good, serving fantastic fresh lobster and fi sh, while the Italian-style Blue Tropic is open during high season with regular live entertainment. Just a few minutes' shuttle ride away, and under the same ownership as Bequia Beach Hotel, you'll find Jack's Beach Bar, set on the pristine Princess Margaret Beach – some say it's the best beach in the Caribbean.

You'll want to bring your swimming gear as the waters are irresistibly clear and refreshingly suited to a dip on a warm day pre-cocktails! Bequia Beach also offers watersports including kayaking and paddleboarding free of charge, and there are wellness facilities including a spa, sauna, gym and yoga pavilion.

Younger guests are well catered for, with supervised activities including treasure hunts and baking cakes, and complimentary WiFi means they can stay in touch with their friends back home.

TAKE ME THERE>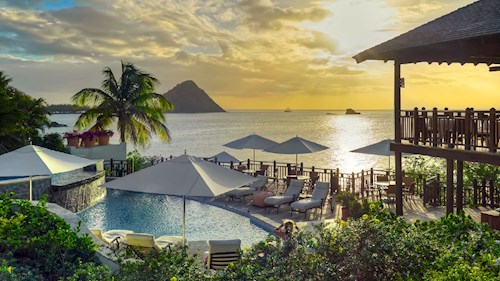 CAP MAISON, SAINT LUCIA

Foodie favourite Cap Maison is the most delectable boutique hotel in Saint Lucia. The Cliff at Cap restaurant is so good that guests at the other hotels all want to eat here, and it's popular with the locals too.

Award-winning chef Craig Jones has created a spectacular French Caribbean fusion menu; signature dishes include a zingy ceviche of reef conch and ahi tuna, succulent Kurobuta pork belly with razor clams and squid, and perfectly-smoked Kobe short rib. During the daytime, the Naked Fisherman Beach Bar & Grill offers a more informal, feet-in-the-sand vibe, and don't forget to book a romantic dinner at Rock Maison, a private wooden deck perched just above the crashing surf.

TAKE ME THERE >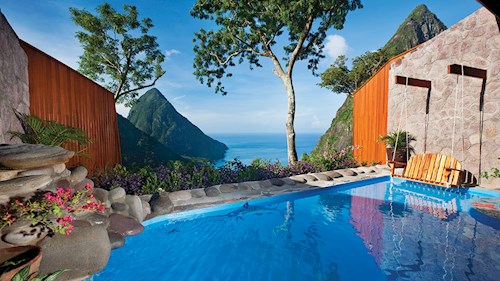 LADERA, SAINT LUCIA


The phrase 'room with a view' doesn't quite do justice to the suites at Ladera. Perched on a volcanic ridge 1,000 feet above the ocean, each suite is open to the elements on one side, allowing you to enjoy the full majesty of the Pitons as you fl oat in your private plunge pool.

It's hopelessly romantic, and the adults-only policy makes this a top pick for honeymooners. The fabulous farm-to-table restaurant, Dasheene, has a well-deserved reputation as one of the island's best, the wine cellar is stocked with more than 2,000 bottles from all over the world, and a stunning new spa is set to open at the beginning of 2020.

TAKE ME THERE>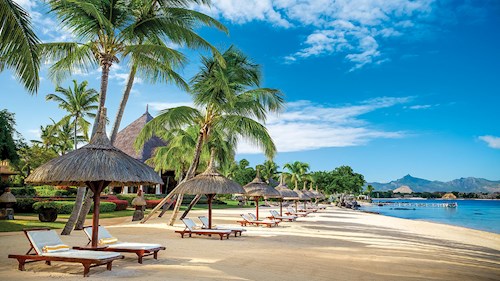 THE OBEROI BEACH RESORT, MAURITIUS

The Oberoi is one of those resorts where a serene calm descends the moment you walk through the entrance. The grounds have been beautifully landscaped, with immaculate lawns and a waterfall spilling into koi ponds.

The quiet location on the northwest coast creates an atmosphere conducive to romance and relaxation, and the service is impeccable. Accommodation consists of just 71 thatched-roof pavilions and villas, with higher categories offering the luxury of your own private swimming pool. There are three fantastic à la carte restaurants, eclectic activities including stargazing and wine tasting, and the Oberoi Spa is simply one of the best on the island.

TAKE ME THERE>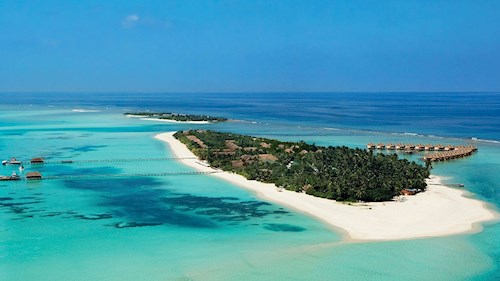 KANUHURA, MALDIVES 

Recent years has seen the much-loved Kanuhura undergo extensive refurbishments, and our love for this stunning resort has only continued to grow. Even if you're a first-time visitor, there's a good chance you've seen these brilliant white sands before; just last year, Tess Daly was spotted celebrating her 50th birthday here.

The resort is spread over three islands, two of which are deserted and reserved for romantic picnics or secluded snorkelling. The main island is pretty large by Maldivian standards, yet there are only 80 villas, with a choice of direct beach access or a staircase down into the lagoon. The boho chic interiors look more fetching than ever, and the quality of the dining remains absolutely on point.

TAKER ME THERE>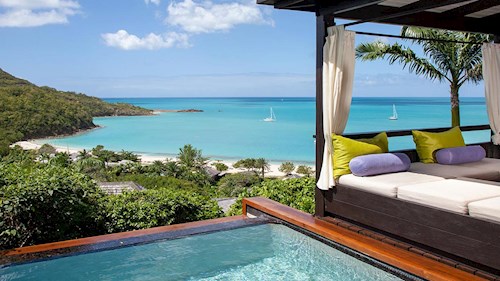 HERMITAGE BAY, ANTIGUA

The drive from Antigua airport to Hermitage Bay takes about 35 minutes, which doesn't seem like long to wait for your entry into paradise. But the hotel's owners clearly felt that you should start enjoying your holiday from the moment you step off the plane, which is why they introduced a VIP meet and greet service to fasttrack all Hermitage Bay guests straight through immigration.

When you arrive at the hotel, prepare to have your breath taken away by views of the cobalt Caribbean Sea. Hermitage Bay is secluded and ultra-exclusive, and you'll soon see why it's a favourite choice for honeymooners. Just 30 suites hewn from tropical hardwoods tumble down the hillside to the gorgeous coral beach, with some perched right on the sand.

Sun worshippers will gravitate instinctively towards the Beachfront Suites, while others will prefer to cocoon themselves in the Hillside Suites, with their private plunge pools and panoramic vistas. The hotel's impressive trophy cabinet includes multiple awards from Condé Nast Traveler, thanks to its heady mix of luxurious accommodation, superb dining and a wonderful spa.

A sense of calm and wellbeing pervades the entire hotel; this is truly one of those places where you have to pinch yourself to make sure it isn't all some improbable dream.

TAKE ME THERE>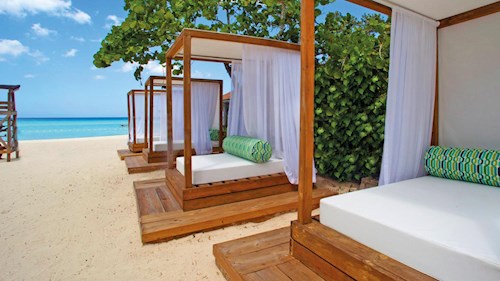 SANDY HAVEN, JAMAICA

Sandy Haven sits in stark contrast to the big all-inclusive resorts that Jamaica is known for, a romantic and intimate boutique hotel in the heart of lively Negril. The hotel has its own section of gorgeous Seven Mile Beach, with sun loungers, comfy cabanas and a beach bar where you can enjoy good-time reggae grooves.

Bongos Restaurant & Bar showcases the best of island cuisine, with an airy outdoor terrace, and the spa offers massages right on the beach. All in all, this is a fantastic and affordable base for those who want to enjoy Jamaica's legendary nightlife, just a short walk from Negril's many bars and restaurants.

TAKE ME THERE>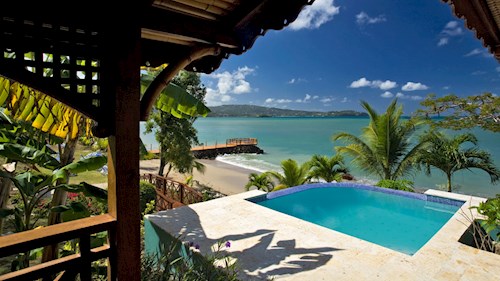 CALABASH COVE RESORT & SPA, SAINT LUCIA

Romance is on the menu at Calabash Cove Resort & Spa, a gorgeous boutique adults-only hotel that offers some of the finest dining in Saint Lucia.

The vibe is intimate and friendly, with just 26 cottages and suites, and it's a popular choice for honeymooners. Couples particularly like the Balinese-style cottages, with their private plunge pools and hummingbirds flitting amongst the bougainvillea. The Windsong restaurant draws on local and Asian influences, and the menu includes a wide selection of vegetarian and vegan options.

It's well worth upgrading to the Unconditional All-Inclusive package, which includes daily lobster specials during lobster season, in-room dining and bar, premium drinks and a choice of more than 20 wines by the bottle.

TAKE ME THERE>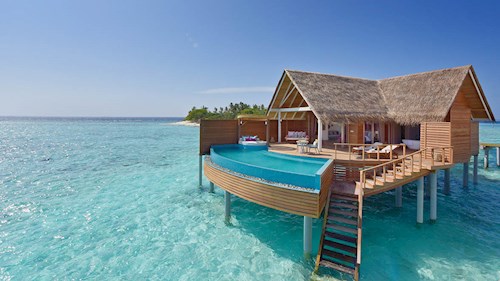 MILAIDHOO, MALDIVES

You may never have realised that you needed an undhoali. But as you relax on this traditional Maldivian swing suspended over your sundeck, looking out across your pool and the turquoise waters beyond, you might start to wonder how you ever managed without one. Milaidhoo is all about intimate, understated luxury, with just 50 spacious villas spread around a beautiful desert island.

The bright interiors are characterised by high ceilings and open living spaces, and all villas have a private infinity pool. The island is part of the Baa Atoll, the Maldives' only UNESCO World Biosphere Reserve, and the marine life here is fantastic, with an excellent house reef just off shore. Watersports on off er include snorkelling, kayaking and scuba diving, with a PADI centre on site.

If you're lucky you might encounter manta rays, dolphins or even whale sharks, along with a colourful kaleidoscope of tropical fish. The friendly staff pride themselves on creating 'Milaidhoo Moments', unique experiences such as catching your dinner with a local fisherman or mixing up cocktails with the hotel bartenders.

You can also visit neighbouring islands, sail to a deserted sandbank for a romantic beach picnic, or enjoy a soothing treatment at the sublime Serenity Spa.

TAKE ME THERE> 


MYCONIAN COLLECTION

AMBASSADOR & IMPERIAL, MYKONOS, GREECE

When we decided to add the Greek islands to our portfolio, glamorous Mykonos was right at the top of our list. Choosing the right hotel here can be tricky, but we were instantly taken with the Myconian Collection, a family-owned group of ten luxury hotels, each with their own personality.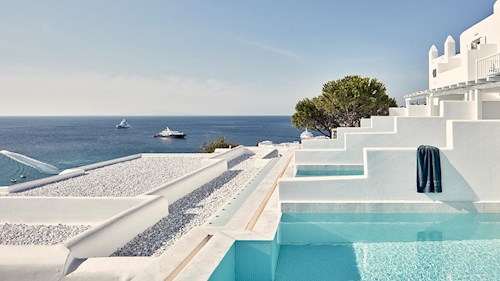 The Myconian Ambassador was the first truly five-star hotel on the island when it opened in 1992, and it's a great choice for foodies, with highlights including the Relais & Châteaux-affiliated Efisia fine dining restaurant.

The hotel attracts a youthful and hip crowd, located within walking distance of the Scorpios and SantAnna beach clubs. Accommodation consists of 70 dazzling white rooms and suites, some with a private Jacuzzi or pool.

TAKE ME THERE>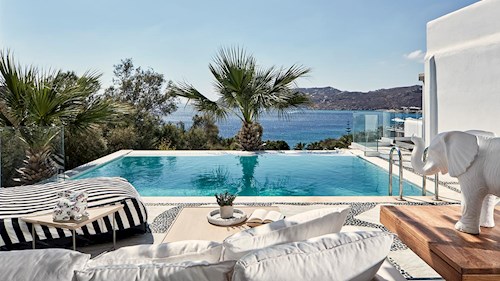 Sister hotel Myconian Imperial overlooks popular Elia beach, the longest on Mykonos, and it's popular with honeymooners and young couples.

The hotel is slightly larger with 111 rooms and suites, but here too you can upgrade to a suite with a private pool or hot tub. Eros Veranda Bar is the perfect spot for pre-going-out cocktails, and a complimentary shuttle runs to the buzzing Mykonos Town until 1am.

TAKE ME THERE> 


If you'd like to find out more about these wonderful offers, or to book your next luxury holiday, give one of our expert travel advisers a call on 020 7751 0660 or fill out the form below.