Settle in for a fabulous night's sleep with our ultra-luxury suite offering, which push the boundaries of opulence. With everything from unbeatable panoramic views to awe-inspiring architecture, they offer something truly special.

JOALI, MALDIVES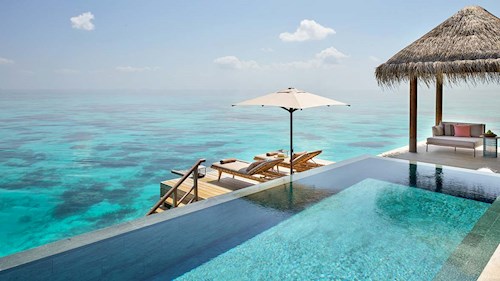 It takes something special to stand out in the Maldives, where every other island seems to be graced with another jaw-dropping luxury resort, yet Joali manages it with aplomb.

Istanbul-based studio, Autoban, have imbued the huge, high-ceilinged villas with a distinctive aesthetic, blending island chic with high-end design. Yes, you'll love your private infinity pool and outdoor bathroom, but in the Maldives that's almost a given; what really stands out is the attention to detail and the sophisticated finish, using materials such as locally hand-carved wood panels and Norwegian marble in the bathrooms.

Joali is a relative newcomer, but behind the scenes is an all-star management team plucked from some of the top resorts in the Maldives. It's no surprise to us that we've heard so many rave reviews, with guests praising the superb dining, thoughtful staff and stunning accommodation. Joali has also been conceived with the environment in mind; single-use plastics are banned, all bathroom products are vegan and chemical-free, and the overwater villa pools are different sizes, designed to ensure they don't disturb the coral on the lagoon floor.

TAKE ME THERE >


JADE MOUNTAIN, SAINT LUCIA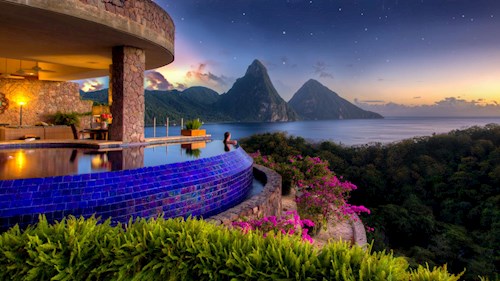 Jade Mountain has an almost unfair advantage over the competition, positioned in front of the most iconic view in Saint Lucia (if not the entire Caribbean). The enormous suites - referred to, without any hint of exaggeration, as Sanctuaries - are open on one side, creating a widescreen panorama of the emerald green Piton mountains.

Each Sanctuary is romantic, beautifully appointed and private; it's not unknown for guests to spend their whole stay ensconced within their accommodation. All but the entry-level Sky Sanctuaries have their own infinity pool, and all suites have an open-plan bathroom designed to maximise those picture-postcard views.

TAKE ME THERE >


MANDARIN ORIENTAL, CANOUAN, ST VINCENT & THE GRENADINES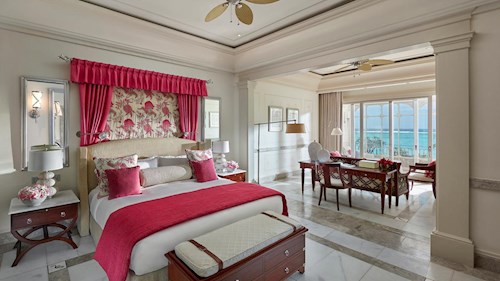 The sumptuous suites at the Mandarin Oriental, Canouan are full of surprises.

The mirror at the foot of your bed is not just a mirror, it also contains a high-tech TV that appears as if by magic. Tap a different button on your touchscreen control panel and the mirror slides open, revealing a spacious living and dining area. Beyond that, your private balcony or terrace looks out onto one of the finest white-sand beaches in the Caribbean.

No expense has been spared in the furnishing of these opulent suites, with a large walk-in wardrobe, well-stocked honour bar and a marble bathroom with double vanity, large tub and separate shower.

TAKE ME THERE >


SAINT PETER'S BAY LUXURY RESORT & RESIDENCES, BARBADOS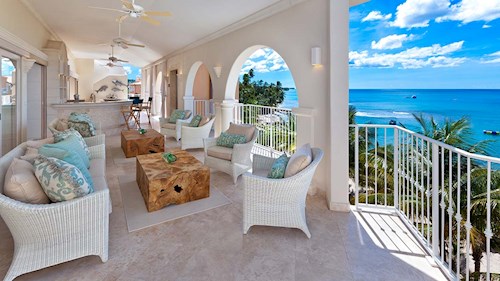 Saint Peter's Bay offers a rare combination of flexible, family-friendly accommodation and five-star luxury. However large your party, you're sure to find something to suit you, with a fantastic choice of beachfront residences featuring up to five bedrooms.

Facilities include your own fully-equipped kitchen, outdoor dining areas, a large balcony or terrace with a private hot tub, and a less glamorous but equally useful laundry room with a washer/dryer.

You'll also have a daily housekeeping service to pick up after you, and access to the resort's concierge team throughout your stay, on hand to arrange everything from local restaurant reservations to your own private chef.

TAKE ME THERE >


PORT FERDINAND YACHT & BEACH CLUB, BARBADOS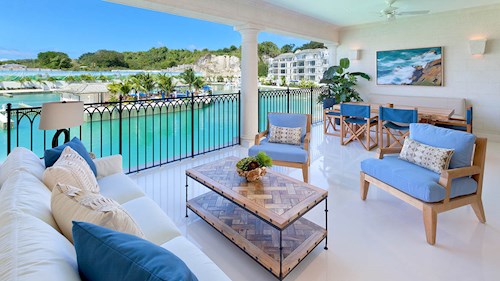 You don't need your own yacht to enjoy the exclusive atmosphere at Port Ferdinand Yacht and Beach Club, a complex of luxury homes and a world-class marina that shares many of its facilities with sister resort Saint Peter's Bay.

Take your pick from a tantalising array of one-, two- and three-bedroom homes offering up to 4,145 square feet of elegantly-appointed living space. Stylish open-plan kitchens, and plenty of room to spread out on your private terrace, make this a great option for families and groups of friends.

The one-bedroom villas are also ideal for luxury-minded couples who value the independence offered by a home-from-home-style accommodation.

TAKE ME THERE >


HAMMOCK COVE, ANTIGUA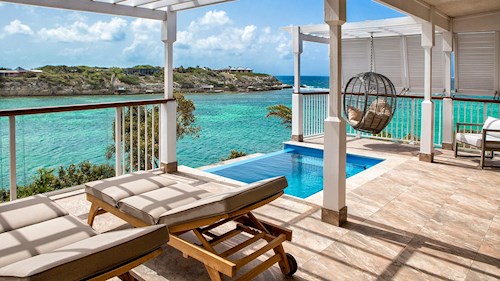 Instagram-worthy plunge pools? Check. In-room dining from a Michelin-trained chef? Check. Noisy kids running around the pool and ruining your holiday mood? Absolutely not. This stunner from Elite Island Resorts is the latest boutique opening on the sun-kissed isle of Antigua, and it's a strictly adults-only affair. Design-conscious couples will love the artfully styled accommodation, with elegant touches like a papasan chair dangling above your terrace and your own fully-stocked wine cooler.

Each of the 42 villas has a gorgeous infinity-edge plunge pool, and an open-air living and dining area bathed in that dazzling Caribbean sunshine.

The hotel is also fully all-inclusive, so your credit card can take a week off too. Hammock Cove opened in December 2019 and is already drawing plenty of admiring glances thanks to its photogenic interiors. Vaulted ceilings, locally-crafted hardwood furnishings and a muted colour palette create a look that is both contemporary and unmistakably Caribbean, with plenty of natural light flooding in.

You'll be spoiled by the unfailingly efficient Guest Ambassadors, who are on hand to assist with restaurant bookings, in-villa dining, your morning coffee or just about anything else you can think of.

TAKE ME THERE >


If you'd like to find out more about any of our luxury hotels and resorts, or to make an enquiry, give one of our expert travel advisers a call on 020 7751 0660 or fill out the form below.