Travel specialist, Karen Boulton has just returned from a trip to the exclusive Moskito Island in The British Virgin Islands. The newest jewel of the Caribbean and one of the most exclusive private islands in the world, Moskito Island lived up to every expectation which Karen summarises as a "one-of-a-kind experience" and here's why.. 
When you stay at Richard Branson's exclusive retreat, the experience begins before you even arrive at the hotel with a pre-arrival preference form so all your favourite wines and treats can be stocked well in advance. We arrived at ANU airport with a VIP Meet & Greet service which is a real must as we whisked by the queue of arrivals and through immigration, and swiftly onto our next connecting flight headed to The British Virgin Islands. A short flight and boat transfer later and we had arrived at Moskito Island. Though we had arrived in darkness but I could already feel myself saying 'Wow!' at every turn.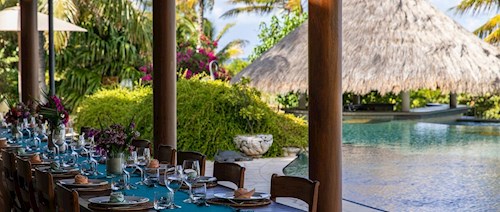 "I've been extremely lucky to have visited Richard Branson's neighbouring island, Necker Island in the past and knowing what a unique experience that was, I could not wait to start my journey at Moskito Island. Moskito Island is just 2 miles from Necker, a short 20-minute boat trip away but enough distance for complete privacy.."
 My first few nights I stayed in a suite located in The Point Estate, one of the three estates located on the island; each with their own style, size and shared communal areas. The Point Estate is perfectly nestled on the cliffside with the most outstanding sunset views I have ever seen. The estate can sleep up to 14 guests and 8 children so it is quite expansive and boasts a stunning infinity pool and exclusive access to the island's most iconic beach. The second half of my stay was spent in the Branson Estate which is perched on a dramatic outcrop with elevated sea views, and sleeps up to 22 guests, again with its own private beach. We were unable to stay at The Oasis Estate as they were very VIP celebrity guests staying which highlights just how private the island can be without effort.
Staff at Moskito Island are exceptional; you truly want for nothing and everything available to you from the water to the treats around the pool are of the very highest quality. The perfect combination of extremely professional but also fun, their priority is to provide the best experience you can imagine and I really felt that they were right on point.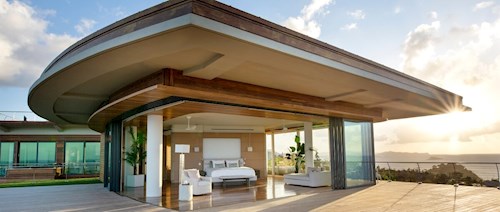 Dining lived up to every expectation and I can only compare it so the sort of service you expect on a luxury all-staffed and all-serviced yacht where there are little menu's and 24hour service on everything you need, and with pre-arrival preference sheets, the team ensure you're favourite drinks are fully stocked up for your arrival. From fine-dining to casual beach BBQ's on the sand, you are completely spoilt for choice and there are plenty of private dining spots around the island for couples that want some alone time. Every element of your stay is hyper-personalised when it comes to dining and there is not much more you could ask for. 
The facilities here are endless and with such a personalised service on offer, the island is your oyster. One of my favourite activities was a Tennis Tournament on a court that felt like we were Wimbledon stars for the day! Of course, it is not a trip to the Caribbean without Sunset Cruising and Rum Tasting. From Watersports to Boat excursions to spa treatments, anything you could want from a Caribbean getaway is available at your fingertips. Special experiences come as standard here and one of my favourites is Movie nights on the daybed – something I have only seen done in The Maldives.
Moskito Island is a unique experience, and exceeded my expectations but what I was'nt expecting is just how family friendly it can be. Communal living is at the heart of each estate. There are private spots for complete seclusion and spacious areas to all come together in. With a dedicated team on hand to help organise the ultimate itinerary, every detail is individual to you.  The Point Estate caters particularly well with bunk-bed rooms for the little ones.
Moskito really has it all – the privacy of your own estate or a family-filled getaway on shared parts of the island. Whether it's a special occasion, wedding celebration or exclusive honeymoon, Moskito Island can truly make for a unforgettable stay.