At Caribtours we believe love should be celebrated year-round, not just on Valentine's Day, and nothing is more romantic than an unexpected gift, presented in a magical setting.
Jewellery is inextricably linked to stories, so receiving it in an exotic location becomes a celebrated tale forever linked to the piece. The anticipation of opening the jewel box, followed by the pure joy experienced upon discovering the treasure inside.

Enjoy a cherished memory like this with your loved one in a dazzling sun-drenched location, for the ultimate romantic experience.
We've partnered up with award-winning independent jeweller, Jacqui Larsson, to recommend some stunning pieces to pair with your next romantic luxury holiday.

The Perfect Present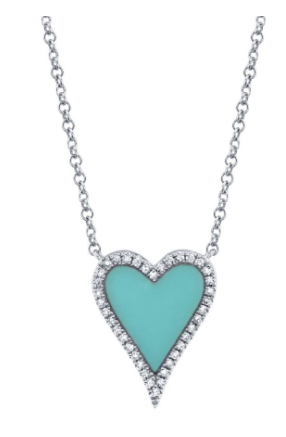 Turquoise and Diamond Heart Necklace

The enduring heart motif is instantly recognised and loved, and needs little introduction.

A heartfelt gift of love, this beautifully crafted necklace features the distinctive colour often attributed to the turquoise tones of the Caribbean Sea.

The chain has four adjustable lengths which enable it to be effortlessly layered with other chains if desired. The uniquely intense colour is comparable to the inviting waters surrounding Antigua, which is a wonderfully romantic place to take your loved one.

Where To Stay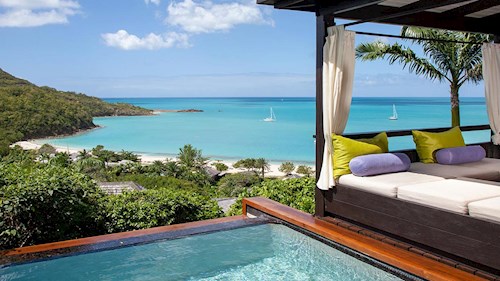 Hermitage Bay, Antigua

For a holiday where all you care about is rest and romance, Hermitage Bay is the perfect place.

With personal plunge pools, sun decks and shaded outdoor living spaces, couples can relish the unparalleled privacy it provides.

Showcase the stunning heart necklace at a secluded, candle-lit dinner for you and your partner right at the water's edge on the beach, where a personal, dedicated waiter will take care of you throughout your special evening.

TAKE ME THERE>
Diamond Leaf "Toi et Moi" Ring in Rose Gold
This romantic rose gold diamond leaf ring, featuring pave set diamonds set in 14ct rose gold, will undoubtedly remind you of Saint Lucia's nature-enriched rainforest landscape;

with the majestic Piton Mountains towering high above the volcanic beaches, and the waters thriving with marine life, it's the perfect destination for couples and nature lovers alike.    

Where To Stay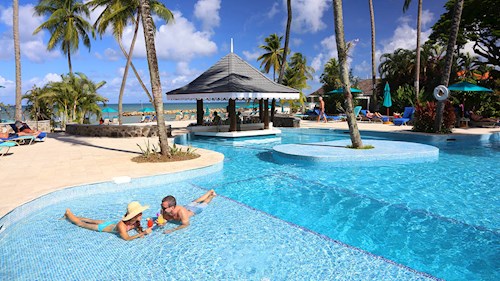 This dazzling piece would glisten in the Saint Lucian sunshine as you soak up the all-inclusive splendour at this delightful couples-only boutique resort.

Take a look at Rendezvous' "Stolen Moments" series which offers fun experiences specially tailored for two.

From the sumptuous beachfront suites, to the wine and hors d'oeuvres served on your balcony, complimentary "Bubbly Hour" to romantic sunset cruises, it's the perfect place for a romantic escape.

TAKE ME THERE>


The Perfect Present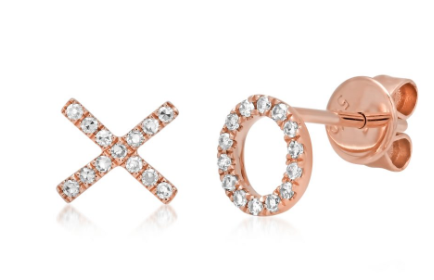 Diamond Kiss Me Hug Me Earrings in Rose Gold
Non-matching earrings are extremely popular and versatile and can be worn in a number of imaginative ways.

These rose gold "Kiss Me Hug Me Earrings" are a prime example of how asymmetry can work beautifully in an accessory.

Gifting these romantic earrings in front of a beautiful Barbadian backdrop will no doubt make it a holiday to remember.

Enjoying watching the sunset's amber rays dance upon the crystal-clear waters, enveloped in each other's arms, is what a romantic Caribbean retreat is all about.
Fairmont Royal Pavilion, Barbados

Fairmont Royal Pavilion is one resort that truly encapsulates the romance of Barbados; with its idyllic beachfront location it is the perfect spot for couples, and the ideal place to wear those gorgeous earrings.

Guests receive a VIP welcome at Barbados airport as standard, and the dedicated butler service they offer makes your stay there just that little bit more special.

Prepare to be completely pampered with personalised in-room spa treatments, available to book at your leisure.

TAKE ME THERE>


The Perfect Present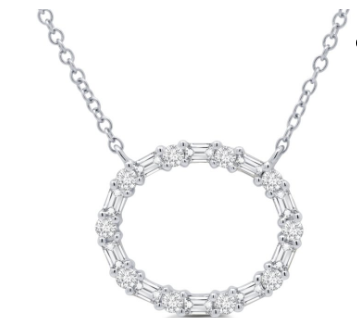 Diamond Circle of Life Necklace in White Gold
This Circle of Life is a powerful motif which embraces themes of life, love and eternity, so is a natural choice when expressing enduring love.

The necklace, featuring 0.36ct of alternating round and baguette diamonds set in 14ct white gold, perfectly personifies romance.

The dazzle of the diamonds is reminiscent of the sparkling Maldivian waters, lapping at the pristine white-sand beaches.

Splendid suites sitting on stilts over warm azure seas, stylish à la carte restaurants serving up culinary delights and luxurious spas primed to rejuvenate body and soul, are what a romantic holiday in the Maldives is all about.

Where To Stay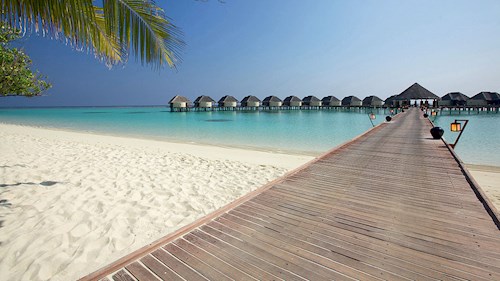 Fulfil your wanderlust by embarking on a journey to explore Kanuhura's unconventional offerings, designed to enhance the experience of barefoot luxury island-living, where this exquisite necklace would be a divine accompaniment.

A traditional Maldivian dance around a bonfire, champagne shared with your beloved on a deserted island, a blissful sunset cruise; these are the moments that mould into timeless memories.

We don't doubt you and your loved one will fall in love with this enchanting private island.

TAKE ME THERE>
If you'd like to find out more about any of our luxury hotels and resorts, or to make an enquiry, give one of our expert travel advisers a call on 020 7751 0660 or fill out the form below.