From the rum-swilling buccaneers and colonial sugar barons of old, to the modern day jet set playing cat-and-mouse with the paparazzi on board their luxury yachts, Barbados has long enticed adventurers and pleasure seekers to its platinum sands. Today this tiny island in the eastern Caribbean offers everything from magnificent, tranquil beaches to dramatic cliffs, rugged rolling hills, superb restaurants and picture-perfect golf courses. And it's particularly popular with British travellers; the quaint little villages with their churches and cricket pitches are rather redolent of home, albeit with the occasional monkey in the trees to remind you that you're in the tropics.


WHERE TO STAY

West Coast The west coast is where it's at for endless white sand beaches and stunning sunsets, with boutique hotels and high end beachside resorts offering a plethora of watersports on this calm coast. And if you need a little outfit for dinner, you can hit Holetown's stylish Limegrove with its chic boutiques, interesting architecture and great little eateries.
CALL US TO HELP YOU CREATE YOUR DREAM HOLIDAY
0207751 0660
Or enter your phone number and let us call you back.
South Coast  Jump on a local reggae bus to get into the island spirit, or hire a car and spend a more sedate afternoon exploring the east coast's sleepy local villages and dramatic Atlantic coastline. Bajans and tourists alike head to the buzzing bars of St Lawrence Gap in the south of the island to party when the sun goes down, and the Friday night fish fry at Oistins is a veritable Barbados institution. The bustling capital, Bridgetown, is also well worth a visit, home to colourful chattel houses, rum shops aplenty and some impressive colonial architecture.
WHEN TO GO
Barbados is blessed with wonderfully hot weather all year round, tempered by cooling trade winds. December to May is the most popular time to visit as the climate is dryer with less humidity. June to November tends to be wetter, although when it rains it is usually short and sharp. July to November is also hurricane season, although these are thankfully rare in Barbados.
EATING OUT
Dining out on Barbados can be smart or barefoot, with reservations essential in high season. We highly recommend The Cliff (simply the best restaurant in the Caribbean), but you'll be spoilt for choice as there are so many other superb places to eat on the island, including Daphne's, elegant Cin Cin by the Sea and the cool, contemporary Lone Star Garage. For a taste of authentic Bajan cuisine, try Bombas in Mullins or Ragamuffins in Holetown, Pisces at St. Lawrence Gap or Champers overlooking Accra Beach. 
BEYOND THE BEACH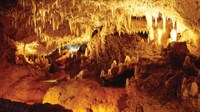 Natural wonders Visit the impressive Harrison's Cave with its amazing gallery of stalactites and stalagmites. Then head to the Barbados Wildlife Reserve where you can stroll freely among the animals. Spend the rest of the day wandering around the beautiful Andromeda Botanical Gardens, a six-acre garden with one of the largest collections of tropical plants in the Caribbean. If you're a fan of tropical Garden's, Hunte's tropical gardens are a must-do!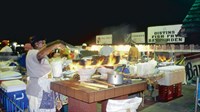 Oistins Fish Fry This little fishing village on the south coast comes alive every Friday evening with a lively party atmosphere. The local fishermen cook their catch of the day, which they serve up with big helpings of macaroni pie (the Bajan staple) and lots of fresh salads. The setting is very rustic and it's definitely not fine dining, but the fish is fresh out of the sea and tastes amazing. Go early if you want to browse the souvenir stalls, or later for the dancing and partying which will take you into the early hours.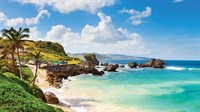 Head East In Barbados most people think that west is best, but if you want to blow the cobwebs away and see a totally different side to the island, hire a jeep and spend a few hours exploring the rugged Atlantic east coast. Wild, deserted beaches and sleepy local villages are here in abundance and you'll love Bathsheba, the main fishing village in the parish of Saint Joseph.