OMAN AIR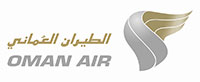 Oman Air is the award-winning national carrier of the Sultanate of Oman, renowned for its punctuality and service.
First Class
Available on flights to Muscat and selected onward destinations, the First Class Mini Suite has only 6 seats per aircraft, so the in-flight experience is on a par with that of a private jet. Each suite has an 87" seat pitch with 8 point in-seat massage system and the latest on demand entertainment, including live satellite TV and WiFi. In addition, you can expect the finest cuisine and award-winning wines and Champagne.
Upgrade from £1,809 per person each way.
Business Class
Reclining to a lie-flat bed with an 82" seat pitch, the superior luxury of this seat makes it one of the best in the sky. First and Business passengers also enjoy a complimentary chauffeur-driven service to/from the airport (restrictions apply) and access to a designated airport lounge.
Upgrade from £1,059 per person each way.
Economy Class
Enjoy a comfortable 34" seat pitch, comprehensive entertainment system including live satellite TV, and a menu designed to complement the destination accompanied by a range of beverages.
 AIR MAURITIUS

Air Mauritius is proud to have been voted the best airline in the Indian Ocean for the past ten years. This award is recognition of its meticulous attention to detail and ability to create a comfortable and relaxing flight for all.
Business Class
Passengers benefit from a personalised service, lie-flat bed and a culinary experience that encompasses Mauritian flair, rich in flavour and variety.
Upgrade from £749 per person each way.
Economy Class
Designed purely for comfort, Air Mauritius' economy offers authentic cuisine and an attentive crew who will ensure you have a pleasant and memorable experience.
OTHER AIRLINE PARTNERS
With an array of routes and combinations available, it's advisable to speak to us about your options. As well as the carriers mentioned, we work with the following highly regarded scheduled airlines: Etihad Airways; Qatar Airways; SriLankan Airlines; Air France KLM and more. Call us on 0207751 0660 or fill out the form below.