At Caribtours, we think the recipe for the perfect holiday should be a generous helping of sun-soaked beaches, a dash of decadent dining, and an abundance of memories to take away. Often some of the most unforgettable experiences are ones had sitting around a dinner table, sharing a delicious gourmet dinner experience with loved ones in sublime surroundings. 
Great food is always an integral part of any trip away, so whether you're enjoying a fresh seafood luncheon at one of our beach resorts in Antigua, or savouring a local delicacy in Mexico, our hotels' chefs promise mouth-watering cuisines that offer a taste of luxury in every bite, all best enjoyed with beautiful views.
We've travelled to some of the world's most renowned resorts and hotels, and we can tell you that throughout our travels, the food we've sampled has always greatly surpassed our expectations and always adds to the holiday experience. Here is a selection of our favourite culinary destinations...
Call our award-winning team on 020 3733 7559 to start your culinary adventure.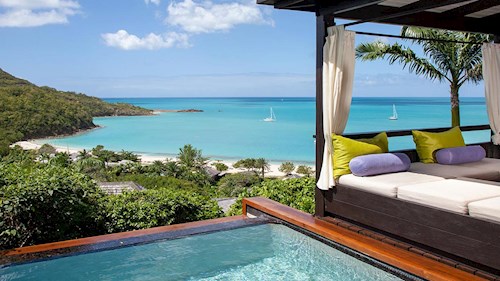 Set on a stunning beach on the west coast of the island, tranquil Hermitage Bay is where you come to experience the unique peace and wellbeing of the Caribbean lifestyle. With stylish, contemporary suites, a wonderful beachfront restaurant and the most attentive of staff, this is a resort for romantically-minded couples and for those who just want
The all-inclusive plan is anything but ordinary with the a la carte, beachfront restaurant serving a new menu each day with an emphasis on fresh, local ingredients, many of which come from the hotels very own impressive organic garden. There's an array of delicious vegan and vegetarian dishes as well as bespoke meal plans based on specific dietary requirements or fitness goals. There's also limitless cocktails and beverages to ensure that your stay is as carefree and effortless as possible.
The freshly caught seafood combined with freshly picked vegetables and herbs from the organic garden really gives guests a true 'Sea to Table' experience. Not only does this keep food miles to the absolute minimum but ensures the quality of the produce in each of the hotel's dishes. 
The Seabourn experience is unlike any other form of travel. These masterfully-designed resorts at sea are like private clubs atop the water, offering the perfect blend of relaxed elegance, intuitive personalised service, all-suite accommodation and exquisite cuisine. Seabourn's ships deliver an intimate atmosphere where guests can relax between visits to the thrilling ports of call in an array of destinations across the globe.
Absolutely everything is included in the rate, whether that's premium spirits or fitness classes, first-rate dining or riveting evening entertainment, delivering a cruising experience that goes beyond what you'd expect. World-class dining is a real highlight, further enhanced through a partnership with acclaimed chef, Thomas Keller, and guests can dine whenever and with whomever they wish, as there is no designated seating plan. 

An exciting collaboration with Sir Tim Rice awaits those seeking evening entertainment; there are six or more open bars and lounges, alongside ample deck space, sparkling pools and the indulgent delights of the Spa at Seabourn, which ensures guests are fully pampered with an exclusive mindful living program designed by Dr. Andrew Weil. 

The lavish all-inclusive lifestyle also makes Seabourn a very social place to be; guests can sip Champagne on deck, or mingle in The Club as they sample exclusive cocktails created by master mixologist, Brian Van Flandern.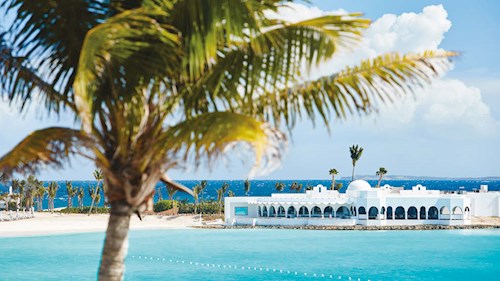 Cap Juluca, A Belmond Hotel, Anguilla
Spread across one of the Caribbean's most serene beaches, Cap Juluca, A Belmond Hotel, is a dream-like escape on the pristine shores of Anguilla. Its impressive architecture features an understated white-washed simplicity, with Greco-Moorish style. Each of its stylish rooms, suites, and pool villas, is an enticing beachfront haven to unwind in, boasting direct beach access and tantalizing ocean views. 
Blending timeless moments with an epicurean scene like no other in the Caribbean and paying homage to its surrounding nature, Belmond Cap Juluca is a sanctuary for epicureans, escapists, and adventurers. 
It's all about the glorious Maundays Bay, awarded the best island beach in the world - the hotel wraps itself quietly and unobtrusively around this tranquil, crescent-shaped bay, offering guests a very private and exclusive hideaway. The blissful beach has so much more than just spectacular white-sand and sparkling turquoise waters. Indulge in pampered, personalised service from the beach attendants whilst lazing in your elegant chaise loungers on the beach while enjoying a host of water sports activities.
Cap Juluca is at the heart of the diverse gastronomy scene in Anguilla. Features some of the best island restaurants offering world-class dining against a dazzling Caribbean backdrop. Uchu is the Cap Juluca's newest culinary concept, serving a blend of Anguilla's sensational produce and the tantalizing tastes of Peru. The waterfront Cip's by Cipriani is where breakfast is served. Be sure to return at the end of the day, since the terrace over Maundays Bay is one of the island's most spectacular sunset spots – and you can order carby Italian comfort food to accompany it. Also, on the edge of the bay, Pimms cooks up an elevated menu with delicious Caribbean classics using local produce (highlight: the lobster). The Cap Shack on the far end of the beach serves barbecued tapas (ribs, tacos, burgers) right out of a vintage VW van with a bar for rum punch and cracking calypso beats.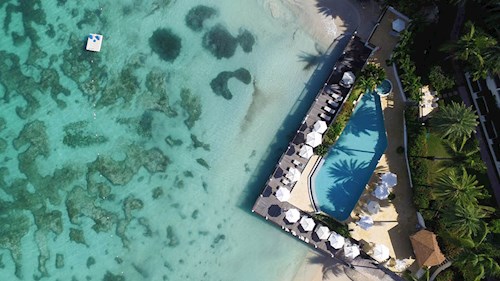 Blue Waters Resort & Spa, Antigua
Set in 17 acres of gardens on a secluded cove, this family-owned resort has everything you could ever need for a luxury stay and the all-inclusive plan makes it a dream for a worry-free escape. There's always something happening here with regular theme evenings and live music, latin nights to BBQ's and steel pan nights – all of which compliment the three restaurants set within stunning arounds of the resort.
Start your day with a delicious breakfast where you'll find everything from the full English to a kaleidoscope of fruits, fresh cheeses and guava-stuffed pastries. Take lunch at The Palm, where a bounty of salads, fish grilled to order and homemade mac and cheese await, or stroll over to the adult pool, for homemade flat breads and delicious Mediterranean style salads at Carolyn's.
Finish your day with an elegant dinner at The Cove, a stone-walled grotto that opens to the sea. Not only is the food fresh and delicious—salads are made with greens grown on property, fish is cured in-house and the ice cream is churned on site.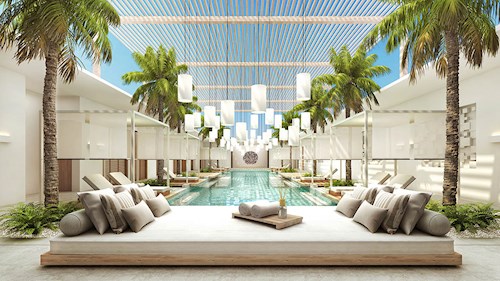 Silversands has shaken up the hotel scene in Grenada. A member of leading hotels of the world, its sleek and contemporary design offers quite a contrast to other resorts on the island. From the impressive lobby, flooded with natural light, to the spectacular infinity pool and luxurious villas, Silversands has brought something new and exciting to Grand Anse Beach.
Dining options include the elegant Asiatique restaurant, with both indoor and outdoor seating, and featuring Asian-influenced cuisine. The stylish Grenadian Grill offers a more casual dining option for lunch and dinner beach club-style, with an open-air terrace and lounge area to create a relaxed but vibrant atmosphere. There is also Puro Bar with an extensive collection of rums and cigars. There's also a bar with an outdoor terrace area at Asiatique, where you can soak up the creative cocktails or your choice out of the 1,000-bottle-strong cellar with snacks like bang-bang shrimp, Vietnamese paper rolls and chicken kebabs. 
Silversands source most of the fruits and vegetables for their restaurants through GRENROP (Grenada Network of Rural Women Producers), providing a direct and meaningful benefit to women growers on the island. What's more, they maintain a nursery of supplemental ingredients that are sustainable in the island climate, lessening imports and, thus, limiting on their carbon footprint.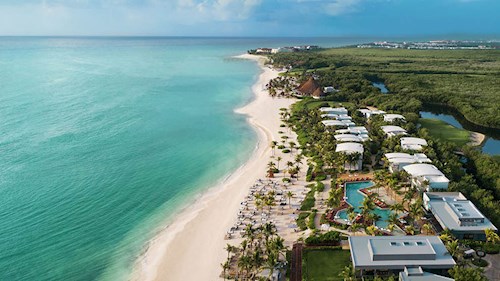 Andaz Mayakoba Resort Riviera Maya, Mexico
Nestled on the Riviera Maya coastline, surrounded by vegetation and nature, Andaz Mayakoba Resort is a secluded complex where guests can enjoy the warm turquoise waters of the Caribbean Sea.
Andaz Mayakoba Resort Riviera Maya's five on-site restaurants showcase exquisite gastronomy. Tinta del Pulpo a casual beachfront restaurant that serves Mexican and international cuisine, with locally crafted artisan beers and refreshing cocktails. The restaurant also offers a variety of desserts, including homemade churros and authentic local sweets.  Casa Amate, one of the top 250 restaurants in all of Mexico, specializes in Latin American cuisine. Cocina Milagro offers breakfast with a market-to-table menu concept.  Sotavento, recently included on the list of top 250 restaurants in Mexico, features Mediterranean delicacies throughout the day, complemented by live music in the evenings - all to be enjoyed with your feet in the sand and views of the turquoise ocean. VB offers a variety of healthy juices and smoothies during the day and a selection of fresh and seasonal vegan dishes for lunch, where guests can enjoy amazing views from our outdoor terrace.  In addition, guests can also choose to enjoy in-room dining with 24-hour room service providing a menu of classic continental breakfast, Mexican snacks, sandwiches, salads, and pastas.